Child Neurology Residency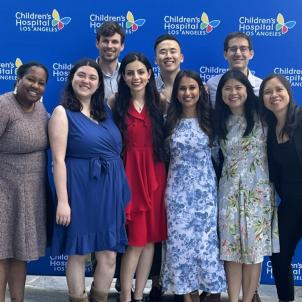 The Child Neurology Residency Program is the heart of the Neurological Institute at Children's Hospital Los Angeles. Officially established in 1989, our accredited categorical residency provides a dynamic and energetic environment for training future child neurologists. Over the past several decades, groundbreaking innovations have helped us achieve that goal.
The size of our faculty and our residency program, as well as our relationships with other departments, provide trainees with a rich community of colleagues that supports and enriches the learning experience with various career models and perspectives. The program has 20 child neurologists and includes collaboration with:
Child and adolescent psychiatry
Pediatric intensive care unit (PICU)
Genetics
Ophthalmology
Oncology
Why Choose CHLA for Child Neurology Residency?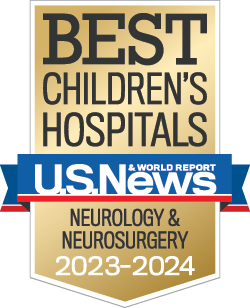 We choose our child neurology residents carefully — not just based on their academic credentials, but also on their human qualities. We pride ourselves in building residents who are team players who form lasting friendships with their colleagues in the residency program and beyond.
Child neurology residents at CHLA benefit from:
Training at a large, nationally ranked program and hospital: Children's Hospital Los Angeles is consistently ranked among the top 10 pediatric neurology and neurosurgery programs in the nation by U.S. News & World Report. We are a busy urban teaching hospital with a diverse patient population. New hospital facilities opened in July 2011 with an increase to over 400 active beds.
Rotating through a wide range of neurology subspecialties: We have a very active outpatient neurology clinic with subspecialty programs in neuromuscular disorders (to include a Muscular Dystrophy Association multispecialty clinic), epilepsy (including epilepsy surgery, VNS, RNS and ketogenic diet), movement disorders (including deep brain stimulation and baclofen pump), neurocritical care, pediatric stroke, neurocutaneous disorders and demyelinating disorders. Our faculty currently provide outpatient clinical services at CHLA and five satellite clinic locations within the greater Los Angeles area.
Learning how to provide patient-centered care: The goal of the Neurological Institute is to offer comprehensive and integrated neurologic services in a patient-centered environment. We are proud to serve a broad and diverse patient population that comes to us for solutions they cannot find elsewhere.
Gaining experience in adult neurology: Our program collaborates with the neurology residency of Keck School of Medicine at the University of Southern California to meet adult neurology training requirements. We currently accept three child neurology residents per year who divide their time between the two programs.
Research opportunities: The Neurological Institute is undergoing rapid expansion with the development of comprehensive clinical general and subspecialty child neurology programs, as well as enhancement of its research portfolio. There is ongoing clinical research within our general child neurology and subspecialty programs.
Learn more about our child neurology residency training and curriculum, about life in LA and meet our child neurology residency team.
Child Neurology Residency Program Fast Facts
ACGME Accredited: Yes
NRMP code: 1031185C0
Positions per year: 3
Program type: Categorical
Duration: 5 years
2 years of general pediatrics training in the CHLA Pediatric Residency
3 years of neurology training in the CHLA Child Neurology Residency
U.S. Citizenship Required: No (H-1B, J-1, and F-1 visas accepted)
Salary minimums (2023-2024)
Post Graduate Year 3: $75,628
Post Graduate Year 4: $78,531
Post Graduate Year 5: $81,677
Post Graduate Year 6: $84,712
Annual Housing Stipend: $10,000 PGY-3 Child Neurology Residents, $8,000 PGY4+ Child Neurology Residents
Benefits
Benefits for our child neurology residents include:
Health and dental insurance
14 days paid vacation + 6 protected sick days
Up to 8 weeks maternity LOA
Up to 6 weeks personal, family, or medical LOA during training
7 federal holidays (President's Day and Juneteenth excluded)
$1,000 Annual Education and CME Stipend
$1,200 Semi-annual meal stipend
401(k) matching up to 3%
For more information on benefits and life in Los Angeles please visit our Graduate Medical Education page.
How to Apply
Learn more about the application process on the child neurology residency application page.