Comprehensive Epilepsy Center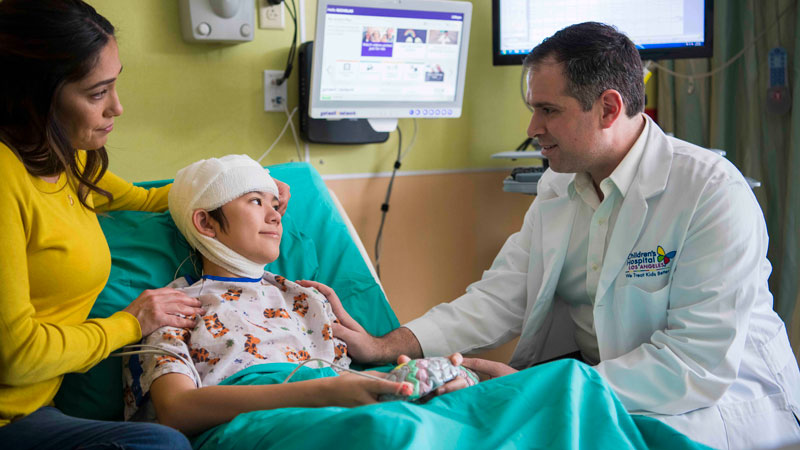 One in 26 Americans have epilepsy, a neurological disorder characterized by seizures associated with abnormal electrical activity in the brain. As with all neurological disorders, timely and effective epilepsy care is especially important for children. Symptoms of Epilepsy can interrupt or delay cognitive development and even lead to depression, as children come to terms with the reality of their illness.
CHLA's Neurological Institute offers a Comprehensive Epilepsy Center. Our team consists of experts from multiple specialties including Neurology, Neurosurgery, Neuropsychology, Radiology, Anesthesiology, Social Work, Physical/Occupational Therapy, and Nursing. The center provides every tool, procedure, and expert needed for the diagnosis and treatment of all levels of Epilepsy. This includes a state-of-the-art inpatient Epilepsy Monitoring Unit (EMU).
The Comprehensive Epilepsy Center, led by Dr. Deborah Holder, has level 4 certification—the highest available—from the National Association of Epilepsy Centers. Our four Pediatric Epileptologists are double Board-Certified in Adult and Pediatric Neurology, with specialty training in pediatric seizure disorders. They personalize care for every child's unique needs and strive to improve the quality of life for all children living with Epilepsy.
About the Comprehensive Epilepsy Center
Conditions, Treatments and Services

Physician Training Programs

Certifications and Accreditations

Minimally Invasive Innovation - ROSA® Brain Robot
Services we offer:
New-Onset Seizure Clinic

At our New-Onset Seizure Clinic—one of the largest programs of its kind in the state—we aim to see patients no more than two weeks after their first seizure event, to alleviate families' worries, make accurate diagnoses from the very beginning, and prevent any harm from additional, unnecessary or untreated seizures. Whether by medication, diet or surgery, we offer every solution available for children with epilepsy.

Full-service in-patient Epilepsy Monitoring Unit
Playroom - the first and only EMU-compatible playroom in Southern California, it is equipped with cameras, intercoms and designed to allow monitoring devices to remain plugged in via wireless backpack.
Video electroencephalogram (EEG)
Outpatient EEG and video EEG
3T magnetic resonance imaging (MRI)
Functional MRI
Positron emission tomography (PET) Scan
Single-photon emission computed tomography (SPECT) scan
Source localization via CURRY software
Neuropsychiatric evaluations
Surgical solutions

Approximately one third of epilepsy patients are not able to control their seizures with medications. Also, medications may cause too many undesirable side effects. Our highly trained and experienced surgeons can offer relief and often a cure for patients through a two-phase surgical process, called brain mapping. The goal is to pinpoint the exact region of the brain causing seizures and map out normal-functioning areas of the brain. This allows surgeons to remove problem areas and leave healthy brain untouched. Our program's success rates are among the highest in the nation, with approximately 89 percent of our surgery patients achieving freedom from seizures. CHLA surgeons perform more than 100 epilepsy surgeries a year, and have corrected seizure disorders in patients as young as 2 weeks old.

Invasive monitoring
Laser ablation
Resection with intraoperative EEG monitoring
Neuromodulation

Vagus nerve simulation (VNS)
Responsive neurostimulation (RNS)

Minimally invasive options (stereo EEG)

Diet program with two full-time dieticians

Ketogenic diet
Modified Atkins diet

Physical and occupational therapy
Genetic and neurogenetic testing and evaluation
Interfacing with schools for IEP coordination
Clinic trials
An adult hospital is no place for a kid with epilepsy. It takes a special team of doctors who have been trained in the nuances of a child's developing brain to provide exceptional care. When patients come to Children's Hospital Los Angeles, they receive access to a full gamut of pediatric-focused resources. Our board-certified Epileptologists target epilepsy, psychologists are on hand to support patients' mental health, physical and occupational therapists guide them through recovery, and social workers ensure families are supported every step of the way.
Children's Hospital Los Angeles, part of the USC Keck Medical System, is pleased to announce openings for our ACGME-accredited pediatric epilepsy fellowship for Academic Years 2019-20 and 2020-21. Our group has considerable clinical and neurophysiologic resources. We have 5 pediatric board-certified epileptologists with a busy epilepsy surgery program offering ECoG-guided resections, phase II studies with implanted grids/strips and depths, stereo-EEG, EEG source localization and minimally invasive laser ablation. We have a large VNS program and are initiating pediatric RNS. We follow over 100 children on either ketogenic diet or modified Atkins diet with the help of two full time dietitians. We have a robust epilepsy drug study program with over 10 active studies. CHLA has an active outpatient EEG lab, a dedicated pediatric EMU, and neuro-critical care EEG monitoring. Our Comprehensive Epilepsy Clinic includes an Epilepsy Surgery Clinic, Diet Therapy Clinic, Epilepsy Genetics Clinic and New Onset Seizure Clinic. All fellows have the opportunity to participate in a research projects during their fellowship mentored by one of our epileptologists. We have a strong epilepsy genetics lab with all genetic testing now done in house at CHLA.
Being the largest Children's Hospital in Los Angeles, we serve a diverse population and see the full spectrum of pediatric epilepsy.
For more information please contact Dr. Deborah Holder, Program Director at dholder@chla.usc.edu, or visit the Pediatric Epilepsy Fellowship webpage.
ROSA® Brain robot is a minimally invasive option for brain surgery for CHLA patients. ROSA® Brain is a surgical navigation and positioning system using robotic technology that allows surgeons to place electrodes, which detect seizures in the brain, without having to open a patient's skull or even shave a patient's head, as other traditional methods require. Minimally invasive surgery using ROSA® Brain may allow surgeons to lower operating time and eliminate the need for traditional craniotomies. 
Patient and Family Support
Epilepsy Support Group for Parents and Caregivers
Find Support, connect with others, access services. Learn more and be empowered in the fight to end epilepsy!
When?
Third Tuesday of every month
7 p.m. – 7:30 p.m. – Special Guest Educator
7:30 p.m. – 9 p.m. – Open Discussion Group
Who?
Parents and caregivers affected by epilepsy are invited to join us to gain support, share ideas, and learn from other parents experiencing similar issues.
What?
Free supportive care and educational program. Our CHLA and UCLA partners will host a short educational session at the start of every group. Topics vary.
Where?
Online – An invitation link will be emailed upon confirmation.
Registration
Call: 800-564-0445 or 310-670-2870
Email: help@endepilepsy.org
Additional Information
Facilitator: Anjie La Curan
Group Therapist: Laurette Hayden, MA, LMFT, Licensed Psychotherapist