Beyond Well – Community Impact at Children's Hospital Los Angeles
We believe that stronger communities create healthier and more resilient children. As a part of our efforts to create hope and build healthier futures, Children's Hospital Los Angeles is broadening the scope of our commitment to the communities around us.  
To do this, we are using the hospital's significant health care expertise, as well as its purchasing and employment power, to help build communities where "wellness" goes beyond health care. Team members and leaders are coming together with community partners in three intertwining efforts. 
Well Families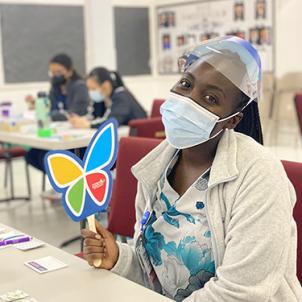 We are improving infant, child, adolescent and young adult health in underserved communities in Los Angeles. For example:
Through our Community Ambassadors program, we are working with community health promoters and integrating them into the health care system to provide greater support for families.  
We are strengthening our efforts to train all of our team members, no matter their area of medical expertise, to assess social determinants of health. This will permit our teams to help families find community resources, keeping them more resilient and strengthening their health.  
CHLA hosts annual community vaccination clinics for influenza and has hosted multiple COVID-19 vaccination clinics at the hospital and various community site.
Working Well
We are helping people imagine their futures as health professionals in CHLA's unique healing environment. For example:
We are adjusting our human resources recruitment systems to surface candidates from diverse communities for existing openings and training programs.
We are expanding our successful CHAMP program to incorporate veterans and increasing the scope of the training provided for interns to maximize their ability to gain employment following participation in the program.
Well Communities
We are spurring local economic growth and environmental initiatives that support wellness. For example:
We actively engage in Good Neighbor initiatives such as safety enhancement, neighborhood beautification and environmental efforts.
We support the development of community gardens and green spaces.  
We provide support to local nonprofits engaging in work to reduce health disparities and raise health equity in our impact communities.
We aim to stem the tide of food insecurity by supporting food reclamation, fresh produce distribution and meals for families in partnership with key community stakeholders.