Neurosurgery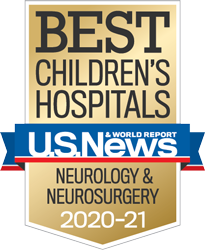 Children's Hospital Los Angeles runs the largest program on the west coast for newly diagnosed brain and spinal cord tumors. Our highly experienced surgeons provide precise surgical solutions for neurological disorders, cancer, craniofacial issues, spinal disorders and more. Our surgical outcomes and safety record exceed those of our peer institutions, and we perform the highest pediatric neurosurgical volume in Southern California.
The Division works hand-in-glove with Neurology programs to ensure that surgery is a safe and effective treatment choice for children. Our surgeons provide the full spectrum of neurosurgical solutions, and also work closely with the Divisions of Hematology-Oncology­, Plastic and Maxillofacial Surgery, Neonatology and more.
About the Division of Neurosurgery
Conditions, Treatments and Services

Physician Training Programs
Conditions:
Movement disorders
Epilepsy
Neuromuscular disorders
Deafness
Neurofibromatosis
Brain tumors
Craniofacial issues

Plagiocephaly
Craniosynostosis
Other skull abnormalities

Spinal disorders
Hydrocephalus
Chiari malformations
Syringomyelia
Fetal and neonatal issues
Services:
Vagus nerve stimulation
Resective surgery
Functional neurosurgery
Invasive monitoring
Laser ablation with MR thermography
Brain pathway disruption therapies

Calosotomy
Hemispherectomy (Hemispherotomy)

Deep-brain stimulation
Baclofen pumps
Invasive monitoring
Cochlear nerve implants
Auditory brain stem implants
Clinical trials
Our highly trained faculty neurosurgeons provide the full spectrum of pediatric neurosurgical procedures, from tumor removal to solutions for epilepsy and neuromuscular disorders, to our unique approach to deep-brain stimulation, which is unmatched internationally.
The Division of Pediatric Neurosurgery, an affiliate of the University of Southern California, is offering a post-residency fellowship clinical position to begin July 1st. Applicants must be eligible for a California Medical License and have completed a Neurosurgery Residency. Our hospital is a premier children's hospital with a full range of pediatric services: 750 operative procedures per year which includes an extensive neuro-oncology, craniofacial, epilepsy, and functional experience.
For more information, please visit the Pediatric Neurosurgery Fellowship webpage.
Patient and Family Support
Patient and Family Resources
The Division of Neurosurgery is located in the:
Doctors Tower
Adjacent to Hollywood Presbyterian/Queen of Angels Hospital
1300 N. Vermont Avenue, Suite 1006
Los Angeles, CA 90027
Online Map
Parking
Parking is available for Hollywood Presbyterian/Queen of Angels Hospital. Entrance to this parking structure is on Fountain Street, 1/2 block east of Vermont Avenue.
Check In at the Lobby
When you arrive at our hospital, your first stop will be the Information Desk in the Main Lobby, where our guest services staff will provide you with:
A visitor's badge
A paper map of our hospital's Outpatient Tower
Medical Records
Bring all relevant records from visits to physicians. In particular, reports from neurologists that your child may have seen previously will be very helpful to us if you are coming to our hospital for a second opinion.
Neuroimaging Test Results
We prefer to receive test results on CD-ROM (wherever possible) or on X-Ray film.
Examples of test results to bring:
MRI of brain
MRI of spine
CT Scans of head
Reports of any neurological testing such as EEG or EMG
Reports of nerve conduction testing
Reports of laboratory work (including any genetic or metabolic testing). This might include: urine organic acids, blood amino acids, chromosomes, "gene chips", or specialized enzyme tests
Full reports of neuropsychological testing
Full reports of psychometric testing