Neurosurgery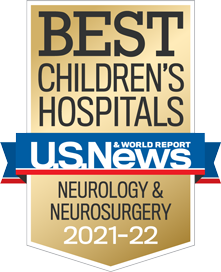 The Division of Neurosurgery at Children's Hospital Los Angeles is ranked among the top 10 pediatric neurosurgery centers nationwide by U.S. News & World Report. Our pediatric neurosurgeons are experts at surgically treating brain and spinal cord tumors, cancer, craniofacial issues and a variety of neurological disorders.
When you choose CHLA for neurosurgery, you can rest assured that your child is in highly skilled hands. Our surgical outcomes and safety record are among the best in the country. And our surgeons perform more neurosurgeries on children than any other hospital in Southern California.
We work together with doctors from CHLA's Division of Neurology to determine whether surgery is a safe and effective treatment choice for your child.
Neurosurgical Services We Provide
Our highly trained pediatric neurosurgeons provide a full spectrum of neurosurgical procedures.
Conditions We Treat
We use the latest techniques to effectively treat a variety of neurological conditions, including:
Brain tumors
Chiari malformations
Craniofacial issues
Deafness
Hydrocephalus
Syringomyelia
Surgical Procedures
Our neurosurgeons are experts at surgical treatments for epilepsy and neuromuscular disorders, as well as deep brain stimulation surgery. The full range of surgical treatments we offer includes:
Auditory brain stem implants
Baclofen pumps
Brain pathway disruption therapies
Clinical trials
Cochlear nerve implants
Deep brain stimulation
Functional neurosurgery
Invasive monitoring
Laser ablation with MR thermography
Resective surgery
Vagus nerve stimulation
Training and Internships
The Division of Neurosurgery, an affiliate of the University of Southern California, is offering a post-residency fellowship clinical position to begin July 1st. Applicants must be eligible for a California Medical License and have completed a neurosurgery residency.
Find out more about the Pediatric Neurosurgery Fellowship.