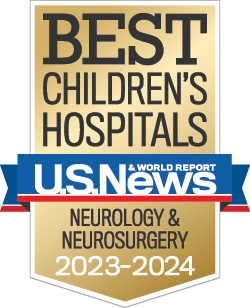 Children's Hospital Los Angeles is a world-class hospital dedicated to kids, and it is home to the premier pediatric neurological program in the western United States. Our team includes internationally recognized specialists who deliver the highest level of care for disorders affecting the brain, nerves, muscles and spinal cord.
Our approach includes integrated, multidisciplinary care, leading therapies and the support your family deserves. These efforts help all of the children we serve achieve their full neurologic potential.
The Neurological Institute: Why Choose Us
All of our doctors have training and expertise in the unique ways that neurological issues affect children. From common disorders to rare genetic conditions, we provide hope and help for any neurologic concern.
Highlights of our program include:
A multidisciplinary approach: Services in Neurology, Neurosurgery and other specialties such as Orthopedics, Oncology, Physical and Occupational Therapy, Psychology, Genetics and more are integrated, making it easier to optimize your child's care. Appointments often include evaluations from multiple neurologic disease experts and other pediatric subspecialists as necessary. These specialists work together outside of clinic visits, enabling us to tailor therapies to your child's needs. Meet our doctors.
Record of success: Children achieve better outcomes in pediatric hospitals, and CHLA is no exception. Our surgical outcomes and safety record are among the best in the country. Our track record of success enables more children to think, learn, grow and enjoy a happy childhood.
National recognition: Our commitment to clinical excellence has earned many of our programs distinction from trusted organizations, including the National Association of Epilepsy Centers, the Hydrocephalus Clinical Research Network, the National Multiple Sclerosis Society and the Muscular Dystrophy Association, among others. CHLA has also been one of the nation's top-ranked pediatric neurology and neurosurgery programs according to U.S. News and World Report for several years running.
Research: These efforts give eligible patients additional options that are only available in select programs nationwide. View our clinical research studies. 

CHLA not only delivers leading-edge therapies, we also help develop them through research at all levels. Our efforts range from basic research at the laboratory bench to clinical research and trials happening at the patient's bedside.
CHLA is home to multiple labs exploring neurological science in The Saban Research Institute of Children's Hospital Los Angeles. We also belong to prestigious clinical trial networks, including the National Cancer Institute's Children's Oncology Group.

Access for all: As California's primary safety net hospital for specialized pediatric care, we serve any family that needs our care. Your child and family receive the high-quality, compassionate care we're known for, regardless of financial status.
Pediatric Neurological Subspecialty Programs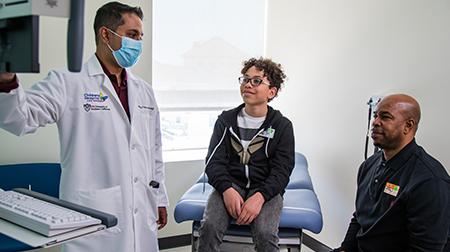 We offer more than 17 subspecialties covering all aspects of neurologic care. These programs draw patients from all over the western United States and the world. 
Our pediatric neurologists and neurosurgeons treat a high volume of children with complex conditions that include but are not limited to:
Brachial plexus and peripheral nerve injuries
CHLA has some of the most extensive experience on the West Coast treating nerve injuries affecting the upper and lower limbs. Our Brachial Plexus and Peripheral Nerve Program helps many children recover without surgery. When surgery is necessary, we consider all available options, including sophisticated nerve transfer procedures.
Brain and spinal cord tumors
CHLA has one of the largest pediatric neuro-oncology programs in the country. Some of our experts are internationally renowned for research and care excellence. Neurosurgeons collaborate with oncology specialists to deliver multi-modal therapy. Get more information about our Neuro-Oncology Program.
Craniosynostosis
CHLA was among the first programs in the country with a multidisciplinary craniosynostosis team. Neurosurgeons, craniofacial plastic surgeons and other specialists deliver life-changing treatments to children with rare skull defects. Our experience from thousands of cases enables more patients to make a complete recovery. Explore our Craniosynostosis Care Program.
Epilepsy
We maintain the highest level of accreditation from the National Association of Epilepsy Centers. Our epileptologists have deep experience treating intractable epilepsy. Your child has access to every test and treatment necessary for a precise diagnosis and personalized care. Learn more about our Comprehensive Epilepsy Center.
Movement disorders
Our Pediatric Movement Disorders Program is one of only a few such programs in the country. Our team uses surgical and nonsurgical therapies to help children get relief from spasticity, dystonia and more. We offer advanced options that include surgeryand intrathecal baclofen pump therapy.
Multiple sclerosis (MS) and other demyelinating disorders
We have one of the largest and fastest-growing pediatric MS programs in the country. Our experts prevent disability using aggressive disease-modifying therapies. We also treat rare disorders, such as opsoclonus-myoclonus syndrome, of which there are only about 200 cases in the United States. Explore our Neuroimmunology Program.
Neuromuscular disorders
Children's Hospital Los Angeles is home to a certified Duchenne Care Center, one of only 10 pediatric programs in the United States. We are also certified as a Muscular Dystrophy Association Multidisciplinary Neuromuscular Care Center. Our experts care for hundreds of patients each year with genetic, autoimmune and congenital neuromuscular conditions. Learn more about our Multidisciplinary Neuromuscular Center.
Rare genetic disorders
CHLA is one of the few pediatric hospitals in the country with an in-house genetics lab. Neurologists work closely with medical geneticists to pinpoint mutations associated with certain neurologic conditions. These efforts guide treatment recommendations, leading to the most effective options for your child.
Child-Friendly Environment and Easy Access to Care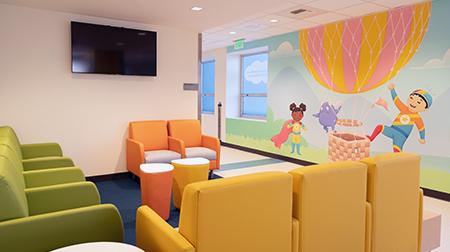 Our new Outpatient Center is a fresh, modern care environment designed with kids' needs in mind. The space includes calming color schemes, a playroom, 34 patient exam rooms, five procedural rooms and two consultation rooms. It's one of few pediatric neurology clinics in the country where children receive evaluations, testing and therapies in one location. Watch this video to learn more.
Wait times to see a CHLA neurologist or neurosurgeon are three times faster than the national average. And our team is easy to reach between appointments. Our Connected Care program gives you additional communication options, including through our secure patient portal, virtual visits and more.
For Medical Professionals and Students
We welcome patient referrals and requests for physician-to-physician consultation. Some clinics offer same-week appointments for urgent new patient referrals. Find out more about how to refer your patient or child.
CHLA is training the next generation of pediatric neurologists and neurosurgeons. We offer prestigious fellowships in epilepsy and pediatric neurosurgery, in addition to a child neurology residency. Learn more about our physician training programs.
Awards and Certifications
At CHLA, we continue to raise the bar for pediatric care quality. Our recognition includes: 
Becker's Healthcare 100 great hospitals in America
Magnet Recognition for exceptional nursing care
U.S. News & World Report rankings
Children's Hospital has consistently ranked as a top pediatric hospital since U.S. News & World Report created the Best Children's Hospital program in 1990. For the 2022-23 reporting period, we are: 
No. 1 children's hospital in California and on the West Coast 
Among the top 10 children's hospitals in the nation 
Among the top programs in the country for pediatric neurology and neurosurgery