Neurological Institute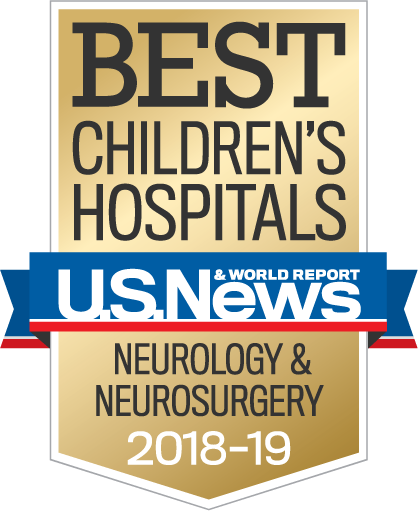 The Neurological Institute at Children's Hospital Los Angeles serves children from newborns to young adults. Patients who undergo neurosurgery or neurology services at CHLA receive treatment from a comprehensive care team that utilizes the most advanced services and surgical solutions. These therapies significantly improve outcomes for children suffering from a wide range of conditions such as brain and spinal cord tumors, deafness, hydrocephalus and medically intractable epilepsy. Our neurology EEG laboratory is accredited by ABRET (national neurodiagnostic credentialing and accreditation organization) and meets the technical and quality standards acknowledged for laboratory care.
The Institute provides a comprehensive continuum of care—bringing together services from Neurology, Neurosurgery, Psychiatry, Radiology, Physical Therapy, Occupational Therapy, Clinical Nutrition and Social Work—to support care of patients. Families who choose care from our specialists benefit from having access to all of the specialists below under one roof, including:
Neurologists
Neurosurgeons
Neuroradiologists
Neuropathologists
Neuro-oncologists
Neuro-ophthalmologists
Radiation therapists
Psychologists
Rehabilitation therapists
Clinical nurse specialists
Dietitians
Vagal Nerve Stimulator Program members
EEG technicians
Brain Tumors
Cerebral Palsy
Epilepsy Program
Headache Clinic
Immune-Mediated Neurological Disorders
Neuromuscular Clinic
Neurogenetic, Degenerative & Leukodystrophy Disorders
Arachnoid Cysts
Brachial Plexus Injuries
Brain and Spinal Cord Tumors
Chiari Malformation & Spinal Cord Syringes
Craniosynostosis & Craniofacial Reconstruction
Diaphragmatic Pacing
Head and Spinal Cord Trauma
Hydrocephalus In Utero
Neurosurgical Conditions
Medically Intractible Epilepsy
Neural Tube Defects
Neurocutaneous Syndromes
Neuroendocscopy
Spasticity Surgery
Vascular Malformations
Vertebral Column Anomalies
Neurosurgery
For help planning a Neurosurgery visit, please call 323-361-2169
Neurology
To make your child's visit for neurological evaluation most valuable and efficient, please arrange to bring the following.
Medical Records
Bring all relevant records from visits to physicians. In particular, reports from neurologists that your child may have seen previously will be very helpful to us if you are coming to our hospital for a second opinion.
Neuroimaging Test Results
We prefer to receive test results on CD-ROM (wherever possible) or on X-Ray film.
Examples of test results to bring:
MRI of brain
MRI of spine
CT Scans of head
Reports of any neurological testing such as EEG or EMG
Reports of nerve conduction testing
Reports of laboratory work (including any genetic or metabolic testing). This might include: urine organic acids, blood amino acids, chromosomes, "gene chips", or specialized enzyme tests
Full reports of neuropsychological testing
Full reports of psychometric testing
Medications List
In addition to bringing a complete list of ALL medications your child is currently taking, please also include a list of all medications previously tried for the condition.
Special Preparation Instructions
Headaches
If your child is coming to us for headaches, bring your headache diary.
(Newly referred headache patients are sent a detailed questionnaire and asked to keep a headache record for two to three months prior to their first appointment).
Seizures / Epilepsy
If your child is coming to us for seizures or epileptic behavior, bring your seizure diary.
Make a Video
For intermittent abnormal movements, "spells", or behavioral changes:
If your child has intermittent symptoms which are unlikely to be present during the visit, it can be extremely helpful to have a video to show the doctor.
Even a short segment showing abnormal behaviors or movements can help us make a diagnosis, and avoid other unnecessary procedures.
Bring the camera or device to play it back. Do not plan to bring it on CD or memory card as we may not have ability to play it.
Neurology and Neurosurgery
Los Angeles (Main Campus)
4650 Sunset Blvd.
Los Angeles, CA 90027
Phone: 323-361-2471
Fax: 323-361-1109
Referral Number: 888-631-2452
Referral Fax: 323-361-8988
Neurology (Outpatient Centers)
468 E. Santa Clara St.
Arcadia, CA 91006
Phone: 626-795-7177
Fax: 626-357-4052
5363 Balboa Blvd., Ste. 121
Encino, CA 91316
Phone: 323-361-2247
Fax: 323-361-8999
1301 20th St., Ste. 460
Santa Monica, CA 90404
Phone: 310-820-8608
Fax: 310-586-7486
3440 Torrance Blvd., Ste. 100
Torrance, CA 90503
Phone: 310-303-3890
Fax: 310-303-3893
23838 Valencia Blvd., Ste. 140
Santa Clarita, CA 91355
Phone: 661-362-1240
Fax: 661-259-7783
The child neurology residency training program seeks to produce physicians who are experts in the care of children with both acute and chronic neurological diseases. Our dedicated teaching faculty from multiple backgrounds will help assist you to achieve your career goals, whether academic, clinical, or educational. Our past residents have had great post training success and have a 100% board passage rate over the past 5 years.