Pediatric Neurosurgery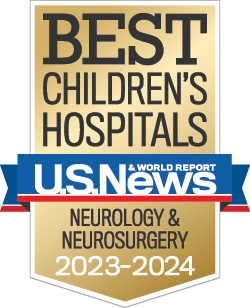 Research shows children treated at programs that see more patients achieve better outcomes. The pediatric neurosurgeons at Children's Hospital Los Angeles perform a high volume of neurosurgical procedures each year, using the most modern and innovative techniques around.
We maintain an outstanding safety record and our patients reliably achieve life-changing results. U.S. News & World Report consistently ranks us among the top neurosurgery and neurology programs in the country, and among the top pediatric medical centers nationwide.
Neurosurgery: Why Choose Us
Children's Hospital has one of the most comprehensive pediatric neurosurgical programs in the United States. All of our pediatric neurosurgeons are fellowship-trained and Board-certified. Our specialists have decades of experience and earned numerous international accolades. From standard procedures to the most advanced interventions, you can count on us for exceptional care. Meet our doctors.
Highlights of our program include:
An integrated approach: Children's Hospital is one of the only pediatric hospitals in the country that combines neurology and neurosurgery within a multidisciplinary Neurological Institute. This structure enables easy collaboration. We provide a seamless experience that coordinates presurgical care, recovery and rehabilitation to address your child's unique needs.
Multidisciplinary teams: Our neurosurgeons collaborate with other Children's Hospital pediatric subspecialists, including plastic surgeons, orthopedic surgeons, neuro-oncologists, epileptologists and more. We often see patients together in our newly renovated Neurological Institute Outpatient Center and work together to optimize treatment for each patient as an individual.
Precision: We use the latest technologies to diagnose, plan and perform surgical treatments for your child including image-guided surgery, robotic-assisted surgery, endoscopic and fetoscopic surgery and minimally invasive surgical techniques for craniosynostosis.

Surgery for Brain, Nerve and Spinal Cord Disorders in Children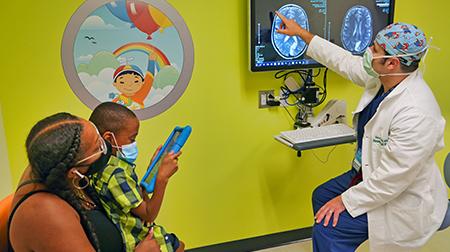 Pediatric neurosurgeons work closely with other Children's Hospital specialists within our Neurological Institute. We coordinate optimal care for even the most medically complex conditions.
We treat conditions such as:
Brain and spinal cord tumors: Children's Hospital is home to one of the nation's leading pediatric brain tumor programs. We perform more brain tumor operations than almost any other pediatric center in the U.S. Our experts lead and participate in national research consortia that advance care for central nervous system cancers in children. Our translational science at CHLA seeks to cure tumors that carry a poor prognosis.
Craniosynostosis: We are experts in this rare craniofacial anomaly. Our approach combines the expertise of neurosurgeons and craniofacial plastic surgeons, who operate together for a combined experience that few centers can match. Explore our Craniosynostosis Care Program.
Brachial plexus and peripheral nerve disorders: CHLA has the West Coast's largest pediatric brachial plexus and peripheral nerve programs that combine the expertise of neurosurgeons, orthopedic surgeons, neurologists and focused therapists. Learn about our Brachial Plexus and Peripheral Nerve Program.
Epilepsy: Our multidisciplinary surgical epilepsy program takes a patient-centered approach, We provide the full range of options that improve quality of life for patients and families living with intractable epilepsy, from complex epilepsy surgery to leading-edge procedures such as laser ablation, neuromodulation devices, vagal nerve stimulator (VNS) and responsive neurostimulation (RNS). Our success rates are among the highest in the nation. Explore children's epilepsy treatments.
Fetal conditions such as myelomeningocele (open spina bifida): Doctors from Children's Hospital and USC collaborate to provide fetal surgery for babies in utero. We are one of the few centers in the U.S. offering less invasive fetoscopic myelomeningocele repair. This technique is safer for both baby and mom, and improves the lives of children with open spina bifida.
Cerebrovascular disorders: Children's Hospital neurosurgeons, neurologists, interventional radiologists and radiation oncologists work together to treat pediatric cerebrovascular disorders. We provide comprehensive care for stroke, moyamoya disease, cavernous malformations and arteriovenous malformations.
Spinal Disorders: Our neurosurgeons and orthopedic surgeons often collaborate to treat complex pediatric spinal disorders.
A Child-Friendly Environment
Our new Outpatient Center is fresh and modern, designed with kids' needs in mind. The space includes calming color schemes, a playroom and 34 exam rooms. It's one of few pediatric neurology and neurosurgery clinics in the country where patients receive evaluations, testing and therapies all in one location. Watch this video to learn more.
Comprehensive Neurologic Disease Care
At CHLA, your child has access to the full range of tests and treatments in one convenient location in Los Angeles. Find out more about our Neurological Institute.