Craniosynostosis Care Program

The Craniosynostosis Care Program in the Division of Plastic and Maxillofacial Surgery currently is the only team in the country developed specifically to address the needs of children born with craniosynostosis.
Commonly Treated Conditions
Coronal craniosynostosis
Lambdoidal craniosynostosis
Metopic craniosynostosis
Multiple suture synostosis
Sagittal craniosynostosis
Craniosynostosis Team Members and Their Roles
Craniofacial Surgeons
Craniofacial surgeons work with neurosurgeons remove bones of the skull that require reshaping. Then, they reconstruct the face and skull, providing increased room for the brain while correcting their appearance.
Pediatric Neurosurgeons
Neurosurgeons work side by side with craniofacial surgeons to remove the bones of the skull and face necessary for reconstruction. They are responsible for protecting the brain during the early part of the procedure.
Pediatric Ophthamologist
In some forms of craniosynostosis, the eye socket is misshapen. This may affect the orientation of the muscles that control the movement of the eyeball (globe). Additionally, on rare occasions, patients with craniosynostosis will develop pressure on their brain.
Since the eye is like a window to the brain, the pediatric ophthalmologist looks for papillaedema, a sign that there is pressure on the brain. Although infrequent, this specialist will also evaluate the muscles of the eyes to determine whether any corrective surgery will need to be done./p>
Pediatrician
The pediatrician evaluates the overall health of the baby. Of course, this is not a substitute for regular visits to your own pediatrician. However, our pediatrician is experienced in treating babies with synostosis. In babies with syndromic synostosis, the pediatrician looks for other anomalies that may be present.
Psychologist
The psychologist helps address any questions you may have about development and conducts developmental tests.
Craniofacial Nurse Practitioners
The craniofacial nurse practitioner formulates a summary of findings and recommendations for you and your baby, as well as monitors the child's overall health.
Before and After Photos
Before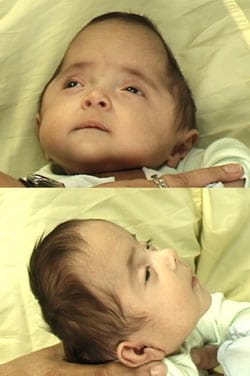 After