The Neurological Institute Outpatient Center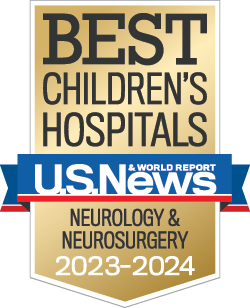 The Neurological Institute Outpatient Center at Children's Hospital Los Angeles provides the highest-quality care. Your child benefits from the recommendations of multiple pediatric neurologic subspecialists, many of whom are leaders in their field.
We deliver comprehensive services, including thorough evaluations, leading therapies and family-based support in one convenient location. This bright, family-friendly, 23,000-square-foot center is the largest facility in the western U.S. dedicated to children with neurological conditions.
The Neurological Institute Outpatient Center: Why Choose Us
The Outpatient Center supports our goal of helping children reach their full neurological and developmental potential. We offer a unique space that promotes collaboration and a multidisciplinary approach to provide the best possible care.
Your child receives world-class care from pediatric experts in our nationally ranked neurology and neurosurgery programs. From advanced diagnostic testing to leading-edge treatments, we offer more of the services your child needs in one family-friendly space. Find out more about our Neurological Institute.
Unique Approach to Pediatric Neurological Care
The Outpatient Center brings together experts from nearly 20 pediatric subspecialties. Appointments are streamlined to be more convenient for busy families. We can often make sure your child sees all their necessary specialists in a single visit.
Your child may receive:
Comprehensive evaluations from neurologists, neurosurgeons, and other pediatric subspecialists including orthopedic surgeons, plastic surgeons, psychologists and genetic counselors
Personalized treatment plans reflecting the latest science in pediatric neurologic care
Supportive therapies, including physical therapy, occupational therapy, speech therapy and diet therapy
Specialized testing, such as electroencephalograms (EEGs) for epilepsy and electromyography (EMG) for neuromuscular disorders
Follow-up care after recent procedures or hospitalizations
Family-centered support from nurse educators, Child Life specialists and social workers
Child-Friendly Environment
We offer a fresh, modern care environment that's made for children and reflects input from our patients and families. Encompassing an entire floor at the hospital's Sunset Boulevard campus, our Outpatient Center features:
34 patient exam rooms
State-of-the-art electroencephalogram (EEG) lab
5 procedural rooms and 2 consultation rooms
Calming color schemes
Dedicated playroom
Pediatric Neurologic Conditions We Treat
Neurologists and neurosurgeons provide outpatient services for a wide variety of issues including:
Brachial plexus and peripheral nerve conditions
Brain and spinal cord tumors
Congenital brain and spinal cord conditions
Craniosynostosis
Epilepsy and seizure disorders
Hydrocephalus
Migraines and headaches
Movement disorders
Neurocutaneous disorders
Neurodevelopmental disorders
Neuroimmunology and neuroinflammatory conditions
Neuromuscular conditions
Stroke
Tics
Traumatic brain and spine injuries
Vascular disorders