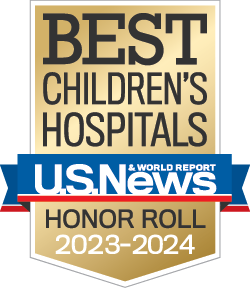 Children's Hospital Los Angeles provides the best care for kids in California.
U.S. News & World Report's national survey of children's hospitals has again ranked Children's Hospital Los Angeles among the best pediatric medical centers in the nation. This year's rankings confirm CHLA's excellence as we are ranked No. 7 in the nation, No. 1 in California and No. 1 on the West Coast.
Specialty Care Rankings
U.S. News & World Report's ranking affirms Children's Hospital Los Angeles' status as a premier health care institution. Our achievements are a direct reflection of the extraordinary skills of all of our team members, who combine passion and expertise to deliver superior patient care, creating hope and healthier futures for children.
U.S. News & World Report ranks children's hospitals for their clinical expertise and patient outcomes in 10 different medical specialties. Below is the breakdown of our rankings across those 10 areas of care:
About the Survey
Each year, U.S. News & World Report invites all pediatric hospitals across the nation to complete its survey and be considered for ranking. The methodology for the rankings is adjusted annually to reflect best practices in the industry along with differences in pediatric specialty care as compared to adult health care. Data related to the items below is scored to develop a ranking that reflects:
Clinical outcomes, such as the ability to prevent complications and infections
Quality of care and performance improvement projects
Care-related measures such as nursing, advanced technology, credentialing and education
Reputation, as established through a combination of opinions and recommendations gathered from pediatric specialists and data collected from a comprehensive survey
Find out more about our awards and accolades.