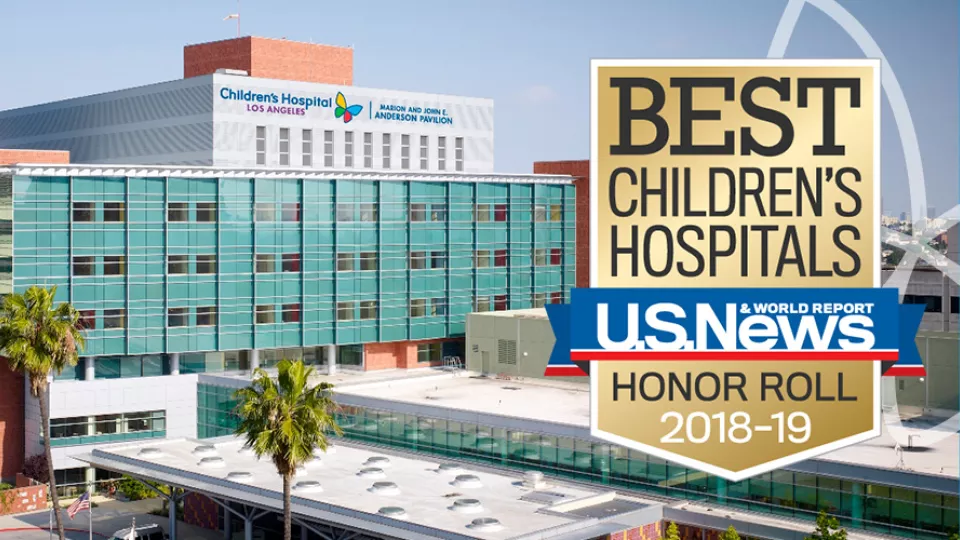 Honor Roll… On a Roll! Children's Hospital Los Angeles Again Ranks No. 1 Children's Hospital in the West, No. 6 in the U.S.
Hospital also earns top-5 rankings nationwide in four pediatric specialty categories in U.S. News & World Report's 2018-19 annual survey
LOS ANGELES (June 26, 2018) — For the second straight year, Children's Hospital Los Angeles (CHLA) has been named the top pediatric hospital in the western United States and No. 6 nationwide, according to U.S. News & World Report Best Children's Hospitals rankings announced today.
CHLA also was named to U.S. News' Honor Roll of Best Children's Hospitals for the 10th consecutive year. The distinction recognizes elite pediatric academic medical centers with the largest, most comprehensive clinical programs that result in the best health outcomes for their patients.
"An institution like Children's Hospital Los Angeles can only achieve decades of excellence in transformative care through the unceasing compassion, innovation and commitment to high-quality care by our talented doctors, nurses, researchers, technicians and staff," says CHLA President and Chief Executive Officer Paul S. Viviano. "As careful stewards of the lives entrusted to us, we are constantly striving to be a pediatric health system that provides superior clinical care in a compassionate manner while actively developing new treatments and new cures through translational research efforts. We are honored that U.S. News & World Report yet again acknowledges the work that we do to create hope and build healthier futures."
U.S. News scores children's hospitals separately from other hospitals due to the specialized expertise, equipment and facilities required to care for infants, children and youth. CHLA's overall 2018-19 score place it sixth in the United States out of 118 qualifying pediatric medical centers. Children's Hospital Los Angeles equaled or improved its rank in nearly every pediatric specialty category evaluated compared to last year's results, including top-10 recognition in six categories:
"U.S. News' Best Children's Hospitals Honor Roll is the industry standard for measuring a hospital's ability to provide the best and safest pediatric care," says CHLA Chief Medical Officer James Stein, M.D., MSc. "To be ranked 'Best in the West' is a testament to the skill and dedication of our clinicians and staff to care for our patients and families, while being committed to training and recruiting world-class physicians and nurses who support our clinical and research missions."
Children's Hospital Los Angeles has been providing high-quality pediatric care in Southern California for 117 years. Today, through more than half a million patient visits a year, families from all 50 states and more than 50 countries look to CHLA to help children with heart defects, brain disorders, spinal deformities, cancer and more. CHLA's physician expertise makes it the best choice for children—whether caring for infants still in the womb or youth on the cusp of adulthood.
CHLA is one of America's premier teaching hospitals, with care led by physicians who are faculty members of the Keck School of Medicine of the University of Southern California. It also is home to The Saban Research Institute, which complements the hospital's innovative clinical care with basic, translational and clinical research performed by scientists, physicians and nurses.
Of the many distinctions and elements of care delivery reviewed through the USNWR process, CHLA received regional and national attention for several key distinctions including:
Additionally, CHLA's:
Liver Transplant Program has achieved the highest 3-year post-transplant survival rate for programs in the western United States.
Children's Orthopaedic Center conducted more pediatric spine surgeries than any institution on the West Coast.
Vision Center is one of only eight sites nationwide currently approved to treat a form of inherited childhood blindness using the first gene therapy ever approved for a genetic condition in the U.S.
U.S. News and World Report calls the Best Children's Hospitals list "a unique collaboration between hospitals and U.S. News to benchmark the performance of children's hospitals for the benefit of parents and their children." Research firm RTI International and U.S. News collect and analyze hospital data reflecting clinical outcomes (such as patient survival and surgical complication rates); quality of hospital resources related to patient care (including staffing, technology and special services); delivery of care and commitment to patient safety (infection prevention and adherence to best practices); expert opinion among peer physicians nationwide; and other measurements of excellence, such as the number of fellowship programs and how involved families are in their children's care.
U.S. News Media Group, the parent of U.S. News & World Report, announced the 2018-19 hospital rankings at 12:01 a.m. EST on Tuesday, June 26, online. Below are links that can be referenced for additional information:
About Children's Hospital Los Angeles
Founded in 1901, Children's Hospital Los Angeles is ranked the top children's hospital in California and sixth in the nation for clinical excellence with its selection to the prestigious U.S. News & World Report Honor Roll of children's hospitals. Clinical care is led by physicians who are faculty members of the Keck School of Medicine of USC through an affiliation dating from 1932. The hospital also leads the largest pediatric residency training program at a freestanding children's hospital in the western United States. The Saban Research Institute of Children's Hospital Los Angeles encompasses basic, translational and clinical research conducted at CHLA. To learn more, follow us on Facebook, Instagram, LinkedIn and Twitter, and visit our blog for families (CHLA.org/blog) and our research blog (ResearCHLABlog.org).
For Media Inquiries, please contact:  
Lorenzo Benet, Media Relations Director  
323-361-4823 | lbenet@chla.usc.edu