Diabetes and Obesity Program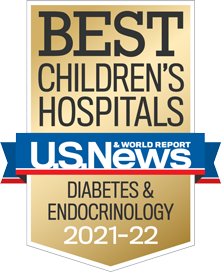 The mission of the Diabetes and Obesity Program is to develop, implement, and promote innovative and effective strategies to combat childhood and adolescent diabetes and obesity.
Obesity is one of the most important health problems facing our community today. Children are increasingly struggling with obesity and this is causing them many health problems that used to be primarily seen in adults, such as type 2 diabetes, high blood pressure and elevated cholesterol. Our program seeks to prevent and help reverse the impact of obesity on our children. We are doing this by conducting research, improving patient care and reaching out to our local communities to provide expertise and resources to help combat childhood diabetes and obesity. Our program is a collaboration between adolescent medicine, endocrinology and nutrition.
Our program is aligned with research, clinical care and community outreach to provide a comprehensive approach. The multidisciplinary obesity clinic will provide unprecedented access to specialty and subspecialty physicians, dietitians, psychologists, physical therapists, occupational therapists and social workers -- all within one clinic. Children's Hospital Los Angeles and The Saban Research Institute are committed to helping fight childhood obesity and diabetes.
Diabetes and Obesity Community Engagement

Diabetes and Obesity Research
Obesity is defined as a body mass index (BMI) at or above the 95th percentile for children of the same age and sex.
One-third of children are overweight or obese.
Obesity is responsible for more than $190 billion in direct health care expenditures.
Approximately 20 percent of cancers in the U.S. can be attributed to obesity.
One out of five new cases of childhood diabetes is Type 2, formerly referred to "adult onset" diabetes.
The Diabetes and Obesity Program is working to improve health and wellness in the community. The goals of our community engagement efforts are to work in partnership with community stakeholders to:
Identify strategies to reduce the prevalence of obesity and diabetes in Los Angeles communities disproportionately affected by the diseases or conditions.
Enhance the prevention and treatment of obesity and diabetes by improving services for these chronic conditions and introducing innovative approaches to community intervention.
The Diabetes and Obesity Program offers families access to the latest medical studies, known as clinical trials, aimed at finding better ways to diagnose and treat childhood diabetes and obesity. Many treatments used today are based on the results of past clinical trials. Our scientific and clinical experts take the best ideas from the laboratory to the patient in the form of promising new treatments.
CHLA Clinical Research Studies
By searching our clinical trials, you may identify research that could impact the life of your child or another child you know for years to come. Because the number of available clinical trials for children nationwide is small, every participant makes a significant contribution. Ask your child's doctor about clinical trial options that may be suitable for his or her condition. Please also check this page often, as new trials are added regularly.
If you have questions about clinical research or what it means to participate in a research study, you can visit our frequently asked questions.
Kids N Fitness Reunion – Cooking Challenge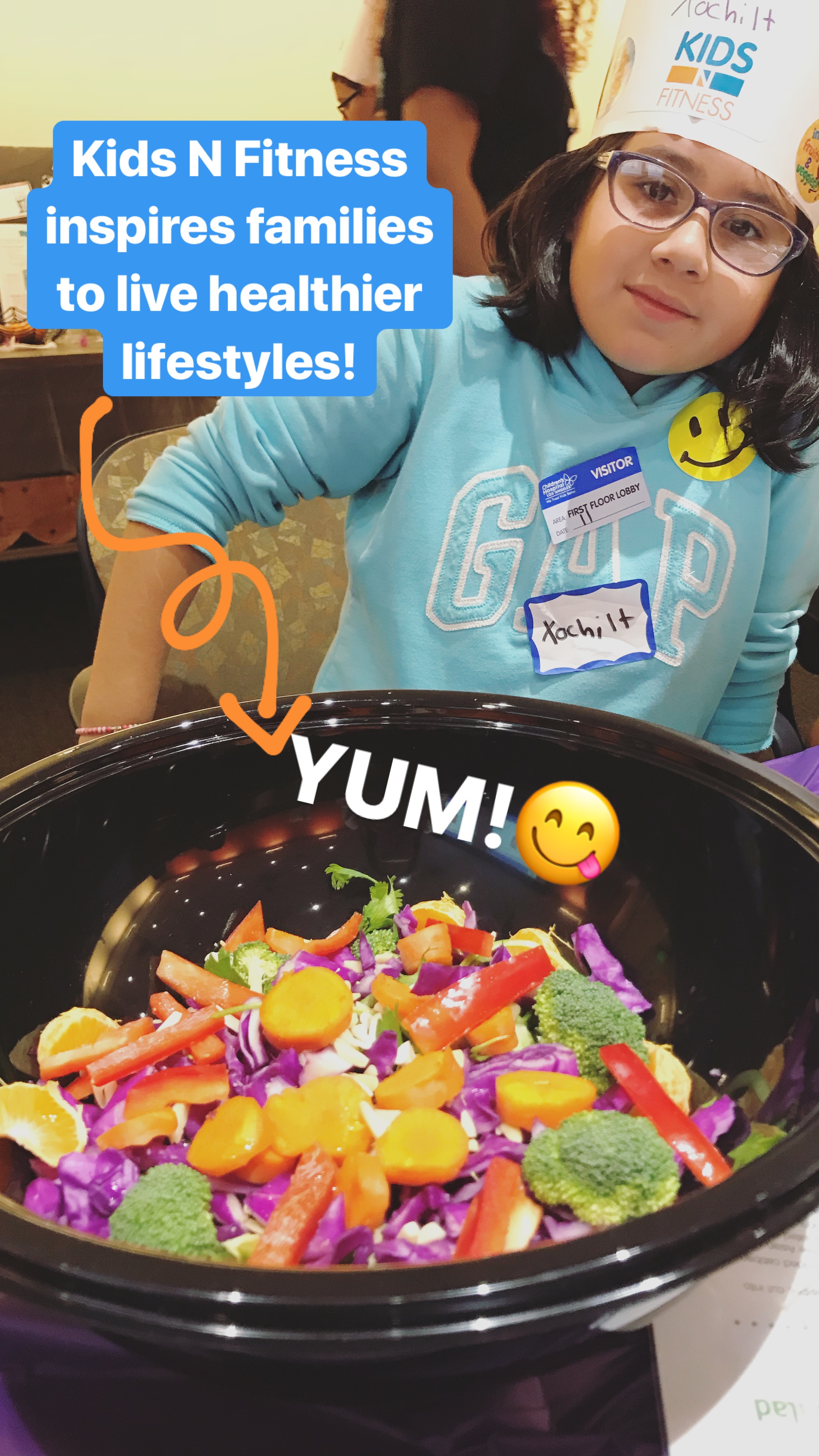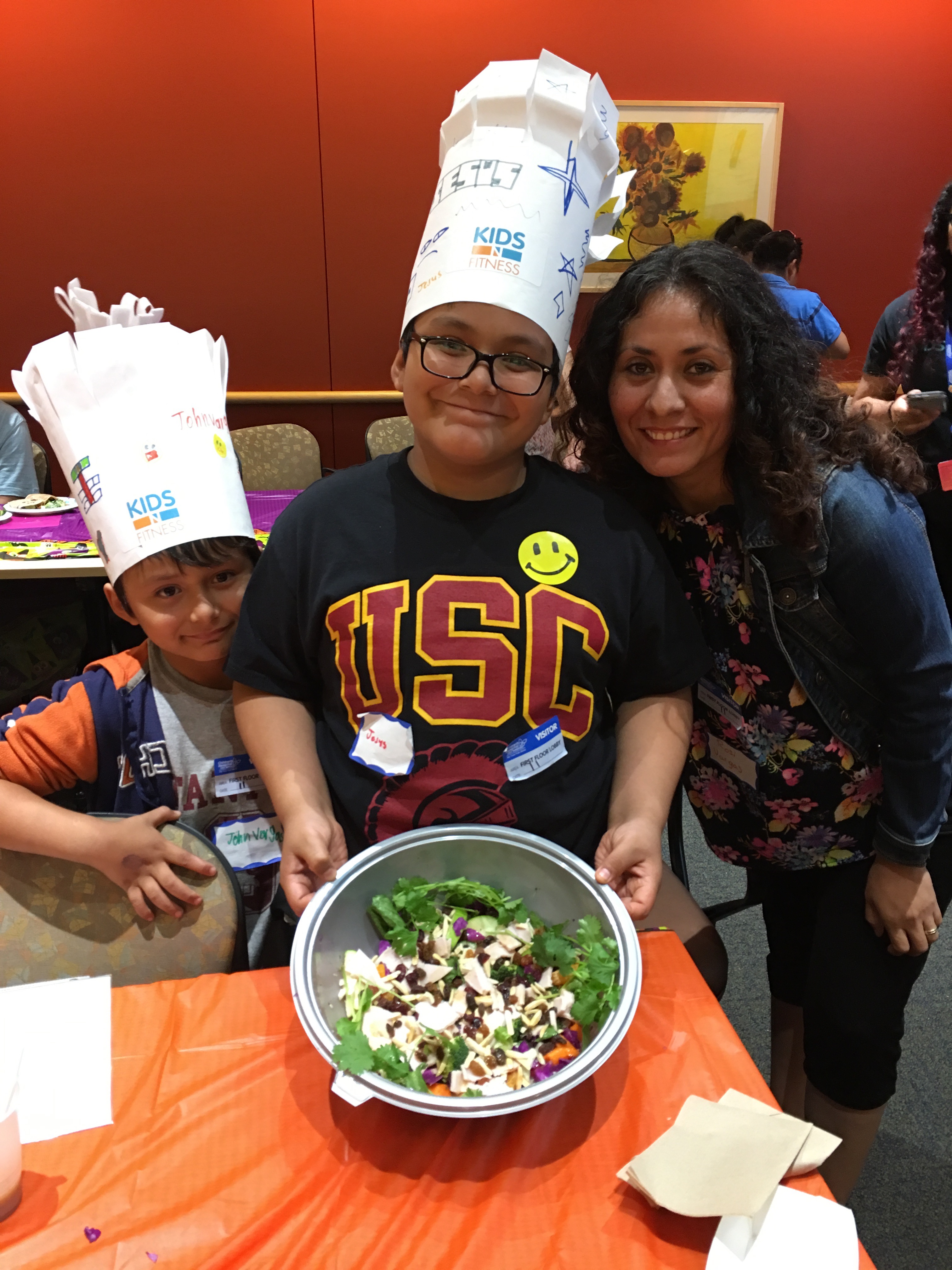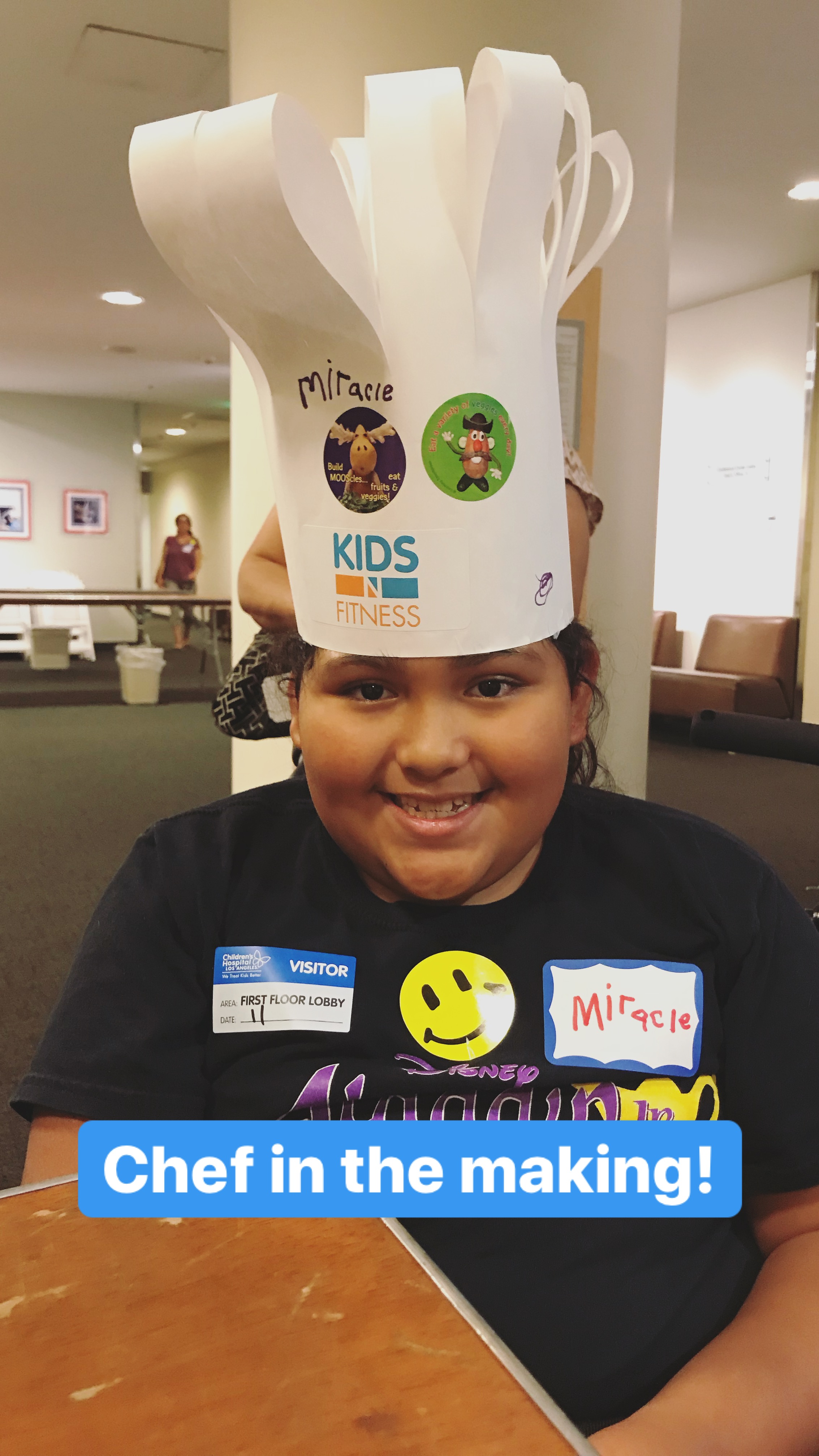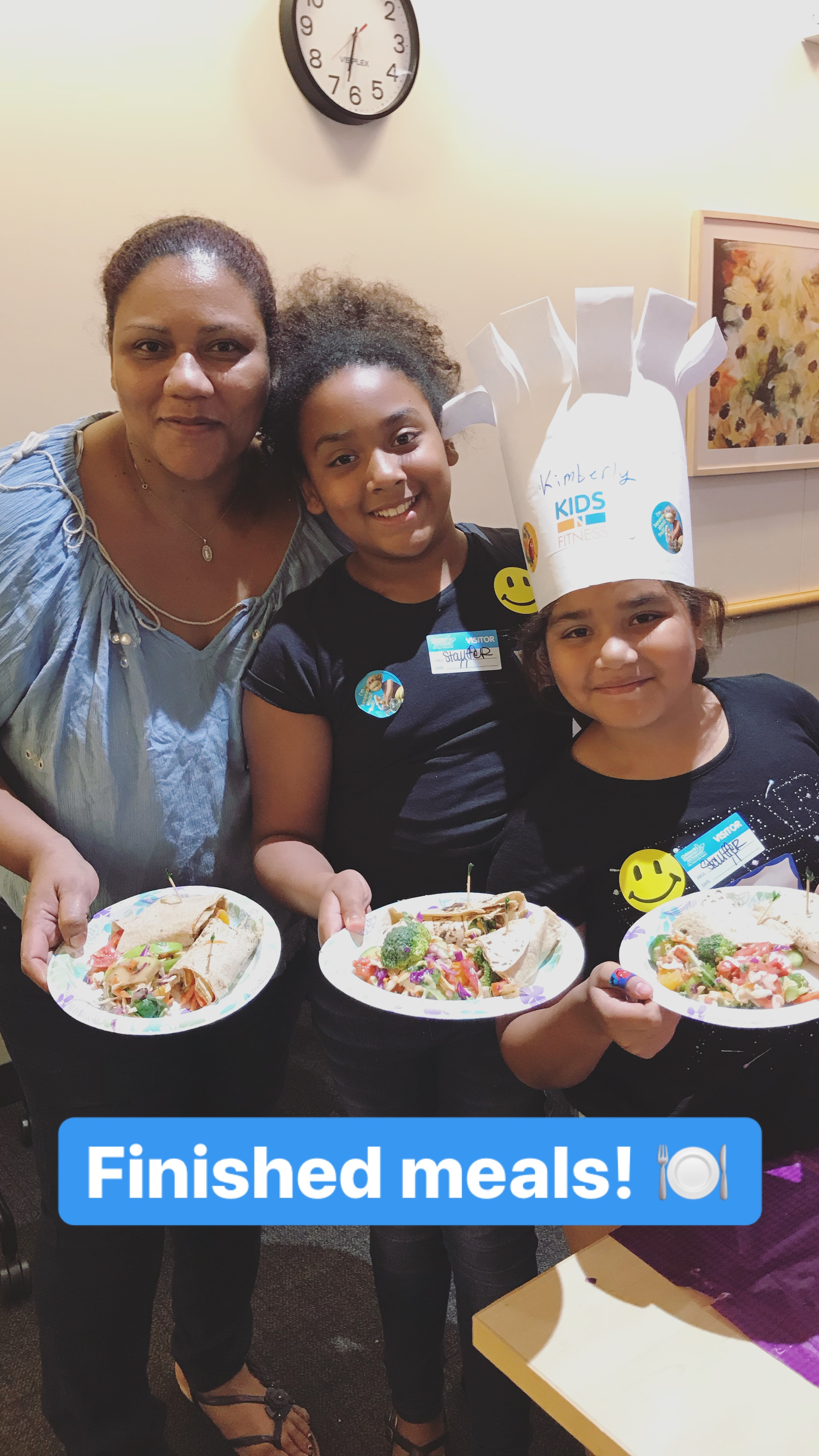 Kids N Fitness©(KNF) delivered its first reunion class on October 11th to about 35 children and their parents, siblings, aunts, and cousins. KNF is a family-centered program designed to address the childhood obesity epidemic by empowering families to make healthy lifestyle changes. "By having a program that involves not only the child, but also the parent, we expose families to the same message to create long term behavior change" said project lead Brenda Manzanarez, MS, RD. At the end of every 6-week series, parents request "advanced classes" to empower and motivate them to continue these healthy changes that they have already learned in KNF.
The first reunion class provided the opportunity for families to engage in a hands-on cooking class. The class highlighted the importance of incorporating vegetables into meals, kitchen basics like washing hands and knife skills. Working together as a family they were challenged to create a healthy recipe and give their dish a creative name. Children excitedly presented their creations and dish name to the rest of the class. Future refresher classes will include family requests for trips to the grocery store, yoga, and preparing lunches for children.
KNF is always accepting new referrals for youth between the ages of 3 and 16. If you have a patient to refer, please contact Kelly Young at (323) 361-3174 or kellyoung@chla.usc.edu.
CHLA Diabetes & Obesity Program participated in the Super Run 5K!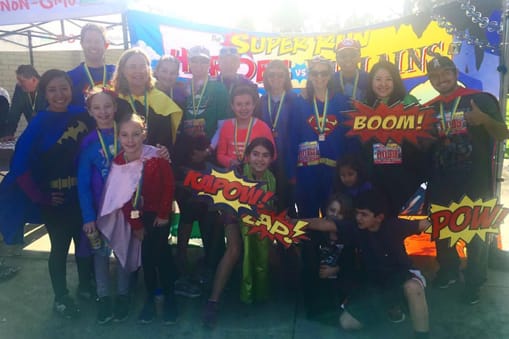 The CHLA Diabetes & Obesity (D&O) Program partnered up with the Super Run 5K, a national series of 5K running events that partner with non-profit organizations to help raise funds and awareness for their cause. The D&O program raised approximately $5,000 at the Super Run 5K in Long Beach on Saturday, January 21, 2017 at El Dorado East National park. The funds that were raised will support the D&O program's mission in continuing to develop, implement, and promote innovative and effective strategies to combat and prevent childhood and adolescent diabetes. These strategies will be through research, clinical care, and community outreach.
The CHLA Diabetes & Obesity Program Veggie Bucks WON the KIND CAUSE $10,000!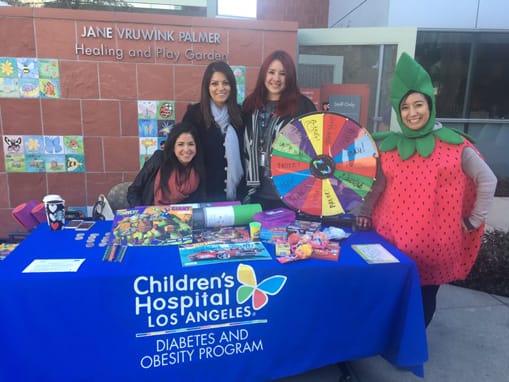 Children's Hospital Los Angeles (CHLA) serves predominantly low socio-economic families where access to fresh fruits and vegetables is limited. The Diabetes & Obesity (D&O) Program at CHLA started a weekly Farmer's Market to increase access to fresh fruits and vegetables to patients, families, and CHLA staff. Because the cost of fresh produce is often a barrier to purchasing from the market, the D&O Program launched Veggie Bucks (VB).
VB provides a limited amount of subsidized funding and is available every Wednesday in front of the CHLA Farmer's Market. The VB program gives patients, families, and CHLA staff the opportunity to purchase fresh fruits and vegetables from the market for a discounted rate. Customers can purchase two veggie bucks (which are valued at $10.00) for only $5.00!
The VB Program entered a competition with the KIND Bar Company who donates $10,000 to a charity with the most votes. VB WON the Kind Cause Challenge in December 2016 with 4,440 votes! This gift from the KIND Bar Company will help increase the amount of VB that can be subsidized at the weekly Farmer's Market. With this donation, we hope to be able to make healthy foods more accessible to families and staff, increase revenue for the farmers, and increase the consumption of fresh fruits and vegetables.
A big thank you to the Anet Piridzhanyan, MS, RD, Wellness Coordinator, Anne Cornforth, Foundation of Corporate Partnerships, and to the Diabetes & Obesity Program for all their hard work.
Kids N Fitness©, Lynda Fisher, and Cynthia Munoz honored at The American Diabetes Association Volunteer Awards Reception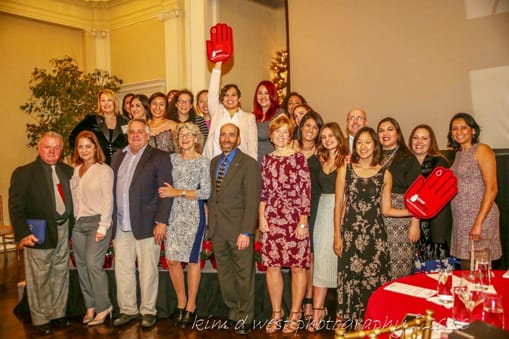 The Kids N Fitness team was honored to receive the LEARN Educational Award from the greater Los Angeles Chapter of the American Diabetes Association (ADA) for their successful implementation of Camp Strong, the ADA's first Type 2 Prevention Camp offered in Los Angeles. CHLA's Kids N Fitness team collaborated with ADA to create a family camp last summer utilizing the Kids N Fitness curriculum to educate and motivate youth and their families at high risk for diabetes to adopt healthier lifestyles. Last August, families came together at Camp Hollywoodland for a jam packed weekend full of learning, fun, and physical activity.
Families enjoyed a sleep away camp experience - hiking, arts and crafts, singing, and rock wall climbing, while learning about nutrition, diabetes prevention, and strategies for overcoming barriers to health.
Lynda Fisher, MD Vice Chair at The Center for Endocrinology, Diabetes, & Metabolism, who served as the Medical Director of Camp Strong and was instrumental in introducing Kids N Fitness to the ADA was also acknowledged as Physician of the Year for her over 4 decade involvement with the ADA.
Cynthia Munoz, PhD is the current President of the ADA's President of Community Leadership Board, and was honored as Volunteer of the Year for her unyielding commitment to fighting for people who have diabetes.
CHLA's Diabetes and Obesity Program is the First Interprofessional Team Award Recipient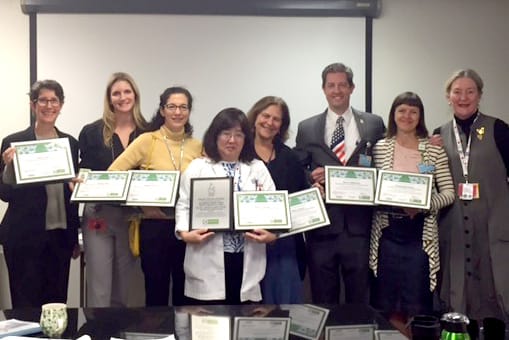 This special recognition was created and promoted through the DAISY Foundation and CHLA is honored to be one of a handful of hospitals that are participating in this innovative team award. The Diabetes & Obesity Program partnered with UCLA UniCamp to design and implement a week long session of summer camp wit ha health and fitness theme. The Program successfully secured funding to subsidize the camp for CHLA patients participating in the EMPOWER weight management clinic, type 2 diabetes clinics, kids n fitness, and our community outreach program.
More News and Events
American Diabetes Association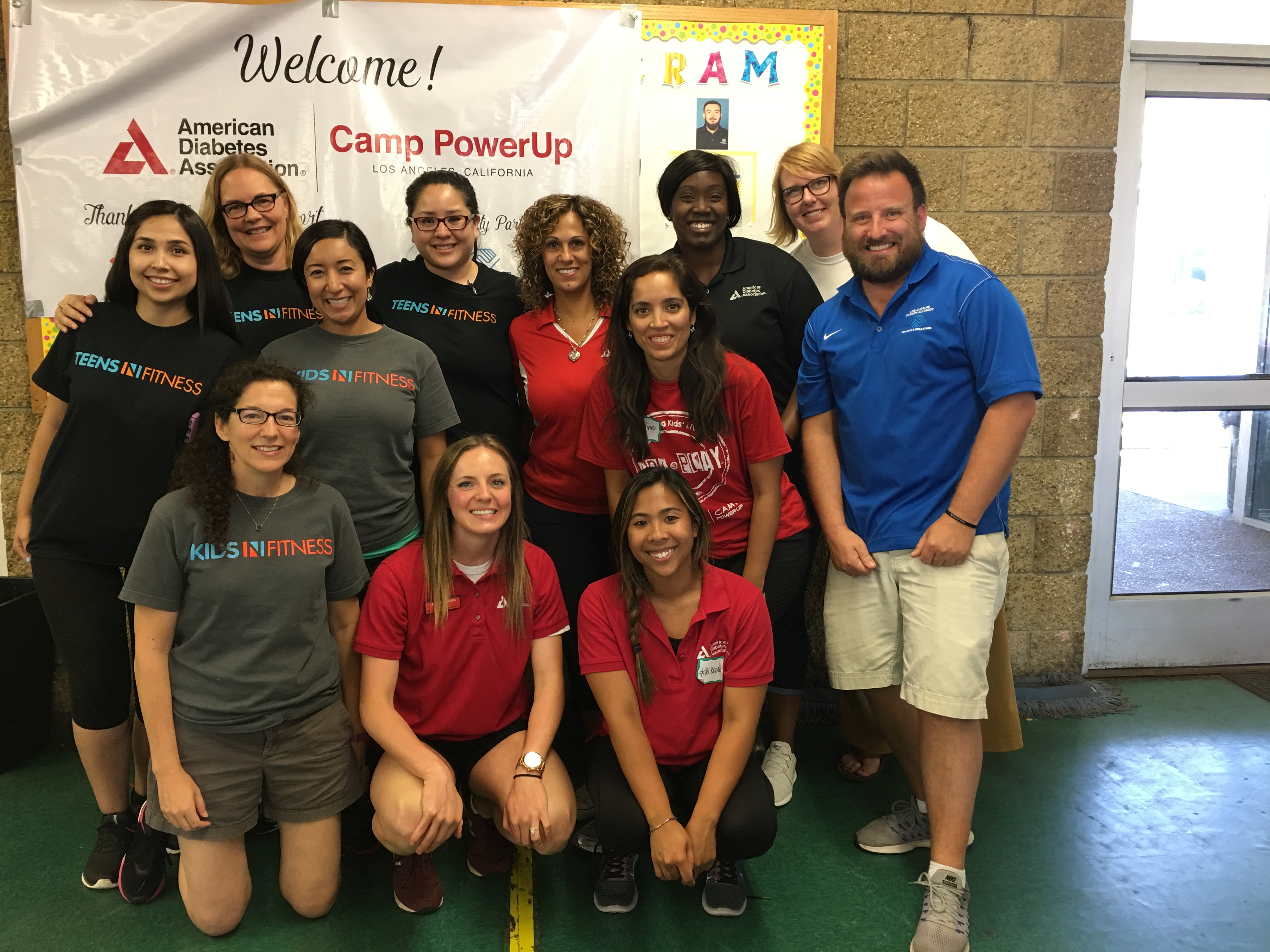 The Kids N Fitness Program and the American Diabetes Association (ADA) have partnered to combat childhood obesity and diabetes at nationwide summer camps. In May, the ADA entered into a 3 year partnership with CHLA to license Kids N Fitness as the standard curriculum for their Power Up initiative that will be implemented in camps and community settings across the Country. Camp Power up is designed for children at high risk for type 2 diabetes and their parents. ADA regional leaders were trained by CHLA Kids N Fitness Master Trainers in how to deliver the curriculum and will be working over the next year to become certified trainers so that the program can be scaled. CHLA and ADA are working collaboratively to evaluate the effectiveness of the camp experience to ensure successful learnings and outcomes from children and their families at the camps. Families engage in fun activities designed to increase nutrition knowledge and empower families to make healthy lifestyle changes.
St. John's Well Child & Family Health Center
For the past three years, CHLA's Diabetes & Obesity Program has partnered with the St. John's Well Child and Family Health Center, a community clinic network serving low income residents of South LA, to support and help build clinic providers' capacity to manage children and adolescents who are or at risk for overweight and obesity. A central component of this support has been the introduction of KidsNFitness©. CHLA's D&O program and St. John's partnered to adapt the KidsNFitness© curriculum to meet the needs of CADD patients and their families. St. John's is offering the adapted KNF program called KNF4ALL (Kids N Fitness for All Learning Levels) to eight cohorts of CADD patients and families.
The Diabetes and Obesity Program has open volunteer opportunities. If you are interested in volunteering, please submit a request to volunteer with the Diabetes and Obesity Program through the CHLA volunteer office.
Learn more about volunteering opportunities here.