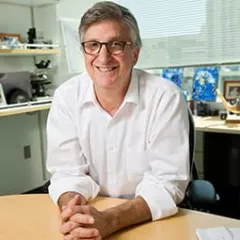 Pat Levitt, PhD
Chief Scientific Officer, Vice President and Director, The Saban Research Institute
Simms/Mann Chair in Developmental Neurogenetics
Children's Hospital Los Angeles
W.M. Keck Provost Professor in Neurogenetics
Department of Pediatrics, Keck School of Medicine of USC
Visit Dr. Levitt's Lab page to learn more.
Dr. Levitt received his B.A. in Biology at the University of Chicago, a Ph.D. in Neuroscience at University of California, San Diego and a postdoctoral fellow at Yale University. Dr. Levitt has held chair and institute directorships at University of Pittsburgh Medical Center, Vanderbilt University and USC. Dr. Levitt has been a National Institute of Mental Health MERIT awardee, McKnight awardee, and has served as a member of the National Advisory Mental Health Council for the National Institute of Mental Health. He is an elected Fellow of the American Association for the Advancement of Science (AAAS) and an elected member of the National Academy of Medicine.
He is a Senior Fellow at the Center for the Developing Child at Harvard University, and serves as Scientific Director of the National Scientific Council on the Developing Child, a policy council that brings the best research from child development and neuroscience to assist state and federal policy makers and private sector business leaders in making decisions regarding child program investment.
His research program includes basic studies that probe the ways in which circuitries that controls learning, emotional and social behavior develop, using advanced technologies in genetics, cell biology and behavior. Clinical research investigates children with autism spectrum disorder who have co-occurring gastrointestinal and other conditions. Studies of infant resilience to adversity focus on the brain-based and metabolic changes that may have short and long-term impacts on mental and physical health. He has published over 275 scientific papers.
Your tax-deductible donation to the Developmental Neurogenetics Programwill make a lasting difference in the lives of many young patients and their families. Philanthropy makes it possible for the program's leadership to support the areas of greatest need—and greatest promise—at any given time. Your support helps us create hope and build healthier futures for the families of Southern California and beyond.
Education
Graduate School
University of California, San Diego
Fellowship
Postdoctoral Fellow, Yale University School of Medicine
Accomplishments
Certification
BA, Biological Sciences, University of Chicago; PhD, Neurobiology, University of California, San Diego
Medical Awards
NIMH R01 "Function and Structure Adaptations in Forebrain Development"
Autism Speaks "Response Heterogeneity to GI Treatment, Autism Symptom and Improved Oxidative Stress"
NIH T32 "Training in Fundamental Neuroscience"
The Simms/Mann Family Foundation Discovery Research Fund
The Simms/Mann Family Foundation, High-Risk, High-Impact Exploratory Research and Next Generation Research Project Incubation
JPB Research Network on Toxic Stress: A Project of the Center on the Developing Child at Harvard University
Higgins Family Foundation "Pilot Clinical Trial on Autism and the Gut Microbiome
Publications
Publications
Bonnin, A., Goeden, N., Chen, K., Wilson, M.,L., King, J., Shih, J.C., Blakely, R.D., Deneris, E.S., Levitt, P.  (2011) A transient placental source of serotonin for the fetal forebrain.  Nature 472: 347-350.
Mukamel, Z., Konopka, G., Wexler, E., Osborn, G.E., Bergman, M.Y., Levitt, P., Geschwind, D.H. (2011) Regulation of MET by FOXP2, genes implicated in higher cognitive dysfunction and autism risk. J. Neurosci. 31:11437-11442.
State, M.W., Levitt, P. (2011) The conundrums of understanding genetic risks for autism spectrum disorders.  Nat. Neurosci. 14:1-8.
Qiu, S., Aldinger, K.A., Levitt, P. (2012) Modeling of Autism Genetic Variations in Mice. Focusing on Synaptic and Microcircuit Dysfunction. Dev. Neurosci. 34:88-100.
Rudie, J.D., L. M. Hernandez, L.M., Brown, J.A., Beck-Pancer, D., N. L. Colich, N.L., Gorrindo, Thompson, P.M., Geschwind, D.H., Bookheimer, S.Y., Levitt, P., Dapretto, M. (2012) Autism Associated Promoter Variant in MET Impacts Functional and Structural Brain Networks. Neuron 75:904-915.
Gorrindo, P., Lane, C.J., Lee, E.B., McLaughlin, B.A., Levitt, P. (2013) Enrichment Of Elevated Plasma f2t-Isoprostane Levels In Individuals With Autism Who Are Stratified By Presence of Gastrointestinal Dysfunction. PLoS One 8:e68444.
Plummer, J.T., Evgrafov, O.V., Bergman, M.Y., Friez, M., Haiman, C.A., Levitt, P., Aldinger, K.A. (2013)Transcriptional regulation of the MET receptor tyrosine kinase gene by MeCP2 and sex-specific expression in autism and Rett syndrome. Transl. Psychiatry 3:e316.
Qiu, S. Lu, Z., Levitt, P. (2014) MET receptor tyrosine kinase controls dendritic complexity, spine morphogenesis and glutamatergic synapse formation in the hippocampus. J. Neurosci. 34:16166-16179, 2014.
Wang, F., Eagleson, K.L., Levitt, P. (2015) Positive regulation of neocortical synapse formation by Plexin-D1 receptor. Brain Research 1616:157-165.
Aldinger, K.A., Lane, C.J., Veenstra-VanderWeele, J., Levitt, P. (2015) Patterns of risk for multiple co-occurring medical conditions replicate across distinct cohorts of children with autism spectrum disorder. Autism Res., e-Ahead of Print.
Resources
Research
Research Summary
The Levitt Laboratory is unique in undertaking both basic and clinical research projects. Research projects investigate the development of brain architecture that controls emotional and social behavior and learning, the challenges that arise when neurodevelopment is derailed, and determining why brain and certain medical disorders often co-occur in children and adolescents. Areas of focus include: development of neural circuitry; regulation of genes for neurodevelopment disorders; fetal brain development; clinical studies of children with ASD; and clinical neuroscience studies of resilience in very young children.
Learn more about the Levitt Laboratory.
Research Studies
Determine how potentially stressful situations, including prematurity, hospitalizations, maternal mental health and rapid repeat births can impact a baby's development in the first 12 months of their...
Learn more about healthy baby development and develop new tools for pediatricans so they can better support the unique development of each child.
To understand how environmental factors affect a child's early brain development. This includes positive factors like social support and parent-child bonding and challenges like poverty, stress and...
4650 Sunset Blvd.
The Saban Research Institute
Los Angeles, CA 90027
United States