Children's Orthopaedic Center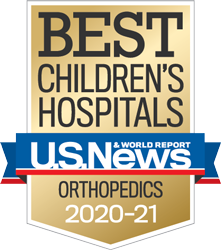 The Children's Orthopaedic Center at Children's Hospital Los Angeles provides the most comprehensive children's pediatric orthopedic care in the western United States.
Our team consists of pediatric orthopaedic surgeons, nurses, rehabilitation experts, physical therapists, physician assistants, biomedical engineers and numerous other collaborating support staff.
We specialize in every ailment associated with orthopaedics, including fractures, injuries, spine disorders, neuromuscular weakness, tumors, and hip, hand and joint abnormalities.
U.S. News and World Report Top 10 Children's Orthopaedic Program
The program receives high honors annually from U.S. News & World Report and is regularly ranked among the elite children's orthopaedic programs nationwide, confirming the excellence and scope of our patient care. It also speaks to our reputation among our peers, our vigilance in preventing surgical complications, our use of the most advanced technologies and our supportive relationships with our patient families. Meet our orthopaedic team.
Our Locations
map
Children's Orthopedic Programs and Service
Bone and Soft Tissue Tumor Program

Hand and Upper Extremity Program

Low Radiation Imaging (EOS Imaging)

Motion Analysis Lab with Gait Analysis and Sports Assessment

Other Programs and Services
At the Brachial Plexus Clinic of Children's Hospital Los Angeles, our team of pediatric orthopedic surgeons, nurses and occupational therapists offer medical evaluation and treatment for children with perinatal brachial plexus injuries (PBPI). We help kids regain function and reach their full potential.
At CHLA, your child benefits from working with our orthopaedic surgeons, neurosurgeons, occupational therapists, orthopaedic nurses and orthotists. The Brachial Plexus Clinic at CHLA specializes in providing complete care and unique treatment plans for children from infancy to school-age.
The Bone and Soft Tissue Tumor Program serves as a consummate example of the Children's Orthopaedic Center's integrated approach to patient care. The program teams our pediatric orthopaedic surgeons with oncologists, pediatric surgeons, pathologists, musculoskeletal radiologists, radiation oncologists, child life specialists and the pediatric rehabilitation team to craft a comprehensive treatment plan for children with musculoskeletal tumors.
Led by one of only two surgeons in the western U.S. with formal training in children's orthopaedics and musculoskeletal oncology, the program sees more patients with bone and soft tissue tumors than any other children's hospital in the region and is a leader in technology and research aimed at advancing the field of bone and soft tissue tumors in children, adolescents and young adults.
Clubfoot is a congenital condition in which one or both feet rotate inward at the ankle. It can impact your child's ability to walk. At Children's Hospital Los Angeles, our orthopaedic specialists can treat clubfoot without major surgery using the Ponseti method. This technique moves your child's foot into the correct position through gentle manipulation and casts.
The Sports Concussion Program at the Children's Hospital Orthopaedic Center is the only comprehensive clinic of its kind in California, specifically developed to treat children and adolescents with concussions. Same-day or next-day appointments are offered to evaluate patients early and optimize their recovery. Individualized treatment plans based on the most up-to-date medical research are provided to all patients. The clinical program also includes a peer support group, where patients can share their experiences and give and receive encouragement during their recovery. To ensure state-of-the-art care, the Sports Concussion Program is leading further understanding and management of concussion through active clinical research projects.
The Children's Orthopaedic Center Hand and Upper Extremity Program treats more than 200 kids each month for the full range of disorders that affect the hand, elbow and shoulder, from common joint pain and fractures to complex cases of cerebral palsy, birth brachial plexus palsy, and congenital hand deformities. Our pediatric orthopedic surgeons provide state-of-the-art care, including microsurgery, to improve the function and appearance of the arms and hands of children.
The program offers another example of our commitment to collaborative patient care. Surgeons and occupational therapists care for patients together; combining their expertise to develop a therapy plan drawn up to the precise needs of every child the clinic sees.
"Hip preservation" may sound like a matter for geriatric care, but recent studies have shown that most adult hip arthritis is the result of conditions that appear in childhood. The Children's Orthopaedic Center's Hip Preservation Program helps to delay or prevent arthritis later in life by treating disorders of the hip in children and young adults. Our goal is to help our patients develop into healthier, more active, pain free adults.
Our multi-disciplinary staff is composed of pediatric orthopedic surgeons, physicians' assistants, nurses, physical therapists, and orthotists all with a special knowledge of how the hip works. Together, our team sees hundreds of children and young adults annually with hip disorders including developmental dysplasia of the hip, Legg-Calve-Perthes disease, slipped capital femoral epiphysis, femoro-acetabular impingement, avascular necrosis, and hip trauma.
Our Children's Orthopaedic Center and the Department of Radiology and Imaging are dedicated to providing the highest-quality patient care under the safest conditions. Our EOS Imaging System is helping us provide the highest quality care while reducing exposure to radiation for our patients.
Watch: Children's Hospital Los Angeles is Using New, High-Tech Imaging That Dramatically Cuts Down Radiation Exposure
What is the EOS Imaging System used for? Why is EOS different than other machines?
The EOS Imaging System (EOS) is an advanced X-ray system that uses two extremely fine beams to capture 2D and 3D images at one time. The images are then combined into a three-dimensional image that can help surgeons make well-informed decisions about care. The scans take approximately 20 seconds or less to take and reduce radiation exposure for a developing child by 90 percent overall as compared to a conventional X-ray machine.
How can reducing radiation exposure help patients?
Reducing radiation exposure can have positive long-term effects, particularly in cases where children are diagnosed with skeletal disorders of the spine or extremities that require repeated scans over time.
How is an EOS system different from a standard X-ray system?
EOS is different from conventional X-Ray machines in several ways:
Two images are used to construct one 3D image
Extremely fine beams of radiation are used, which reduces radiation exposure for each scan by up to 90 percent compared to a standard X-Ray.
Patients are scanned while standing up and while bearing weight—both of which are crucial for planning successful orthopaedic surgeries.
EOS is safe and patient- and operator-friendly.
What can a patient expect during the EOS imaging experience?
Patients can expect the EOS experience to be convenient, comfortable, fast and non-traumatic.
The John C. Wilson, Jr. Motion and Sports Analysis Laboratory uses the most advanced assessment tools to enhance the lives of hundreds of children each year. An integral part of the acclaimed Children's Orthopaedic Center, the leading-edge Lab is one of the most advanced facilities of its kind in the United States and the only one in Southern California focused exclusively on the care of children and adolescents. The Lab opened in 1992, fulfilling the vision of Vernon Tolo, MD, and Robert Kay, MD, who has served as the medical director of the Lab since 1997. The lab has been recognized for its outstanding care by receiving full accreditation from the Commission for Motion Laboratory Accreditation – making it one of only nine fully accredited labs in the United States and the only one in California.
Thousands of children with nerve and muscle weakness seek treatment in the Children's Orthopaedic Center every year, for diseases that include cerebral palsy, muscular dystrophy, spina bifida and Rett Syndrome. Our neuromuscular experts join forces with other specialists such as pediatric neurologists, occupational and physical therapists, neurosurgeons and physiatrists to help children walk better, walk faster and walk stronger.
Together, using the newest technologies, they oversee the range of complex care our patients require, including nonoperative treatments such as bracing, therapy and equipment needs. For ambulatory children, evaluation in the John C. Wilson, Jr., Motion Analysis and Sports Assessment Laboratory provides critical data to allow the best treatment decisions possible.
The Children's Spine Center provides safe and effective treatment for the spines of more kids than anywhere else in the western United States. While some facilities perform a handful of scoliosis surgeries a year, the Spine Center handles about one per day. A mere 1 percent of teenage scoliosis patients require surgery; at CHLA, that number is nearly 30 percent—the result of other hospitals referring their most advanced cases to us and recognizing our unique capability to handle them.
Our treatment for spinal deformities incorporates physical therapy, core strengthening and orthotics, in addition to innovative options that only a few centers in the nation offer. As an example, we pioneered the use of magnetic expansion control rods, which stabilize and support the spine of a scoliosis patient while creating room for the chest to develop. Doctors maneuver and lengthen the devices externally, with the use of magnets, eliminating the need for the invasive surgery required every six months to adjust traditional growth rods.
The Children's Orthopaedic Center is home to the only pediatric Sports Medicine Program in the Greater Los Angeles area. Led by doctors who also serve as physicians for the L.A. Galaxy professional soccer team, our program cares for all the orthopedic conditions that can impair young athletes, such as broken bones, ligament tears, dislocations, stress fractures and growth plate injuries.
The success of the Sports Medicine Program has much to do with our access to new technologies, such as those housed in the John C. Wilson, Jr., Motion Analysis Laboratory. The John C. Wilson Motion Analysis Laboratory enables us to provide care previously reserved for the elite professional athlete to athletes of all ages. The John C. Wilson Motion and Sports Analysis Laboratory provides comprehensive state-of-the-art 3D biomechanical analysis of sports activities to help advance injury recovery and prevent injury. Additionally analysis can help provide a quantitative measure to determine an athlete's readiness to return to sport following an injury.
Foot and Ankle Program
Lower Extremity Services
Orthopedic Trauma Services
Education, Exercises and Resources
Why choose the Children's Orthopaedics Center at CHLA?
Ranked #8 by U.S. News and World Report in Pediatric Orthopedics
We provide quality, safe, and effective care to our patients
We prepare an individualized treatment plan specific to each patient's needs
Our coordinated care team goes above and beyond to be accessible and serve the needs of all of our patients
Our multidisciplinary team provides a wide variety of services, resulting in comprehensive treatments for our patients
All of our physicians and staff are specifically trained to treat your child. Our clinic and hospital are specially designed and equipped with technology, tools and equipment to meet all of your child's pediatric needs
Our clinic and hospital are specially designed and equipped with technology, tools and equipment to meet all of your child's pediatric needs
Scheduling Information
How do I schedule an appointment for my child?

Once your Primary Care Physician has sent over a referral we will call to set-up an appointment in our clinic
If you need to schedule a clinic appointment, please call: 323-361-2142

Who do we schedule an appointment with?

Your first visit should be with a physician in our clinic

Please call our clinic at 323-361-2142 to schedule an appointment

How do I cancel/reschedule an appointment?
Important Contact Information
Insurance Information
Will insurance pay for my visit/surgery?

It depends on what kind of insurance coverage you currently have

Medical and CCS plans are covered, but some HMOs and PPOs have co-pays

Will you assist us with obtaining authorization from our insurance companies?

Yes, we will assist you in obtaining authorization from your insurance companies

What do I do if my insurance changes before my surgery or appointment?

Please notify your surgery scheduler or the main clinic as soon as possible
Surgery Scheduler Office Number: 323-361-2142 ext. 83838
Clinic Main Number: 323-361-2142
Do you have questions about your appointment and/or surgery? Start Here!
Before Clinic
What should I bring?

Current insurance card
Referring Physician/Primary Care Physician Contact Information
Proper form of imaging (e.g. X-ray films/CD discs, CT images on CD disc, MRI images on CD disc, Ultrasound images on CD disc, radiology reports, etc.)

Who do I call with questions?

If it is regarding your clinic appointment, please call the main clinic at 323-361-2142
If it is regarding the surgery, please call a surgery scheduler at 323-361-2142 ext. 83838
If it is regarding a financial matter, please call a financial counselor at 323-361-2142 ext. 83839

How do I cancel?

To cancel a clinic appointment, please call the main clinic number at 323-361-2142
To cancel a surgery, please call your surgery scheduler right away

If you can't reach your surgery scheduler right away, please call the Surgery Scheduler Office at 323-361-2142 ext. 83838
If it is after hours on the day before, please call 323-361- 2571

How long will it take?

Appointments vary, but they usually last 1 hour
Before Surgery
What should I bring?

Current insurance card
Any pre-op requests from the physician

What time do I get to CHLA?

Surgical Admitting will notify you of the time the day before
If you do not get a call between 1:00pm-4:00pm the day before surgery, please call 323-361-2571

Where do we go first?

Please check-in at Admitting

How long will the surgery take?

Surgery times vary depending on the procedure. This information will be discussed during your pre-op visit

What if I am running late? How do I cancel?

Please call 323-361- 4500
Who do I contact on the day of surgery?
Who do I contact for my pre-anesthesia /pre-surgery appointment?

Please contact your surgery scheduler to set up your pre-anesthesia/pre-surgery appointment
Where do we wait while my child is having surgery?

CHLA has a waiting room where the families of patients can wait during the surgical procedure. A pager will be given to you while you wait for the procedure to finish

Will my child be given anesthesia?
Is anesthesia dangerous for small children?

New technologies and improved medicines have made anesthesia for children very safe. Your anesthesiologist will discuss and review with you the general risks, as well as your child's specific risks, before your child goes into the operating room
Pre-Op/Surgery Restrictions

A child's surgery may be re-evaluated if they were sick in the past 4 weeks (6 weeks for a spinal procedure)

Please call your Surgery Scheduler or the Surgery Scheduler Office at 323-361-2142 ext. 83838
If you cannot reach a Surgery Scheduler, please call the COC Clinic at 323-361-2142

What qualifies as sick prior to pre-op?

Cold, cough, fever, etc.
If any symptoms develop in the weeks or days before your child's procedure and you are unsure if they will affect your child's procedure please call your child's physician or the main clinic number so we can help provide your child with the best treatment

Cancellations are required for surgeries within 24 hours (48 hours for spine procedures) if a patient becomes sick
After Surgery
How long will we stay at CHLA after the surgery?

Based on the type of procedure you will have (in-patient or out-patient), our team will let you know how long you will be at CHLA when booking the surgery.

Who do I contact if I have questions?

If it is regarding your next clinic appointment, please call the main clinic at 323-361-2142
If it is regarding a financial matter, please call a financial counselor at 323-361-2142 ext. 83839
If it is regarding a medical matter, please call the main clinic number and we will direct you to our medical staff
Parking
Transportation
Accommodations