Liver Transplant Program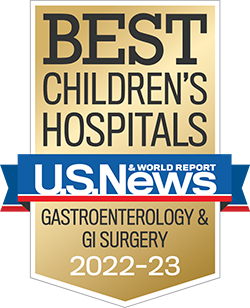 With more than 20 years of pediatric liver transplant expertise and more than 325 pediatric liver transplants performed, the Liver and Intestinal Transplant program at Children's Hospital Los Angeles currently performs the highest number of pediatric transplants in Southern California, serving pediatric patients in need of liver transplantation through both deceased and living donor transplants.
Why come to CHLA for your child's liver transplant care?
Our median wait time to transplant is approximately 2.6 months compared to the regional average wait time of 30.5 months and 13.5 months nationally.
We have a 97.06% 3-year survival rate for pediatric liver transplants.
We are one of the top-three living donor liver transplant centers in the country; close to 40% of our transplants are from live donors.
(Source: www.SRTR.org)
Liver Care Center
The liver care center at Children's Hospital Los Angeles provides a full continuum of care for children with any liver problem. This includes the ability and expertise to investigate rare causes of liver disease, enroll children in national and international research trials.
At the first visit the child will of course meet one of our children's liver disease specialists from the hepatology section of our Gastroenterology Division but  if needed, our staff can coordinate visits with other collaborating children's specialties including but not limited to Pediatric Surgery, Transplant Surgery, Genetic and Metabolic Physicians, Children's Cancer Specialists.
Together we will help diagnose a child's liver condition and help formulate a comprehensive care plan. If needed, we will recommend a complete evaluation of your child as a candidate for liver transplantation. This evaluation will be coordinated by our transplant nursing staff and office that will be there for you throughout your liver journey: from diagnosis to post transplant recovery.
Clinical Trials and Research
Our liver care center is extremely active in all children's liver research.
Basic Research
Biliary Atresia
Liver Development
Fatty Liver Disease
Clinical Research
Hepatitis Clinical Trials
Chuan-Hao Lin, MD is the site PI for multiple treatment trials for Hepatitis B and Hepatitis C in children.
Rare Liver Disease Research
Liver Transplantation Research
CHLA is a founding member of the Studies in Pediatric Liver Transplantation (SPLIT ) consortium and together with centers around the world hopes to improve the outcomes for children receiving liver transplantation.  
Disorders We Treat In Our Liver Care Center
Acute liver failure
Alagille syndrome
Alpha-1-Antitryspsin deficiency
Automimmune hepatitis
Bile Acid Synthetic Defects
Biliary atresia
Cirrhosis of the liver
Congenital hepatic fibrosis
End stage liver disease
Glycogen storage disease
Inborn Errors of Metabolism
Liver tumors and cancers
Lysosomal Defects
Mitochondrial Hepatopathies
Perioxisomal Defects
Progressive Familial Intrahepatic Cholestasis
Living Donor Liver Transplants

Liver Transplant Hepatology Fellowship
The first liver transplant was performed in 1998. More than 335 liver transplants have been performed since that time.
The first living donor liver transplant was performed in 1998. More than 100 living donor liver transplants have been performed since then.
The first "bloodless" liver transplant was performed in 2001 and three additional transplants have been done since then. We take pride in working with families that identify themselves as Jehovah's Witness and are in need for liver transplant care for their children.
The first small bowel transplant was performed in 2004. The Center now continues to perform isolated small intestinal transplants, as well as multivisceral (combined small bowel, liver, stomach, and pancreas) transplants as needed. Eleven of these transplants have been performed here to date.
With the agreement of a child's family, and when medically appropriate, our transplant team performs living donor liver transplants.
Our success is largely attributable to our high volume of living donor liver transplant procedures. Currently, we perform the largest number of this special type of transplant in the nation.
As the leader in living donor transplants, our program is less dependent on the supply of deceased donor organs.
What Is a Living Donor Liver Transplantation?
The liver is a truly remarkable organ with the capacity to grow back to its full size if a piece is removed. Due to the high level of need for liver donors and the low level of available organs to meet the need, the first living donor liver transplant in the United States was completed in 1989. Read more.
Children's Hospital Los Angeles has a one-year clinical program designed to provide training to Pediatric Gastroenterologists that wish to further spealize in Pediatric Transplant Hepatology. This training program is one of only a handful across the country and the only one in Southern California. The program was accredited by ACGME in 2016 and our current fellow is Tania Mitsinikos, MD. Children's Hospital Los Angeles is the only program that offers an away rotation for trainees at King's College London, England.