Neonatology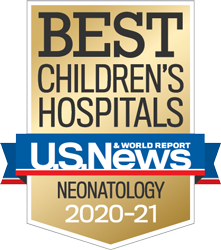 Having a baby that requires special medical attention can be very stressful for parents. As part of the Fetal and Neonatal Institute, the Division of Neonatology offers an integrated team that provides compassionate, advanced, evidence-based care for critically ill newborns and infants.
At our hospital, your infant will have access to state-of-the-art diagnostic and treatment services, consultations from virtually all existing pediatric subspecialties, and compassionate care provided by a world-class education and training center on the leading-edge of neonatal and perinatal research. 
Newborn and Infant Critical Care Unit (NICCU)
In the Steven & Alexandra Cohen Foundation Newborn and Infant Critical Care Unit at Children's Hospital Los Angeles, your infant will have access to: Level IV, state-of-the-art diagnostic and treatment services, consultations from faculty of virtually all existing pediatric subspecialties, and compassionate care provided by a world-class education and training center on the cutting-edge of neonatal and perinatal research.
Advanced Ventilation Program

Extracorporeal Membrane Oxygenation (ECMO)

Fetal Maternal Center (prenatal diagnosis)

Neonatal Network Hospitals

Newborn and Infant Critical Care Unit (NICCU)

Specialized Cardiovascular Services

Virtual Neonatal Intensive Care Unit (vNICU)
Neonatal Nurse Practitioners
Under the supervision of a neonatology attending and a neonatology fellow, your baby's day-to-day care in our Newborn and Infant Critical Care Unit (NICCU) may be provided by one of our Neonatal Nurse Practitioners.
Neonatal Nurse Practitioners have received special training in nursing, and each of them has obtained a:
Registered Nurse certification
Master's degree in nursing
Nurse practitioner specialization in neonatal care
Under the direction of the attending neonatologist and in accordance with best practices in care, the neonatal nurse practitioners who care for your child will:
Assess, diagnose and develop treatment plans
Write orders for care
Perform procedures such as lumbar puncture, endotracheal intubation, chest tube insertions and more
We recognize the enormous potential of technology in our field, especially when tapped for research, clinical, educational and training purposes.
Initial work resulted in the building, expansion, and cataloguing of the division's intellectual assets. Clinicians, academicians, researchers, trainees, Neonatal and Infant Critical Care Unit staff members, ancillary staff, and parents assisted in assembling resources that are available to the public and that can be applied to neonatal research publications and neonatal grant applications.
Education & Training
Education and training continues to be an extremely high priority of the neonatal faculty, including the continuing education of faculty members themselves through lecture profiles, evidence-based faculty-consensus clinical practice meetings, and serving as invited or key-note speakers or being in attendance at multiple national and international conferences and symposia. In addition, the scope of postgraduate medical and nursing education continues to broaden with structured pediatric resident neonatal intensive care unit rotations at the NICCU at Children's Hospital Los Angeles and the NICU at the LAC+USC Medical Center, training of neonatal fellows (our Neonatal Fellowship Program is the largest one in Southern California), and training sessions for neonatal nurses, respiratory therapists and ECMO specialists. All of these activities involve core academic responsibilities for the division's faculty.
Timely and thorough parent education is an integral part of the responsibilities of the faculty while providing clinical service and is fundamental in providing state-of-the-art, compassionate and family-centered clinical services at the bedsides of our tiny patients. We believe that our unwavering commitment to serve our patients and their families combined with the experience and knowledge that continues to evolve from our participation in postgraduate medical education and cutting-edge basic, translational and clinical research enables us to provide the best possible care for all critically ill neonates and infants admitted to our intensive care units.
The Divisional Basic Research Program focuses on the mechanisms of lung development and inflammation as well as the pathophysiology of chronic lung disease (CLD or BPD) of the preterm neonate using state-of-the-art techniques in cellular and molecular biology and physiology. This program is directed by Parviz Minoo PhD (link).

In addition, the program provides research opportunities in basic molecular and cellular biology for the neonatal-perinatal fellows in the USC Division of Neonatal Medicine through the Neonatal Fellowship Program. The program also includes postdoctoral fellows, working on various aspects of lung morphogenesis and disease.
One of the major thrusts of our research program has been the elucidation of the role played by inflammation in pathogenesis of BPD in very young infants. The efforts of a number of fellows participating in the program have shown that an important mediator of lung injury, TGF-β is expressed in the lungs of premature infants with hyaline membrane disease. By using a state of the art molecular techniques, we have further demonstrated that this TGF-β is biologically active and it's expression is correlated with the severity of the inflammatory lung disease. This is a significant finding that allows us to predict which babies may be at high risk for BPD and thus tailor specific therapeutic measures to prevent lung disease.
Another important research finding pertains to the role of interleukin-10, an anti-inflammatory cytokine. Inflammatory cells from the lungs of very low birth weight neonates exhibit significantly reduced potential to activate IL-10 and hence explain the ongoing, smoldering inflammatory response that is characteristic of BPD.
As a part of our studies on developmental aspects of premature lung, we are currently working on elucidation of a number of transcriptional and signaling pathways. These include the canonical and non-canonical WNT pathway and their individual components. The role of TGF-beta pathway and particularly its receptors on epithelial and mesenchymal cells in the lung is being investigated using conditional cell-type-specific gene deletion approaches. Another pathway of interest is that of sonic hedgehog. The critical role of the key transcriptional regulator, Nkx2.1 on lung gene expression is also under investigation. The basic research activities of the USC Division of Neonatal Medicine are funded by RO1 and PO1 grants from the National Institutes of Health, research grants from the American Lung Association and generous funds provided by the Hastings Foundation.
Translational Research
The primary goal of this comprehensive program is to integrate organ system-specific areas of cardiovascular and respiratory clinical care and translational developmental research into a cohesive system. The program is built on two components:
1. Studies into responses of the developmentally regulated organ system to pathological conditions and the treatment modalities.
We use state-of-the art methods of translational clinical research, including but not restricted to functional echocardiography, ultrasonography, near infrared spectroscopy, MRI, amplitude-integrated EEG and pulmonary function tests. This program is built on strong collaborations among several departments and divisions, including the Departments of Radiology and Anesthesiology/Critical Care and the Heart Institute. In doing so, we help ensure translation of findings of developmental molecular, cellular and whole-animal physiology to the patient's bedside, as well as a better understanding of applied treatment modalities. This complex research program is directed by Istvan Seri MD, PhD DHon and Rangasamy Ramanathan MD.

2. Evidence-gathering to determine that the characterization of pathological conditions is relevant to health and that the treatments we employ are associated with improved outcomes in the developing human.
This evolving component will enable us to verify whether documented pathophysiological findings are useful in predicting outcomes and that our applied treatment modalities are successful both in the short- and the long run (see Epidemiology Research).
Clinical Research
This program provides guidance for neonatal fellows and other investigators interested in translational/clinical research in newborn infants including randomized clinical trials and observational or interventional research activities.

We provide technical as well as basic research skills and create opportunities for growth and leadership through exposure/collaboration with other researchers in both clinical and bench research settings.
Epidemiology Research
This program provides guidance for neonatal fellows and other investigators interested in epidemiology and outcomes research in newborn infants and is directed by Philippe Friedlich MD, MSEpi, MBA.
Program Interests
Developmental pulmonary physiology and respiratory function in preterm infants at risk for developing bronchopulmonary dysplasia (BPD or CLD)
Mechanisms of episodes of hypoxemia in very low birth weight infants
Quantification of pulmonary function in newborn infants exposed to different therapeutic interventions
Role of moderately early low-dose corticosteroids in preterm infants with relative adrenal insufficiency and vasopressor-resistant hypotension.
Cardiopulmonary interactions in sick newborns
Cranial blood volume and oxygenation changes during transition and treatment with vasopressor/inotropes, corticosteroids, surfactant, mechanical ventilation and ECMO
Randomized clinical trials of surfactant use, different modes of invasive and non-invasive ventilation and automated regulation of oxygen delivery
Studying the most effective ways of education of postgraduate trainees in delivery room resuscitation of the newborn
Use of pro- and prebiotics in preterm neonates and in neonates with gastrointestinal pathology including necrotizing enterocolitis, gastroschisis and other causes of feeding intolerance
Research Tools - Basic Steps for Trainees
Review of medical literature with emphasis on evidence-based medicine
Writing a research proposal: study design, hypothesis-driven study, informed consent
Data collection, data entry and editing
Statistical analyses include: descriptive statistics, parametric tests, analysis of variance (ANOVA), analysis of variance for repeated measures, nonparametric tests, analysis of covariance, linear regression analysis, multiple regression analysis, sequential analysis, survival analysis, common statistical errors
Research in progress, writing an abstract
Manuscript preparation with focus on common errors during manuscript preparation
Research into developmental pulmonary physiology, pulmonary function and disease pathophysiology entails a large number of testing procedures. These measurements include pulmonary mechanics, gas exchange, and computerized pulse oximetry in newborn infants breathing spontaneously or infants receiving assisted ventilation. The list of parameters thus determined includes tidal volume, minute ventilation, CO2 sensitivity, dynamic lung compliance, respiratory system compliance, pulmonary resistance (total, inspiratory, expiratory), work of breathing, functional residual capacity, peak inspiratory and expiratory flows, peak-to-peak pressure-volume and flow-volume loops, passive respiratory mechanics, computerized pulse oximetry, spectral and dynamic analysis of oxygen saturation, and end-tidal CO2.
Outcomes Research
Outcomes research and quality of care benchmarking are of the utmost importance in the care of high-risk neonates as without long-term outcome data and appropriate quality control measures it is impossible to assess the value of different therapeutic interventions and approaches to provision of care.

In collaboration with the Division of Research on Children, Youth and Families, the large cohort of high-risk newborns treated in our neonatal network and the mothers with high-risk pregnancies followed by our Maternal-Fetal Health Center provide a unique opportunity to perform large-scale epidemiologic and outcomes-related research studies.
First to Report
Among our contributions, our faculty members were the first to report:
The critical role played by a Nkx2.1, a gene encoding a homeodomain transcription factor (Minoo et al., Developmental Biology, 172:694-698, 1995)
Reduced or absent IL-10 production in the lungs of preterm infants (Jones et al., Pediatric Research, 39:966-975, 1996)
The role of the Wnt signaling in lung morphogenesis (Li et al., Developmental Biology, 248:68-81, 2002)
The regulation of sodium-potassium ATPase by catecholamines (Aperia et al, Am J Physiol 252(Renal Fluid Electrolyte Physiol. 21:F39-F45, 1987; Seri et al, Am J Physiol 255:F666-F673, 1988)
Cardiovascular and renal mechanisms of action of dopamine (Seri and Aperia, Am J Physiol 254:F196-F201, 1988; Seri et al, J Pediatr 105:489-491, 1984 and Eur J Pediatr 142:3-9, 1984; Seri et al, J Pediatr, 133:728-34, 1998)
Somatosensory Lateralization in the Newborn Brain (Erberich et al, Neuroimage 29:155-61, 2006)
The mechanisms of the cardiovascular effects of hydrocortisone in preterm neonates (Seri et al, Pediatrics 107:1070-4, 2001; Noori et al, Pediatrics 118:1456-66, 2006)
Thus use of sildenafil for the treatment of inhaled nitric oxide-resistant pulmonary hypertensive crisis in neonates with congenital diaphragmatic hernia post ECMO treatment and surgical repair (Noori et al, Neonatology 91:92-100, 2007)
Association between sudden infant death syndrome and prematurity (Ramanathan et al, JAMA 285:2199-207, 2001)
The effect of poractant alfa (surfactant) on mortality in the preterm neonate (Ramanathan et al, Am J Perinatol 21:109-19, 2004)
Use of functional echocardiography in neonatology (Kluckow et al, J Pediatr 150:125-30, 2007)
Association between neonatal ECMO and carotid artery intima-media thickness in childhood (Friedlich et al, J Perinatol, Jul 10. [Epub ahead of print] PMID: 18615090; 2008)
Awards and Recognition
The Fetal and Neonatal Institute is nationally recognized for exceptional, groundbreaking care for babies and their mothers.
U.S. News & World Report ranked CHLA among the top hospitals in the nation for neonatology care for 2018-19.
The Extracorporeal Membrane Oxygenation Program at the Newborn and Infant Critical Care Unit at CHLA was designated as a Center of Excellence by the Extracorporeal Life Support Organization.
The NICCU at CHLA received the 2014 ICU Design Citation Award, which is co-sponsored by the Society of Critical Care Medicine, the American Association of Critical Care Nurses and the American Institute of Architects Academy on Architecture for Health.
Fetal Neonatal Patient Stories