Child Life Specialists

The Child Life Program at Children's Hospital Los Angeles plays a vital role in the care of children and their families. As part of our hospital's family-centered care, Child Life specialists work with patients and families to reduce stress and anxiety and promote positive coping during treatment.

What Makes Our Child Life Program Unique?
The Child Life Program at Children's Hospital Los Angeles is one of the largest on the West Coast. We work with children throughout the hospital, from the emergency department, to critical care areas, rehabilitation and ambulatory settings.
When you work with our Child Life Program, you'll find:
Expert staff: Every Child Life specialist has extensive training in addressing patients' and families' needs. They hold a minimum of a bachelor's degree in child development or a related field, complete a 600-hour internship, and pass a certification exam.
Places where kids can be kids: Children's Hospital features 13 playrooms and a lounge just for teens. These important spaces allow children to do what they love — play and have fun. Child Life activity coordinators supervise our playrooms and constantly refresh them with new activities that keep kids engaged.
Special programs: Our patient events and engagement programs help bring joy and excitement to the hospital experience. Our location in the Los Angeles entertainment and sports industry hub gives us easy access to many special guests and community groups. Our patients and families have unique opportunities to meet and interact with actors, musicians, athletes and more.

What Do Child Life Specialists at Children's Hospital Los Angeles Do?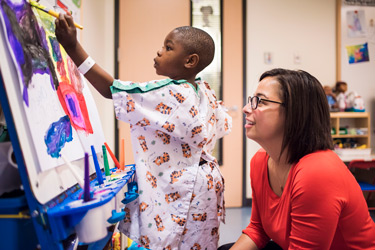 Child Life specialists are trained professionals who work alongside physicians, nurses and the rest of the clinical team throughout your child's care. We help you and your child cope with stress and uncertainty when you need it most. Our team is here to:
Provide education and support: CHLA child life specialists make sure children's thoughts and questions are always heard. We're experts at explaining things just the right way so that children can understand. We take time before a surgery or procedure to talk about what's going to happen. We also teach strategies for coping with discomfort or anxiety and provide distractions when needed.
Promote play: Kids have one job — to play. That doesn't change when they're in the hospital. We provide opportunities for children to play in ways that boost social, emotional and educational development. We're also experts at therapeutic play, which can help children work out concerns about procedures or treatments. And we just help them have fun, whether that means doing arts and crafts or playing games.
Support parents and siblings: Having a brother or sister in the hospital can be difficult. We work with siblings to help them understand what's happening and find ways to cope. We're also here to offer support to parents and help them understand what their children are going through.
Keep special days special: Holidays and other special days are important, even when you're in the hospital. We celebrate birthdays, holidays and other special events to help children keep a sense of normalcy.

How Can I Support the Child Life Program's Mission?
Our Child Life Program is made possible by hospital operating funds and the generosity of our community. You can help in several ways, including:
Donate: Gifts of any size support the needs of our patients and the Child Life Program. You can donate to Child Life directly, or you can donate through Amazon. You can also select a toy or activity from our Amazon Wish List.
Volunteer: Child Life volunteers help with providing safe and fun playroom sessions. Volunteers prepare each session by setting up activities, accompanying children to the space and playing with them. Volunteers also visit patients and siblings at the bedside to play games or provide art projects. For more information, call 323-361-2371 or email volunteers@chla.usc.edu.
Toy donations: You can also choose to donate new toys.

Contact Us
If your child is a patient at Children's Hospital and you would like to request Child Life services, talk to your nurse or other clinic staff. For more information about Child Life, call us at 323-361-2355.