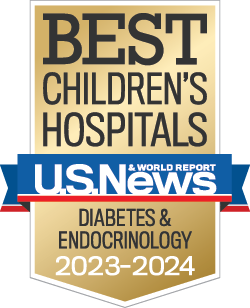 At Children's Hospital Los Angeles, your child has access to world-class endocrinology care. Each year, the experienced and compassionate experts in the Center for Endocrinology, Diabetes and Metabolism care for more than 9,000 children from all over the world.
We diagnose and treat a wide range of endocrine conditions, from common to rare. Some of our subspecialty programs are among the largest, most comprehensive programs of their kind in the nation.
Pediatric Endocrinology: Why Choose Us
Many endocrinology diagnoses affect your whole family. Your child may need to make lifestyle changes such as eating differently, changing their daily activities or taking a daily medication. Our specialists provide extensive support and guidance to help your child manage the condition at home and live a high quality of life.
When you choose CHLA, your child also benefits from: 
Coordinated, convenient care: We offer accessible, personalized and convenient care. At CHLA, you have access to all the specialists your child needs in one location. Your child also works with the same specialist throughout the care journey, so you build a relationship with a trusted provider.
Specialized expertise: Many of our endocrinologists have subspecialty training in specific conditions, such as diabetes, congenital adrenal hyperplasia (CAH) or pediatric bone disorders. We run multiple condition-specific specialty clinics. This level of comprehensive subspecialty care is not available elsewhere in Southern California. 
Exceptional access to care: We use care models that give more families access to exceptional care. Our team of experienced nurse practitioners helps us treat more children, more quickly, with a patient-centered approach. We use telehealth appointments so more caregivers can participate in visits while taking less time away from work, school or other responsibilities. Telehealth also allows us to meet young people in the digital space where they are comfortable.  
Emphasis on research: We have one of the most robust pediatric endocrinology research teams in the country. At any given time, our center runs more than 40 active clinical trials. Not only does this elevate the expertise of our clinicians, but it also means your child has increased access to the most leading-edge treatment options.
Smooth transitions: Because many endocrine disorders are lifelong conditions, we have dedicated case workers to help transition children to adult care. At CHLA, we start conversations about this transition early in the care journey. Our process ensures that young adults experience a seamless transition to an adult provider.
Support for a healthy lifestyle: For many endocrine conditions, your child's treatment plan involves adopting healthy lifestyle habits like being physically active and eating nutritious foods. We provide extra support to help families stick to good health habits. For example, our specialists developed the Kids N Fitness® and Teens N Fitness programs to help children and teens stick to their exercise routines. Through the Healthy Weight Clinic, we also offer robust, personalized support for children and adolescents whose treatment plans include weight loss.
Extensive resources and supportive services: We provide patient resources and support services to make your child's treatment journey as successful as possible. We offer extensive interpreting and translation services with Language and Cultural Specialists, run support groups and even have a 24/7 diabetes hotline. Child Life specialists provide emotional support, explain treatments in child-friendly terms and teach children coping skills for calming themselves. Psychologists offer support for dealing with a chronic condition and screen for issues such as anxiety or depression.
Endocrinology Programs and Services
Our specialists offer a wide range of services to detect, diagnose and treat endocrine disorders in children. Our endocrinology programs and services include:
Awards and Recognitions
At CHLA, our specialists continue to set and raise the standards in pediatric care. Our recognitions include: 
Becker's Healthcare 100 great hospitals in America
Magnet Recognition for exceptional nursing care
No. 5 on Newsweek's World's Best Specialized Hospitals
U.S. News & World Report rankings
Since U.S. News & World Report began its Best Children's Hospitals program in 1990, Children's Hospital Los Angeles has consistently ranked among the top. This year, we are: 
The top-ranked children's hospital in California and the West Coast 
Among the top 10 hospitals on the Best Children's Hospitals Honor Roll 
No. 6 in the nation in pediatric diabetes and endocrinology—the highest-ranked program in California 
Comprehensive care designation
Our Congenital Adrenal Hyperplasia (CAH) Comprehensive Care Clinic is a referral center for the Congenital Adrenal Hyperplasia Research Education and Support (CARES) Foundation. We receive referrals from all over the country.
The CARES Foundation has also designated us a comprehensive care center. We are one of only a handful of centers in the country with this certification. Being a comprehensive care center means we:
Are experts in CAH
Provide exceptional care from childhood through adulthood
Lead research to improve the lives of children with CAH
Educate families, children and other providers on managing CAH