Human Subjects Protection Program (HSPP) and Institutional Review Board (IRB)
About Us
The CHLA Human Subjects Protection Program (HSPP) administrative team, within the centralized department of Research Operations, is a vital resource for investigators conducting human research activities at CHLA. The HSPP team provides regulatory expertise and administrative support, and serves as the primary contact for investigators and research staff who are submitting research activities and clinical trials for IRB review.
How We Support
The HSPP team is responsible for managing the CHLA Human Research Program. The HSPP team provides administrative support for human research activities to be conducted at CHLA that are reviewed by the CHLA Institutional Review Board (IRB) and other external IRBs. In addition to working with IRBs, the HSPP team also works directly with CHLA investigators and research staff to facilitate submission of required information for IRB review.
The HSPP also has a Quality Assurance Program that provides education, training and quality improvement reviews to ensure compliance with federal and state regulations, and CHLA IRB policy and procedures. The program is responsible for evaluating, tracking and monitoring the effectiveness of the CHLA Human Research Program and for monitoring compliance with approved human research studies and clinical trials.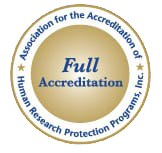 CHLA's HSPP has full accreditation from the Association for the Accreditation of Human Research Protections Programs (AAHRPP). The program has been AAHRPP accredited since 2012, and was granted full re-accreditation on September 15, 2020 for five years.