Glioma Program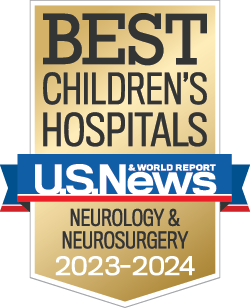 Gliomas are tumors that form in glial cells in the central nervous system. These tumors most frequently develop in the brain. The Glioma Program at Children's Hospital Los Angeles is one of the best in the country for treating these pediatric brain tumors. We are ranked among the top 10 pediatric centers nationwide for neurology and neurosurgery by U.S. News & World Report.
Our doctors know that an early and accurate diagnosis of glioma is crucial to your child's recovery. That's why we are constantly researching new ways to diagnose and treat all types of gliomas.
We take a team approach to treatment, with neurologists, neurosurgeons, neuro-oncologists and radiation oncologists working together to individualize care for each patient.
Types of Glioma We Treat
Gliomas can be benign (non-cancerous) or malignant (cancerous). About 25 percent of pediatric brain tumors are gliomas. We treat children with all types of glial tumors, including:
Astrocytomas: These are tumors that originate in astrocytes, cells that support and nourish nerve cells.
Glioblastomas: These tumors, also called glioblastoma multiforme (GBM), are the most advanced stage of astrocytoma.
Oligodendrogliomas: These are the least common type of glial tumors. They start in cells that produce myelin, a substance that helps with nerve signals.
Ependymomas: These tumors start in ependymal cells in the spinal cord or brain.
Brain stem gliomas: This term describes any glioma that starts in the brain stem. It refers to the location, rather than the type, of tumor.
Treatments for Glioma
Most gliomas, whether they are benign or malignant, are surgically removed. Our neurosurgeons are experts at safely removing these pediatric brain tumors without damaging other parts of the brain.
In some cases, we use radiation therapy — alone or in combination with medication or surgery — to help shrink tumors. Our radiation oncology department is one of only two in the nation focused exclusively on treating children.
Our doctors are also on the cutting edge of innovative treatments, such as stem cell therapy and new medications. Our goal is to use the latest techniques to provide the best outcomes for our patients.
Research
Under the direction of Dr. Anat Erdreich-Epstein, our research team is investigating the biology of brain tumors. Our goal is to better understand how these tumors form, grow and recur. This knowledge helps lead us to novel and improved treatments.
Clinical Trials
The doctors in CHLA's Glioma Program participate in the Children's Oncology Group, a nationwide consortium for studying gliomas in children.
We are currently directing clinical trials to test new medications and other therapies for pediatric brain tumors.
Find out more about our current clinical trials.