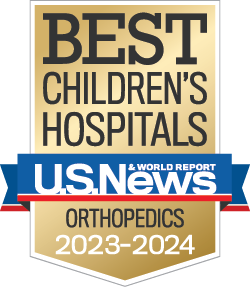 Children who have orthopedic problems receive the highest level of care at the Jackie and Gene Autry Orthopedic Center at Children's Hospital Los Angeles. We have the most comprehensive programs and services in the Western United States.
You can trust your child's care to us. Our Center ranks among the top programs in the nation for pediatric orthopedic programs, according to U.S. News & World Report. Your child receives care at Children's Hospital Los Angeles, rated one of the best children's hospitals in the country. We consistently receive the highest rankings for patient satisfaction for pediatric medical centers. 
Orthopedic Center at CHLA: Why Choose Us
We are known for our expertise in diagnosing and treating children with all types of pediatric orthopedic conditions. We also excel at the latest surgeries and therapies. Your family benefits from:
Leading experts: Our specialists have dedicated their careers to becoming the best in their respective orthopedic fields. As professors at the Keck School of Medicine of USC, these physicians teach the next generation of doctors. Our doctors are actively involved in the latest research and treatments. Meet our team.
Team of specialists: Our collaborative team approach ensures we meet all of your child's medical needs. Our orthopedic specialists work with experts in neurology, neurosurgery, anesthesiology, radiology, orthotics, physical and occupational therapy and other fields.
Advanced surgical treatments: Our surgeons are nationally recognized for their skill at performing complex surgeries that get great results. Procedures include nerve transfers, joint preservation and replacement, and limb lengthening. We often help children who have been turned away by other centers.
Gait analysis: The John C. Wilson Jr. Sports and Motion Analysis Lab is the only accredited gait lab designed for children in Southern California. There are fewer than 20 of these labs in the country. Our specialists use gait lab data to develop effective treatment plans and monitor your child's recovery. We also have the West Coast's first mobile pediatric gait lab that travels to school and club teams.
Minimal radiation exposure: We protect your child's health by minimizing X-ray radiation exposure. We were the first children's medical center in Los Angeles County to offer EOS Imaging. This 3D, full-body X-ray system uses up to 95% less radiation than traditional imaging tests.
Promising new therapies: Your child may be able to try new devices or procedures still under development in clinical trials. We're leaders in pediatric orthopedic research with close to 200 clinical research studies taking place each year. Our doctors are active in global and national organizations to improve patient care and outcomes.
Easier access to care: When you come to CHLA, we get you in to see multiple specialists in the same day. Some of your child's appointments can take place closer to home at one of our neighborhood specialty care centers. We have locations throughout Los Angeles County.
Our Locations
The Orthopedic Center is also open on Saturday, from 8 a.m. to noon, at the Sunset Campus for every type of service including radiology and casting. Call 323-361-2142 to make an appointment.
Other locations near you:
Pediatric Orthopedic Clinics and Programs
Our orthopedic clinics and programs are designed to ensure your child receives well-rounded care from specialists in all relevant fields.
Our programs and services include:
Advanced Diagnostics
Information from X-rays and other tests helps our doctors customize treatments specific to your child's unique needs. Depending on your child's condition, we may use these advanced diagnostic tools:
Awards and Recognitions
U.S. News & World Report has consistently named CHLA a top children's hospital since starting its Best Children's Hospitals program in 1990. We were ranked: 
No. 2 in the country for pediatric orthopedic programs 
Among the top 10 children's hospitals in the country 
No. 1 in California for children's hospitals 
Other recognitions include:
Becker's Healthcare 100 great American hospitals
Becker's Hospital Review 100 hospitals and health systems with great orthopedic programs
Magnet Recognition for outstanding nursing care