Fetal and Neonatal Institute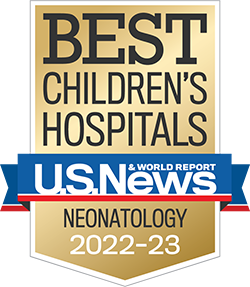 If your baby has a complex medical condition, you want the most advanced care. At the Fetal and Neonatal Institute at Children's Hospital Los Angeles, we provide comprehensive care for our tiniest patients and their mothers.
Our expertise has earned us national recognition—U.S. News & World Report ranks us among the top programs in the country for Neonatology. Patients and families who come to us receive advanced treatment from a team of compassionate experts.

The Fetal and Neonatal Institute: Why Choose Us
Newborn babies with critical illnesses receive expert care in the Steven & Alexandra Cohen Foundation Newborn and Infant Critical Care Unit (NICCU). We even identify and treat conditions in babies before they are born. Our specialists collaborate to provide a full range of services in one convenient location. This team model of care leads directly to better outcomes.
At Children's Hospital, patients benefit from: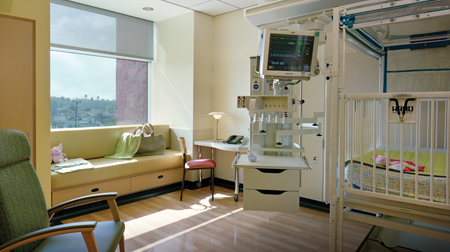 Family-centered approach: When you come to the Fetal and Neonatal Institute, we aim to make your experience as comfortable as possible, even in potentially stressful circumstances. Most patient rooms in the Newborn and Infant Critical Care Unit (NICCU) are singles or doubles with safe, comfortable space for parents, including sleeping areas for overnight stays. Our specialists include parents in daily morning rounds. We also have 24/7 livestream feeds so parents and family members can see their babies from home.
Multidisciplinary care: Patients at Children's Hospital have access to virtually any sub-specialty treatment they may need. Multidisciplinary expertise leads to more targeted treatments and promotes better outcomes. Whether patients need fetal cardiology, nutrition or urology services, we provide comprehensive, specialized treatment.
Research-driven experts: Our specialists' research expertise leads to better outcomes for patients. Our team of neonatologists researches how to optimize outcomes in infant critical care. Positive changes from our research include minimized risks of infections and complications for babies on breathing tubes.
Comprehensive treatment: All our services work together so patients can access the full spectrum of care. For example, the Fetal-Maternal Center (FMC) can coordinate a care plan where newborn babies go immediately into the NICCU or operating room if necessary. High-risk babies can continue through the Newborn Follow-up Program up to the age of 3.
Access to support services: Our goal is to remove as many barriers to care as possible. Our social workers coordinate transportation, connect families with support groups and help navigate insurance. Financial counselors set up payment plans or find financial grants. We also provide Interpreting and Translation Services for all languages, through a combination of on-site and virtual interpreters. Counseling and psychology services are easily accessible in the NICCU, Fetal-Maternal Center and throughout the hospital.

Fetal and Neonatal Programs and Services
We offer a comprehensive range of programs in fetal and neonatal care. Our services include:

Awards and Recognitions
Outstanding Nursing Care
Children's Hospital Los Angeles has maintained Magnet Recognition from the American Nurses Credentialing Center consistently since 2008. Magnet status recognizes high-quality patient care and nursing excellence.
Excellent NICU care
The Newborn and Infant Critical Care Unit (NICCU) has achieved Level IV status, the highest designation available for neonatal intensive care units. This recognition acknowledges that we provide exceptional care for the most complex conditions.
ECMO expertise
The Extracorporeal Membrane Oxygenation (ECMO) Program is designated as a Center of Excellence – Gold Level by the Extracorporeal Life Support Organization (ELSO). This gold-level designation emphasizes just how important it is to us that your child receives the best possible care. Our ECMO expertise is widely known at other hospitals; they often transfer newborns and infants with challenging conditions to us.
U.S. News & World Report rankings
U.S. News & World Report has consistently recognized Children's Hospital Los Angeles as a top children's hospital since creating the Best Children's Hospital program in 1990. This year, we are:
Highest-ranked pediatric hospital in California
Nationally ranked in Neonatology
Among the top 10 children's hospitals in the country