Urology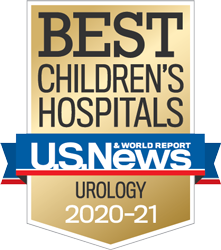 The Division of Urology at Children's Hospital Los Angeles comprises one of the largest groups of fellowship-trained and board-certified pediatric urologists in the United States, offering care in 14 community locations. Our physicians provide comprehensive evaluation, diagnosis, treatment and follow-up care for infants, children, adolescents and young adults with congenital and acquired pediatric urology disorders.
Commonly Treated Conditions
Experience and Expertise
The Division is ranked among the top hospitals in the nation for urology care on the U.S. News & World Report Best Children's Hospitals List.
Our surgeons perform over 3,000 surgeries and see more than 19,000 patients annually.
Newest Diagnosis and Treatment Options
Our evaluation of urinary tract infections and related tract abnormalities is both comprehensive and modern.
Children's Hospital offers the latest treatments and advanced technology, including endoscopy, laparoscopic surgery and robotic surgery through our Minimally Invasive Surgery Program. The program is among the top five programs that perform these types of surgeries in the country.
Latest Research
Our research program is actively involved in both clinical and basic science research through the Saban Research Institute at Children's Hospital and the University of Southern California.
Doctors in the Division of Urology at Children's Hospital Los Angeles collaborate with other specialists in the following areas to provide comprehensive care to meet each child's unique medical needs.
Advanced Fetal Care (Fetal-Maternal Center)
At the Fetal-Maternal Center, faculty from the USC Division of Maternal-Fetal Medicine provide a full scope of diagnostic and treatment services to fetuses and mothers with high-risk pregnancies in close collaboration with the Divisions of Cardiology, Medical Genetics, Divisions within the Department of Surgery and several other subspecialty programs at Children's Hospital Los Angeles.
More than 20 pediatric medical and surgical subspecialty programs and support services are involved in the provision of state-of-the art, compassionate and coordinated care along the continuum of prenatal, perinatal and postnatal medicine, serving the most complex and critically ill fetuses and neonates in the Los Angeles region, the Southwestern United States and beyond.
Bladder Exstrophy/Genitourinary Reconstruction
Correcting bladder exstrophy requires reconstruction surgeries that require surgeons with special expertise and a care team who understands the special needs of these children. Typically, surgeries for this issue are performed at tertiary hospitals or centers like that of Children's Hospital Los Angeles as they are equipped to handle complicated cases and have access to a team of specialists (such as pediatric urologists, orthopedic surgeons and neonatologists) who work together to develop the most appropriate treatment plan for each child.
Children's Hospital surgeons have extensive experience in performing these challenging surgeries and offer the latest surgical techniques. Often, instead of several separate surgeries being provided for a child, a single operation can be performed with the benefit of an entire team of specialists. Our Division of Urology has adopted the most contemporary approaches to repair a child's bladder and external genitalia in a single surgery. The goal of our approach is to combine all the elements of a staged repair (where multiple surgeries are used to close the bladder, repair the epispadias and intervene in cases of urinary continence) to avoid needing multiple surgical procedures in the future.
Since implementing this surgical technique, our patients have experienced better continence rates overall. Just as important, patients that have undergone complete primary repair demonstrate significant improvement in bladder growth and size which should make a significant impact in long term continence.
Center of Excellence for Bladder Exstrophy
The Bladder Exstrophy Program in the Division of Urology at Children's Hospital Los Angeles has been designated as a Center of Excellence for Bladder Exstrophy care by A-BE-C (Association of Bladder Exstrophy Community). The designated centers of excellence are health systems that meet the highest standards of treatment for the rare conditions of bladder and cloacal exstrophy, including post-operative and long-term care.
Comprehensive Stone Program
Dr. Sparks serves as Director of the Comprehensive Stone Program. The Comprehensive Stone Program at Children's Hospital offers leading-edge technology and techniques for kidney stone removal. When possible, kidney stones are removed without incisions using ultrasound and laser technology. For more complex surgeries, a small, hidden incision or robotic surgery may be used. These types of minimally invasive techniques and technology allow procedures to be performed more quickly, with less pain and a faster recovery time.
Robotic Surgery
Dr. Kokorowski serves as Director of the Robotic Surgery Program. Children's Hospital Los Angeles is one of the first in the nation to move beyond traditional laparoscopic surgery to provide robotic-assisted laparoscopic surgery for children. Our surgeons have performed more than 200 robotic surgeries, making our Robotic Surgery Program one of the busiest centers in the United States. We are the first hospital in Southern California to have a dedicated surgical robot for children, and are home to one of the few robots in the world being used to provide minimally-invasive surgery exclusively for kids.
Click here for the program brochure.
GU Tumor/Oncology
Dr. Andy Chang leads our effort in GU Oncology. Having trained in one of the nation's leading urologic oncology training programs at the Keck School of Medicine, University of Southern California, our surgeons are very skilled in all forms of GU tumors and its complexities. Pediatric Urology at Children's Hospital Los Angeles was the first to completely excise a Wilms tumor with level III thrombus involvement of the IVC, accompanied by active venoscopy, without the need for cardiac bypass. Looking forward, we are actively looking at the role for minimally invasive techniques for many of our oncology patients including renal sparing approaches for Wilms.
Disorders of Sex Development
A team of pediatric urologists, endocrinologists, psychologists and nurses provide specialized care at Children's Hospital for disorders of sex differentiation, including androgen insensitivity syndrome, congenital adrenal hyperplasia and other disorders. Specialists work together to coordinate medical, surgical and psychological care for each child. On average between 12-15 complex genitoplasties are performed each year with a very large DSD population managed through our multispecialty clinic.
Congenital Adrenal Hyperplasia
Congenital Adrenal Hyperplasia (CAH) is a defect in the adrenal gland and caused by a deficiency in 21 hydroxylase enzyme. There are two forms of Congenital Adrenal Hyperplasia (CAH): Classical CAH and Non-classical CAH. Both forms of CAH are passed down in a family from the parents to the child. Parents carry the trait and have no symptoms of their own, but will have a 25 percent chance of having an affected child. The Division of Endocrinology at Children's Hospital Los Angeles is committed to improving the quality of care and services for individuals with Congenital Adrenal Hyperplasia (CAH).
CAH Center of Excellence
We are proud to announce our designation as a Medical and Surgical Center of Excellence by CARES Foundation. We are the second facility in the nation, and the first on the West Coast to receive this prestigious status.
Spina Bifida
Our pediatric urologists play a significant role in providing treatment for children diagnosed with spina bifida, working with a comprehensive array of pediatric specialists to manage the medical and surgical issues associated with this condition, including bowel and urine incontinence.
Voiding Improvement
The Voiding Improvement Program offers comprehensive treatment options for voiding dysfunction, including enuresis (bed-wetting), dysuria, frequent urination, urinary incontinence and urinary urgency.
Health Systems Innovation and Clinical Outcomes
Recognizing the need for improving the quality of care provided to children and adolescents with pediatric urologic issues, the Clinical and Outcomes Research Program, directed by Steve Kim, MD, MSCE uses data to track performance and serve as a basis for continuous quality improvement to ensure that children receive the safest and most appropriate care for their condition."
Advanced fetal care
Bladder exstrophy
Congenital Adrenal Hyperplasia
Circumcisions
Duplex kidneys
Genital reconstruction
Genitourinary tumors (Wilms, testis cancer)
Hernias
Hydroceles
Hydronephrosis
Hypospadias
Intersex conditions
Robotic surgery
Undescended testes (cryptorchidism)
Ureteropelvic junction obstruction/pyeloplasty
Urinary reconstruction (complete)
Vesicoureteral reflux
Voiding issues
Before and After Your Visit

Surgery/Treatment Information
Newsletters and Announcements
The Division of Urology was named Division of the Month at Children's Hospital Los Angeles.


Scott Sparks, MD joins the Division of Urology at CHLA as Assistant Professor of Urology, Director of the Comprehensive Stone Program, and Director of Resident Education.
On June 20, 2015, Leonard B. Skaist, MD, was honored for his more than 50 years of service to CHLA patients and physicians. After graduating from Tufts University Medical School and completing his surgery and urology residencies at L.A. County General Hospital, Skaist began at Children's Hospital Los Angeles in 1962, thus commencing more than five decades serving thousands of CHLA patients and training hundreds of USC residents at the hospital.
Pediatric Urology Newsletter - March 2012 Issue
This issue covers hypospadias diagnosis and treatment.

Surgery/Treatment Information
Insurance Card
Pediatrician or Referring Doctor Contact Information
Completed Pre-registration Form