Urology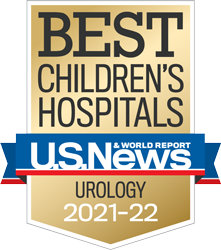 The Division of Urology at Children's Hospital Los Angeles comprises one of the largest groups of fellowship-trained and board-certified pediatric urologists in the United States, offering care in 14 community locations. Our physicians provide comprehensive evaluation, diagnosis, treatment and follow-up care for infants, children, adolescents and young adults with congenital and acquired pediatric urology disorders.
Commonly Treated Conditions
Experience and Expertise
The Division is ranked among the top hospitals in the nation for urology care on the U.S. News & World Report Best Children's Hospitals List.
Our surgeons perform over 3,000 surgeries and see more than 19,000 patients annually.
Newest Diagnosis and Treatment Options
Our evaluation of urinary tract infections and related tract abnormalities is both comprehensive and modern.
Children's Hospital offers the latest treatments and advanced technology, including endoscopy, laparoscopic surgery and robotic surgery through our Minimally Invasive Surgery Program. The program is among the top five programs that perform these types of surgeries in the country.
Latest Research
Our research program is actively involved in both clinical and basic science research through the Saban Research Institute at Children's Hospital and the University of Southern California.
Doctors in the Division of Urology at Children's Hospital Los Angeles collaborate with other specialists in the following areas to provide comprehensive care to meet each child's unique medical needs.
Bladder Exstrophy/Genitourinary Reconstruction
Comprehensive Stone Program
Robotic Surgery
GU Tumor/Oncology
Disorders of Sex Development
Health Systems Innovation and Clinical Outcomes
Advanced fetal care
Bladder exstrophy
Congenital Adrenal Hyperplasia
Circumcisions
Duplex kidneys
Genital reconstruction
Genitourinary tumors (Wilms, testis cancer)
Hernias
Hydroceles
Hydronephrosis
Hypospadias
Intersex conditions
Robotic surgery
Undescended testes (cryptorchidism)
Ureteropelvic junction obstruction/pyeloplasty
Urinary reconstruction (complete)
Vesicoureteral reflux
Voiding issues

For Amelia's mother, Mary, walking through the halls of the hospital that morning was an odd kind of homecoming. She, too, had undergone the same surgery at Children's Hospital more than 35 years earlier. "We came down right after Mary's first birthday," says Amelia's grandma, Linda McCreadie. "I remember it was the day after Christmas in 1977."
So when the family returned to the hospital in 2014, for Amelia's surgery, "It was déjà vu for me," says Linda. Read Amelia's story here.

SienaGrace had been diagnosed in utero with multicystic dysplastic kidney, a condition in which one kidney doesn't form correctly. In some cases, the diseased kidney regresses and goes away during development, but in SienaGrace's case, the malformed kidney was unusually large and full of cysts. Read SienaGrace's story here.
Our hospital uses a surgical robot to provide minimally invasive surgeries for children -- so that they can heal faster, and receive better health outcomes. See how robotic surgery helped Natalie here.