Cardiology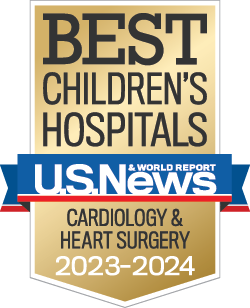 At Children's Hospital Los Angeles, we give your child personalized, world-class care. Our Cardiologists offer advanced, noninvasive and minimally invasive heart treatments.
Pediatric Cardiology: Why Choose Us
U.S. News & World Report consistently ranks the Heart Institute among the top pediatric heart programs in the country. And Children's Hospital ranks among the top 10 pediatric hospitals nationally. The Division of Cardiology offers your child and family: 
Excellent outcomes: Your child's customized treatment plan uses the least invasive treatments to achieve the best results. Thanks to decades of experience, our patients experience exceptional outcomes and have low complication rates. We also research new heart imaging methods to improve accuracy for diagnosis and treatment planning. More accurate diagnoses contribute to our great patient outcomes.
Leading-edge research and treatment: Our pediatric cardiologists provide clinical care and participate in heart research. This commitment to innovation and leadership gives our patients access to the latest treatments sooner. For example, Children's Hospital Los Angeles was one of the first two centers in the world to establish the effectiveness of new treatments for children. A clinical trial here at CHLA gave patients early access to a new drug that is now FDA-approved for heart failure treatment.
Recognized quality care: The Children's Cardiomyopathy Foundation designates us as a Cardiomyopathy Center of Care, meaning we have cardiomyopathy (heart muscle disease) specialists and offer advanced treatment options. And our Cardiothoracic Intensive Care Unit has a top-level designation—the Beacon Award for Excellence—from the American Association of Critical-Care Nurses. This distinction means we use evidence-based practices to improve patient outcomes.
Expert, collaborative team: We have experts in every area of pediatric cardiology, including those who treat complex and rare conditions. Your child has access to all the Heart Institute has to offer. These specialists include heart rhythm doctors, catheterization experts, critical care specialists, geneticists and more. Our collective expertise and close collaboration translate into excellent outcomes for our patients.
State-of-the-art facilities and equipment: We have advanced imaging, including cardiac MRI and 3D and fetal echocardiograms. Our high-tech Interventional Catheterization Program also offers minimally invasive alternatives to many types of surgery. And if your child's heart needs a little help, we have a variety of child-sized mechanical support devices. These devices include pacemakers, ventricular assist devices (VAD) and extracorporeal membrane oxygenation (ECMO).
Child-focused, family-centered care: Because we are a pediatric hospital, everything—from our child-sized equipment to our approach to care—is geared toward your child's comfort. And our cardiology services are centrally located on one floor for your convenience. We provide extensive support for your entire family, including Child Life specialists, education, support groups, and community and financial aid resources.
Children's Hospital Cardiology Programs and Services
Our pediatric cardiology subspecialty programs include:
Cardiogenomics Program
Some heart conditions may run in your family. Our genetics experts can help diagnose these conditions and guide your family in planning for the future. Learn more about cardiogenomics for genetic heart conditions.
Cardiomyopathy and Heart Failure Program
We offer the latest treatments for cardiomyopathy and heart failure (heart pump problems). These treatments include medication therapy, pacemakers, mechanical support and surgery. Your child may also get early access to new treatments. Learn more about the Pediatric Cardiomyopathy and Heart Failure Program.
Electrophysiology Program
Our dedicated electrophysiologists exclusively treat children with heart rhythm disorders (arrhythmias). They use minimally invasive techniques like cryoablation—freezing heart tissue to remove the source of the rhythm problem—to safely treat arrhythmias.
Whether your child has a chronic heart rhythm disorder or develops a new problem after surgery, our team can help. Learn more about electrophysiology at Children's Hospital.
Interventional Catheterization Program
Interventional cardiology focuses on catheter-based diagnosis and treatments. This approach of using a catheter is a less invasive option where open-heart surgery can potentially be avoided. We do the most pediatric catheterization procedures in the Western U.S. Our experience translates into better outcomes for your child. Read more about our Interventional Catheterization Program.
Kawasaki Disease Program
Kawasaki disease is the most common cause of acquired heart disease in the U.S. It usually affects children under age 5. 
We were one of the first hospitals in the U.S. to begin researching and treating Kawasaki. We are currently researching multisystem inflammatory syndrome in children (MIS-C). This complication of COVID-19 has similar symptoms to Kawasaki.
Our decades of experience translate into excellent outcomes for our patients. Learn more about the Kawasaki Disease Program.
Preventive Care Program
We diagnose and treat high cholesterol or triglycerides in children (hyperlipidemia). High cholesterol puts your child at risk for additional heart problems. By treating this condition early, we help your child live a long and healthy life. Learn more about preventive care for high cholesterol in children.
Pulmonary Hypertension
Pulmonary hypertension (PH) is high blood pressure in the lungs. Our expert team specializes in treating this complex condition, and gives your child the latest and most advanced treatments. Get more information about pediatric pulmonary hypertension.