Cardiothoracic Surgery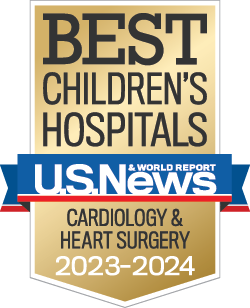 Heart surgery might sound scary, but your child is in excellent hands at Children's Hospital Los Angeles Heart Institute. Our world-renowned pediatric cardiothoracic surgeons are pioneers in pediatric heart surgery and have outstanding success rates.
Cardiothoracic Surgery at Children's Hospital: Why Choose Us
At CHLA, your child receives care from one of the top-ranked children's heart surgery programs in the country, according to U.S. News & World Report.  
You and your child will benefit from:
Dedicated experts: We have the most experience in children's heart surgery in the Western U.S. Our surgical team includes world-renowned pediatric cardiothoracic surgeons and specially trained pediatric cardiac anesthesiologists. Dr. Vaughn Starnes, co-director of the Heart Institute, is a globally recognized expert in pediatric cardiac surgery and a leading expert in the Ross procedure, for example. This expertise translates into excellent outcomes for our patients.
Excellent outcomes and experience: Our surgeons perform more than 900 surgeries a year, 30% of which are on newborns with survival rates that exceed national standards. With such a high volume of patients, we have experience with the most complex and rare conditions.
Child-focused care and facilities: As a freestanding children's hospital, all our services are centrally located for your convenience and geared toward children. Our goal is to create a welcoming and comforting environment for you and your child. We have expertise in miniaturized devices and surgical implants such as ventricular assist devices and mechanical valves sized appropriately for newborns, children and teenagers.
Innovative treatments: Your child has access to the newest and most advanced surgical treatments. That's because we develop groundbreaking pediatric heart surgical procedures and programs. These programs offer your child improved outcomes and better quality of life than previous surgical treatments. Our surgeons also partner with The Saban Research Institute at Children's Hospital Los Angeles to conduct leading-edge clinical trials and studies.
Collaborative care team: Our surgeons work closely with the cardiology team to coordinate your child's care from pre-surgery through recovery. Your child has access to all the Heart Institute has to offer, including our pediatric cardiac anesthesiologist, pain specialists and 24/7 advanced cardiac support. Children's Hospital also has Child Life specialists and social workers who provide for your child's social and emotional needs.
Cardiothoracic Surgical Programs and Services
We perform heart surgery on children of all ages, from newborns to young adults. And our specialized care teams have expertise treating specific conditions. This knowledge gives your child a better chance for a good outcome.
Our Fetal Cardiology Program also offers treatment for heart problems diagnosed in-utero.
Benchmark Surgical Procedures
Our patients experience excellent outcomes for commonly performed surgeries and procedures such as repair to treat Tetralogy of Fallot or ventricular septal defect surgery. Comparing outcomes from benchmark procedures is a good way to evaluate the quality of a pediatric cardiothoracic surgery program. See how our programs compares nationally.
Cardiothoracic Surgical Programs
Doctors refer patients to us because of our expertise and proven record of successfully treating the most complicated congenital and acquired conditions. Our valve program is among the best in the country, and our heart transplant program outcomes are unsurpassed.
We treat children whose previous doctors said there were no more treatment options. We also care for patients who received surgery elsewhere with less-than-optimal results.
Our specialized surgical care includes:
Adult Congenital Heart Disease Program
Biventricular Repair or Conversion Program
Pediatric Thoracic and Chest Wall Deformities Program
Learn more about the cardiothoracic surgical programs at CHLA.
Cardiac Anesthesia
We have a specialized team trained in pediatric cardiac anesthesia. Their exclusive focus on children with heart conditions means they have the experience and expertise to manage your child's specific condition.
Pediatric cardiac anesthesiologists provide anesthesia for our patients during:
They monitor breathing, heart rate, blood pressure and other vital signs throughout the procedure to ensure patients remain stable and comfortable. Learn more about cardiac anesthesiology.
Preparing for Heart Surgery
If your child needs heart surgery, you may have a lot of questions about the procedure. We put together a resource to answer questions and help you and your child prepare for surgery. Read more about what to expect for heart surgery.