Child Life Program
The Child Life program at Children's Hospital Los Angeles (CHLA) is an example of the hospital's family-centered care in which Child Life staff work in partnership with physicians, nurses, social workers and other members of the patient care team to meet the developmental, social and emotional needs of patients, their siblings and family. Child Life staff help patients cope with the stress and uncertainty of illness, injury and hospitalization when they need it most.
Child Life Specialists:
Explain procedures in language that children understand
Introduce coping strategies to reduce anxiety
Distract scared children during medical procedures
Encourage playtime and foster a spirit of fun during challenging circumstances
Involve the entire family in the patient's hospital experience
Provide bereavement care and support
Create developmentally appropriate communication skills for physicians and nurses
Tips for Preparing your Child at Any Age
Prepare: Talk to your child a day or two before the experience. Use words your child will understand.
Be Honest: If you do not know the answers to their questions, tell your child you do not know, but will find out.
Be Open: Encourage your child to discuss feelings and ask questions about the upcoming experience.
What is the Role of a Child Life Specialist?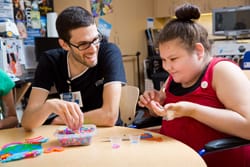 At CHLA, Child Life specialists are highly educated and trained practitioners, having completed a rigorous 600-hour internship and achieved a bachelor's or master's degree in child development or a related field.

Child Life specialists focus on providing individually tailored, one-on-one care for patients at the bedside, calm them before potentially frightening or invasive procedures and deliver support to families in difficult times. From children rushed to the Emergency Department, to those doing the arduous work of physical rehabilitation after surgery, or to those receiving chemotherapy, our patients benefit from specialized Child Life services.

To request the services of a Child Life specialist for your child, please contact Child Life at 323-361-2355 or ask your child's nurse for a referral to Child Life.
Child Life Playrooms and the Teen Lounge
Child Life assistants, playrooms and the Teen Lounge serve essential roles at CHLA by helping children do their most important work: play. The playrooms and Teen Lounge are safe, supportive spaces dedicated to having fun and socializing. Child Life assistants welcome patients into these "ouch-free zones" where no medical procedures take place. Here, they empower patients with child-directed play and guided age-appropriate activities, such as arts and crafts, games and medical play designed to make hospital equipment more familiar.
Child Life Tools and Toys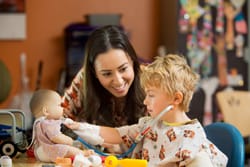 Tools and toys are essential to the Child Life program. From bubbles to puzzles and iPad games, Child Life supplies help patients engage in self-expression and therapeutic play. Both Child Life specialists and assistants distract and educate patients by playing board games, making collages, writing poems or telling stories to relieve children's anxiety.

Hands-on medical play uses real or pretend medical equipment to give patients a sense of mastery over medical procedures and instruments. Painting with syringes, putting bandages or blood pressure cuffs on dolls and making sculptures with casting materials all help reduce anxiety and provide a level of comfort with the hospital environment.
Support Child Life: The Heart and Soul of Family-Centered Care 
The Child Life program -- which is not covered by insurance or reimbursed through Medi-Cal -- is supported by donations and hospital operating funds. Gifts of any size support the greatest needs of the Child Life program.
Donate Directly through Amazon
Select a toy, activity, or Play-Doh donation and your gift will be mailed directly to us. The Amazon link below shows our most up-to-date wish list.
Child Life volunteers help Child Life specialists with play therapy in the playrooms on the patient care units, including: inpatient and outpatient surgery, Emergency department, outpatient Hematology and Oncology. Duties involve setting up the room, bringing the children to the playroom and interacting with patients. Volunteers also provide diversionary activities for patients and their siblings at the bedside.
For more information about volunteer opportunities, or to apply to become a Child Life volunteer, please visit Volunteer, call 323-361-2371 or email volunteers@chla.usc.edu.
For information about making toy donations to the patients at Children's Hospital, please visit our Toy Donations page.
Donations can also be made directly through Amazon. Click here to see our most up-to-date wish list.
Link text