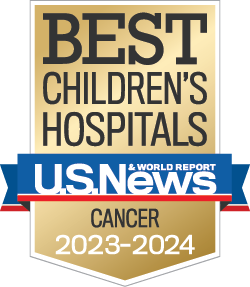 When your child has cancer or blood disease, you want the best doctors and the most advanced treatments available.
At Children's Hospital Los Angeles, your child gets leading-edge care. Our experts are on the front lines of the fight against childhood cancer and blood diseases. Since the 1950s, we have been saving children's lives through innovative care and tireless research. Our goal is to deliver the best possible outcome and highest chance of a cure for your child.
Cancer and Blood Disease Institute: Why Choose Us
Cancer and diseases of blood cells are relatively rare in children and often differ from those conditions in adults. At CHLA, our specialists have experience treating even the rarest types of childhood cancers and blood diseases.
When you come to our Institute, you will find:
Comprehensive care: The Cancer and Blood Disease Institute is the largest pediatric hematology-oncology program in the Western United States. Our doctors have years of expertise evaluating, diagnosing and treating children with these rare conditions.
Leadership with deep experience: Our clinical leadership team is highly experienced in treating many types of pediatric cancers and blood diseases, even the rarest ones. With decades of collective expertise providing patient care and leading innovative research, they will ensure your child receives the most advanced and effective treatments available. Meet our team.
Exceptional nursing staff: Our nurses are a central part of your child's care, from your first visit through treatment and follow-up. They provide the highest standard of clinical care with the comfort and compassion your child needs.
Experts at the forefront of research: We have one of the largest clinical trials programs in the U.S. for children with cancer and blood diseases, providing access to the most promising new therapies. Our hospital also serves as headquarters for multiple clinical trial consortia pioneering the most innovative treatments for childhood cancer and blood diseases.
Our Programs and Services
We're dedicated to giving your child the most advanced care with compassion. Even if you've been told that your child's condition is difficult to treat, our experts have the knowledge and resources to help.
Whether your child needs a diagnosis or a second opinion, you've come to the right place. We take a patient- and family-centered approach, working closely with you to understand your family's needs and goals.
Hematology programs
Our pediatric hematologists (specialists in noncancerous blood disorders affecting children) have years of experience in evaluation, diagnosis and treatment. CHLA has been delivering trusted care for complex pediatric blood diseases since 1950. Through decades of experience, we have made care safer, more precise and more effective.
Our programs include:
Oncology (cancer) programs
We offer a depth of experience and the prospect of superior outcomes that you'll only find in the nation's top programs. Our pediatric oncologists (specialists in cancer care for children) offer the full spectrum of cancer care, including these programs:
Transplantation and cellular therapy services and treatments
Bone marrow transplants and cellular therapy are tools we use to treat cancers, blood diseases, immune deficiencies and other complex conditions. Our commitment to the highest care standards helped us earn national recognition.
We were the first pediatric center to be accredited by the Foundation for the Accreditation of Cellular Therapy.
In our Transplantation and Cellular Therapy Center, our team treats childhood cancers, blood diseases and a wide array of other complex pediatric disorders using highly specialized treatments such as:
Bone marrow and stem cell transplants
Chimeric antigen receptor (CAR) T-cell therapy
Immunotherapy
Research and innovation
Research at CHLA is advancing care for many of the conditions we treat. We also participate in and lead prestigious clinical trial networks, including the National Cancer Institute's Children's Oncology Group. Through clinical trials, we have achieved many "care firsts," including new treatments and care methods. Many of the doctors treating your child are leading research, enabling us to quickly translate scientific discovery into new care options.
Explore our research and clinical trials.
University of Southern California Norris Comprehensive Cancer Center
The Cancer and Blood Disease Institute is the pediatric component of the USC Norris Comprehensive Cancer Center. This partnership dates back to 1971, when we became one of the original eight NCI designated cancer centers.
Working closely with USC also makes it easier to transition patients as they reach adulthood to trusted adult providers of hematology and oncology care. Learn more about the USC Norris Comprehensive Cancer Center.
Survivorship and Supportive Care Program
Our care goes beyond treating a child's medical condition. We offer services to reduce side effects of therapy and support mental and emotional well-being during and after treatment. Our Survivorship and Supportive Care Program offers:
Awards and Recognitions
U.S. News & World Report has consistently recognized CHLA as a top children's hospital since creating the Best Children's Hospital program in 1990. CHLA is routinely:
The highest ranked children's hospital in California
On the Best Children's Hospitals Honor Roll, which includes the top 10 pediatric hospitals nationwide
Among the top hospitals in the country for children's cancer care
Other recognition includes:
Becker's Healthcare 100 great hospitals in America
Magnet Recognition for outstanding nursing care
Cancer and Blood Disease Care at Children's Hospital Los Angeles
At Children's Hospital, your child has access to innovative treatments and leading-edge care. Learn more about our programs and services.
Contact us
The Cancer and Blood Disease Institute welcomes new patients, referrals and second opinions. Please call us to make an appointment.