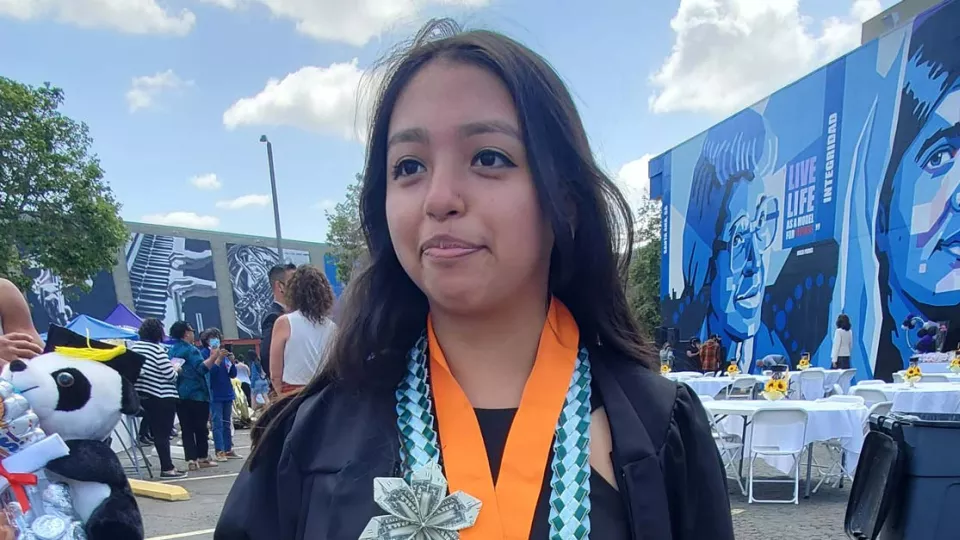 Our Patients
From Open Heart to Bright Future
At the Heart Institute at Children's Hospital Los Angeles, Desiree found freedom from her complex congenital heart defects.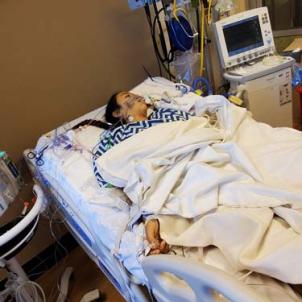 Desiree doesn't remember the first time she had open-heart surgery at Children's Hospital Los Angeles at age 2 1/2 to correct the congenital defects in her heart's plumbing. But her parents do.
"We practically lived at Children's Hospital," recalls her mother, Xiomara, of their daughter's third complex surgery when Desiree—"Desi" to family and friends—was just a toddler.
"I can still picture when they came out of the operating room and said, 'She did great,'" adds Luis, Desi's father.
Fast forward 10 years, and by June 2020, Desi's teenage heart had outgrown those early repairs. As soon as the family learned Desi needed another surgery, says her mom, "we knew we were going back to see Dr. Starnes and no one else."
Xiomara is talking about Vaughn A. Starnes, MD, Chief of the Division of Cardiothoracic Surgery, co-Director of the Heart Institute at Children's Hospital and a world-renowned expert in the repair of congenital heart defects.
Teamwork Rules
The Heart Institute's surgical prowess is just one reason U.S. News & World Report routinely ranks it among the top 3 pediatric cardiology and heart surgery programs nationwide. "Surgeries for congenital defects can be extremely intricate, with each heart presenting its own set of challenges," says Dr. Starnes. "But our care extends beyond the operating room to include an entire team of pre- and post-operative specialists and allied professionals who are dedicated to helping our patients."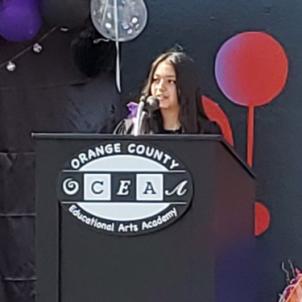 At birth, Desi's heart had a series of rare defects, including a hole in the wall separating its right and left ventricles and a double outlet right ventricle, which meant the pulmonary artery and the aorta—the heart's two major arteries—both connected to a single ventricle. (In a normal heart, the pulmonary artery connects to the right ventricle, the aorta to the left ventricle.) Plus, the arteries leaving her heart had switched positions and her aorta was narrower than usual, impeding blood flow.
Desi's first two surgeries at a hospital near her family's Orange County home "re-plumbed" her heart so one ventricle could do the work of two. This procedure works fine for some children, but others, like Desi, experience problems.
The fix only lasted two years. The family found themselves at CHLA for the first time, where Dr. Starnes performed a complex procedure called a "biventricular conversion," essentially reconfiguring Desi's heart to create two functional, pumping ventricles.
With her newly reconstructed heart, Desi grew up happy and active for the next decade. She was passionate about dance—"The thing I love the most," she says—particularly salsa.
Then in spring 2020 she suddenly felt out of breath and her legs hurt when she was dancing. More and more frequently, she had to leave the dance floor. "Sometimes my legs felt like they couldn't move," says Desi. Even walking hurt.
Tests showed Desi's heart wasn't working hard enough. "It was time," says her mother.
Before they headed back to Children's Hospital Los Angeles, the family held a car parade party in their neighborhood to allow Desi's friends to wish her well and to celebrate the kindergarten graduation of Desi's younger brother, Luis Jr. (Chito). 
Returning to CHLA
Back at CHLA after a 10-year absence, her parents were nervous but confident. "Everyone is so awesome there and the care is outstanding," says Luis.
Before surgery, Desi and the family met Cardiothoracic Surgery Department Coordinator Pam Faire, MSN, CPNP-PC/AC, and Valeria Amezola, MSN, PNP, CPNP-CP, two of the 15 nurse practitioners in the Heart Institute who follow patients from the initial pre-operative stage through post-operative recovery. "We build strong bonds with the babies, children and their families, as we help them transition through their entire surgical journey," says Amezola.  
Xiomara had a lengthy list of reasons to be thankful for Faire in particular. "Pam answered my questions/concerns after hours and weekends," she says. "She gifted Desi with items she would be able to use pre- and post-op, such as hair ties, slippers etc. And she was always in constant communication with our cardiologist, which gave me relief each and every time we would visit him."
Dr. Starnes replaced some of the connections that he had put in place 10 years earlier to redirect blood flow in Desi's heart. He worked to reduce the aortic root, the first section of her aorta, which had become enlarged. The root is home to the aortic valve and too much of an increase could risk a life-threatening rupture or tear.
Desi started her recovery in the Thomas and Dorothy Leavey Foundation Cardiothoracic Intensive Care Unit (CTICU). "We see families in some of the most stressful times of their lives," says intensivist Sylvia Del Castillo, MD, CTICU Medical Director. "We don't just care for a patient, we care for an entire family."
Some patients remain in the CTICU for months, especially newborns with complicated hearts and kids awaiting heart transplants. Others stay a handful of days. Either way, says Dr. Del Castillo, "it takes a village to care for them."
The CTICU's extended village includes social workers, Child Life specialists, spiritual care specialists, pharmacists, nutritionists and a dedicated psychologist, in addition to the cardiothoracic intensivists, cardiologists, anesthesiologists, respiratory care practitioners, cardiothoracic surgery nurse practitioners and cardiac critical care nurses. These services also extend into Cardiovascular Acute Care.
Almost Home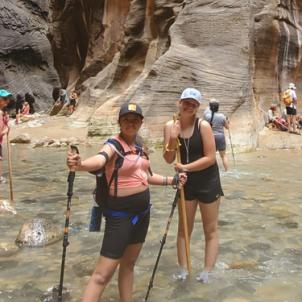 After just four days, Desi moved to the Helen and Max Rosenthal Cardiovascular Acute Care Unit, where an entire team specializes in detailed discharge planning and educating families to care for their child during recovery at home. "As a nurse practitioner, my favorite order to write is a discharge order," says Amezola.
Xiomara worried that "my little foodie," as she calls Desi, wasn't eating or getting out of bed. "I didn't want to walk at all," Desi says. Amezola gave Desi options, telling her, "These are the things we need to do to get you home." Soon Desi was digging into her grandmother's recipes again.
At home, Chito made refrigerator runs for Desi and initially she grew stronger. But soon she developed jaundice and her appetite fell. It became clear that Desi's aortic valve needed replacing—something Dr. Starnes warned the family might happen.
By mid-December 2020, Desi returned to Children's Hospital for the fifth open-heart surgery in her young life, and Dr. Starnes replaced her aortic valve with a mechanical valve. The Heart Institute team said goodbye to Desi and her family again when Desi was discharged just three days before Christmas.
The new year brought new adventures. Desi graduated Salutatorian of her middle school in 2021, went hiking and sand surfing in Zion National Park, rode a massive roller coaster, entered high school and started golfing. She also returned to salsa dancing—fast songs, please.
"My own heart has been in my throat, watching her at times," says Xiomara. "Like all parents we worry," adds Luis. "I want to put Desi in a bubble."
Healed and healthy, Desi, now 14, tells them, "I'm fine. Just fine."
Find out more about the Heart Institute at Children's Hospital Los Angeles.