Children's Hospital Los Angeles Kicks Off Annual Halloween Greeting Card Drive
Anonymous sponsor has pledged $1 for each holiday-themed card sent by October 30, committing up to $50,000.
LOS ANGELES (October 16, 2023) – Children's Hospital Los Angeles (CHLA) invites friends from the local community, across the country and around the world to get into the spooky spirit by participating in its annual Halloween card drive. Supporters can choose from one of three ready-to-color card designs and write a personal message to CHLA patients by October 30 to help spread holiday cheer and take part in a $50,000 fundraising effort.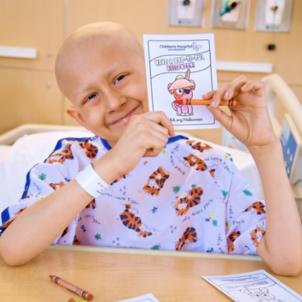 For every card submitted on CHLA.org/Halloween, an anonymous sponsor will donate $1, up to $50,000, to help further CHLA's mission of creating hope and building healthier futures for children.
"Between the fun costumes and festive decorations, Halloween is such a memorable tradition for a child – one that we strive to maintain in the hospital setting," says Carol Hamamoto, Manager, Child Life and Expressive Arts & Therapies at CHLA. "The Halloween cards are such a great way for the community to help support our patients, and to remind them there are so many people on their side."
The cards and messages will be hand delivered by CHLA's Child Life team to pediatric patients, along with goody bags, in celebration of the holiday.
About Children's Hospital Los Angeles
Founded in 1901, Children's Hospital Los Angeles is at the forefront of pediatric medicine and is the largest provider of hospital care for children in California. Children's Hospital is home to renowned experts who work together across disciplines to deliver inclusive and compassionate care, and drive advances that set pediatric standards across the nation and around the globe. Children's Hospital Los Angeles delivers a level of care that is among the best in the world for a truly diverse population of children. The Hospital is consistently ranked in the top 10 in the nation on U.S. News & World Report's Honor Roll of Best Children's Hospitals, including No. 1 in California and No. 1 in the Pacific U.S. region. Children's Hospital Los Angeles embraces the hospital's mission to create hope and build healthier futures. Children's Hospital Los Angeles is among the top 10 children's hospitals for National Institutes of Health funding. The Saban Research Institute of Children's Hospital Los Angeles supports the full continuum of research, allowing physicians and scientists to translate discoveries into treatments and bring answers to families faster. The pediatric academic medical center also is home to one of the largest training programs for pediatricians in the United States. And the hospital's commitment to building strong communities is evident in CHLA's efforts to fight food insecurity, enhance health education and literacy, and introduce more people to careers in health care. To learn more, follow CHLA on Facebook, Instagram, LinkedIn, YouTube and X, formerly known as Twitter, and visit CHLA.org/blog.