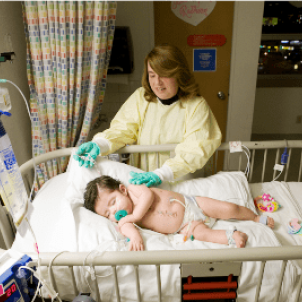 Spiritual Care
Our program offers spiritual and emotional support to patients, families, and staff of all faiths, cultures, and walks of life in times of crisis, loss, injury, or illness. To request assistance, dial 323-361-2482 (or inside the hospital, dial ext.12482).
As members of the interdisciplinary health care team our interfaith chaplains:
Listen to concerns with compassion.
Provide spiritual counseling.
Respond to crisis and emergency situations.
Facilitate religious rituals.
Help clarify questions of meaning and ethical dilemmas.
Assist patients and families to contact local religious communities as desired.
Provide sacred literature and sacred items from diverse traditions.
Assist with kosher and other dietary observances.
Conduct interfaith and memorial services throughout the year.
Facilitate weekly religious services.
The Thomas and Dorothy Leavey Foundation Interfaith Center
The Thomas and Dorothy Leavey Foundation Interfaith Center is open for quiet reflection and respite 24 hours a day. It is located on the 1st floor behind Hospital Admitting and offers alcoves for meditation and prayer with artwork from the main spiritual traditions represented at Children's Hospital Los Angeles. The large sanctuary generates calm through nature imagery transcending any particular tradition. Feel free to also visit the adjacent Sharon D. Lund Reflection Garden.
Spiritual services are open to all patients, families, and staff members at our hospital:
Roman Catholic Mass          
Sundays, 1 p.m.          
Wednesday, 12 p.m.
Drop in Meditation          
Tuesdays, 12 p.m. 
Thursdays, 12 p.m.
In addition, families can attend services in religious communities in close vicinity of the hospital.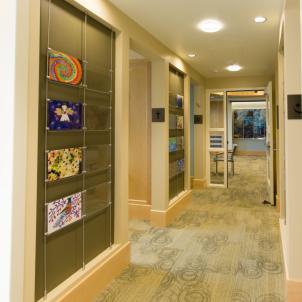 Supporters
Spiritual Care could not be offered at our hospital without the generous donations from many community supporters. Among them is the Spiritual Care Guild, an Affiliate group that raises funds to support the compassionate services provided by this program.
Clinical Pastoral Education (CPE)
As a pediatric leader, Children's Hospital Los Angeles offers Chaplain Residents the opportunity to work with a diverse population of children, adolescents, and their families. Through their training, Residents develop both spiritual care expertise and professional identity as interfaith chaplains.  Trainees benefit from the learning atmosphere of a teaching institution with training programs for physicians, nurses, and other professionals.
Clinical Pastoral Education (CPE) is interfaith professional education for professional ministry. The training program brings theological students and clergy from diverse spiritual traditions into supervised encounters with persons in crisis.  Out of an intense involvement with persons in need, and the feedback from peers and teachers, students develop new awareness of themselves as persons and of the needs of those to whom they minister. From spiritual reflection on specific human situations, they gain a new understanding of spiritual care and counseling. Through the engagement of the interdisciplinary team, they develop skills in interpersonal and interprofessional relationships.
The CPE learning model integrates the theory and practice of spiritual care and counseling by balancing direct clinical practice with patients and families in crisis with reflection in seminar, case conference, group, and individual supervision. Spiritual Care Residents learn as members of a peer group, which aims for diversity in gender, race, culture, and spiritual tradition. They provide spiritual care on one or two inpatient units and/or in outpatient clinics, participate in on-call rotations 24 hours, seven days a week and serve as integral members of the interdisciplinary health care team.
Children's Hospital Los Angeles is accredited by the ACPE, The Standard for Spiritual Care & Education to offer Level I, Level II and Certified Educator CPE. ACPE is nationally recognized as an accrediting agency in the field of clinical Pastoral education by the US Department of Education.
ACPE | 55 Ivan Allen Jr. Blvd. | Suite 835 | Atlanta, GA 30308 | Ph: 404-320-1472 | Fax: 404 -320-0849 | acpe@acpe.edu
In Level I CPE, students learn basic skills for spiritual care and in Level II CPE,students acquire advanced skills in preparation for professional spiritual care/chaplaincy. In Educator CPE, students learn the theory and practice of education and gain experiences in the education of CPE students under the guidance and with the consultation of an ACPE Certified Educator. The outcomes for each level must be completed before moving to the next level. Educator CPE positions are posted on the Children's Hospital website when they become available.
Spiritual Care Residency
The year-long Residency Program teaches Level I and Level II CPE and is designed to help participants achieve the necessary educational requirements to gain certification as a professional chaplain. Chaplain residents gain experience and expertise in the following areas:
Spiritual Care Reflection          
Reflect on yourself as a person and spiritual caregiver in relation to people in crisis, peers, supervisors, and the hospital setting where residents serve.
Spiritual Formation          
Develop your professional and personal identity in learning and spiritual care and counseling.
Spiritual Care Competence          
Deepen your functioning as a spiritual caregiver, including skill development and knowledge in faith traditions and the behavioral sciences.
Spiritual Care Specialization          
Become competent and knowledgeable in a particular area of clinical health care service.
One CPE course consists of at least 400 hours of supervised clinical practice. The Residency Program consists of four consecutive CPE courses and lasts for one year. Residents are temporary employees and receive a competitive salary and full benefits during their enrollment in the program.
Meet Our Faculty
Rev. Dagmar Grefe, PhD, ACPE          
Manager          
Clinical Assistant Professor Pediatrics, Keck School of Medicine of USC
Rev. Dr. Dagmar Grefe is the manager of the department and Clinical Assistant Professor, Pediatrics, at the Keck School of Medicine at the University of Southern California. She is an ordained minister in the United Church of Christ and a Certified ACPE Educator. She has experience in congregational ministry and chaplaincy in general hospitals, hospice, and mental health. Her practice and research interests are in intercultural and interfaith spiritual care. Among her publications is the book Encounters for Change. Interreligious Cooperation in the Care of Individuals and Communities.
Admissions Criteria
Completion of master's degree in Theology/Divinity/Religious Studies
Completion of one unit (400 hours) of ACPE Clinical Pastoral Education
Completed ACPE application form, including required essay and $30 application fee (payable to Children's Hospital Los Angeles/Spiritual Care Services)
Admissions Interview
Application, Schedule, and Tuition
Along with your application, please submit Use of Clinical Materials Consent Form.
Tuition is $550 per course. If accepted to the Residency, a non-refundable deposit of $ 200 for the first course is required to reserve a space in the program. Your deposit will be applied to the cost of tuition.
Additional Resources
Association for Clinical Pastoral Education (ACPE)   
Association of Professional Chaplains   
National Associations of Catholic Chaplains   
National Association of Jewish Chaplains