Cardiothoracic Surgery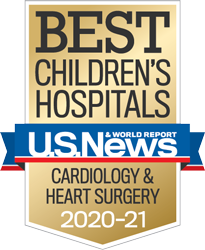 Children's Hospital Los Angeles is ranked among the top hospitals in the nation for heart surgery on the U.S. News & World Report Best Children's Hospitals List. The dedicated team of professionals or the cardiothoracic surgery team consists of a dedicated group of surgeons, physicians, nurses and professionals and is known for the outstanding care provided to the patient and family.
The surgeons on our team are known for their innovative pediatric cardiotoracic surgical techniques, some of which were pioneered at our hospital, and are now used across the nation to improve the lives of children with heart and lung defects.
Prepare for Cardiothoracic Surgery
During the weeks or days prior to surgery, you will meet with your child's heart surgeon to go over the details of the operation, complete paperwork including consent for surgery, and schedule a "pre-operative work-up day."
Below we have provided a timeline of activities to help you prepare for your child's surgery with to-do List items at key points surrounding your child's surgery.
Arrange blood donations (if necessary) for your child. Your child may need blood or platelets during or after surgery (platelets aid in blood clotting). We offer a variety of solutions to aid your child's care.
Directed Donation (blood and platelets donated by family and friends)
Call the Blood Donor Center at 323-361-2441.
Obtain a Directed Donor Request Form.
Fill out the form.
Three to fourteen days before your child's surgery, ask family and friends to make blood and platelet donations in your child's name at the hospital's Blood Donor Center.
Family and friends may call 323-361-2441 to make appointments to donate.
Blood Provided by the Hospital's Blood Donor Center
The hospital keeps a general supply of blood. Blood is donated at Children's Hospital Los Angeles by employees and community members. It is fully tested and safe, and can be used if directed donors aren't available.
Autologous or "Self" Donation
In rare cases, children may be able to donate and store their own blood in advance for use during the operation. To do so, the child must:
Meet the Blood Donor Center's requirements for donation.
Receive approval from the child's physician.
Receive approval from the medical director of the Blood Donor Center.
Weigh a minimum of 85 pounds.
Be able to consent to the donation.
Donate at least one week before the surgery.
Schedule a pre-operative work-up day.
On this day, you and your child will visit the hospital to prepare for the operation.
Your first visit will be to the Admitting Department to complete your insurance paperwork.
Please bring medical insurance information with you. Please also bring copies of your child's medical records.
Next, in the Heart Institute's Surgical Admitting Area, your child will have a short physical exam. The exam will include blood tests, an X-ray, and, possibly, an electrocardiogram (EKG).
Hospital staff will go over the hospital stay with you and your child and answer any questions.
Based on your child's needs and stage of development, a Child Life specialist will meet with your child to explain the surgery.
We will give you a tour of our Cardiothoracic Intensive Care Unit (CTICU) and 6 West, the unit where your child will recover after surgery.
Adjust Medication Regimens (if necessary)
If your child is taking:
Any inhaled medications, please discuss this with the anesthesiologist at the time of your pre-operative visit.
Aspirin, it must be stopped one week before surgery.
Coumadin, please call your cardiologist to ask when you should stop giving the medication.
Digoxin (Lanoxin), do not give this medication the evening before or morning of the surgery.
Inderal, please continue to give this medication the evening before and morning of the surgery.
Propranolol, please continue to give this medication the evening before and morning of the surgery.
Continue to give other medications, but DO NOT give medications other than those listed above on the morning of surgery. If you have any questions about medications, please call the surgeon's office at the Heart Institute at 323-361-4148 or ask us on the day of your child's pre-operative work-up. Report any illness your child has to your pediatrician immediately and call our office at 323-361-4148.
Obtain Surgery Times and Ask Last-Minute Questions
On the night before surgery, our operating room secretary will call you to tell you what time to be at the hospital for the surgery and to answer any last-minute questions. If you have not heard from staff at our hospital by 8 p.m. the evening before the surgery, please call at 323-361-2571.
Instructions to follow before surgery:
Your child's stomach must be empty before the operation.
The nurse will tell you when your child should stop eating and drinking.
Refer to the medications section above for guidance on what you can or cannot give to your child.
Bathe your child in the evening, washing the chest and side areas thoroughly for five minutes. Use an antibacterial soap, such as Dial Liquid soap.
Pack a "comfort" item or two for your child, such as a favorite toy, blanket, book, CD or tape with player and earphones, or photographs. You also might want to include eyeglasses, toothbrush and toothpaste, and schoolwork, if appropriate.
After your child recovers sufficiently, he or she may change into pajamas from home.
Label all items you bring to the hospital with your child's name.
What to do upon arrival at the hospital:
Stop at the Information Desk for a Visitor's Pass.
Go directly to Surgical Admitting.
Once admitted, your child will change into hospital pajamas.
The anesthesiologist will speak with you before the surgery.
Your child may be given medicine to help him or her relax.
A nurse from our Heart Care Team will accompany your child to the operating room.
The surgeons will meet with you following the operation.
A specialized team of experts in pediatric cardiac care, assisted by sophisticated monitoring equipment, will provide special care for your child after surgery. In the majority of cases, your child will go to the Cardiothoracic Intensive Care Unit (CTICU) after surgery to recover. The staff will keep you informed about your child's progress and explain the treatment plan.
Parents or guardians may visit anytime, 24 hours a day. Because children are healing and space is limited, we ask that there be no more than two visitors in the room at a time. Please feel free to ask questions.
When the care team determines your child no longer needs intensive monitoring, he or she will be transferred to 6 West, our floor dedicated to cardiothoracic and cardiology patients. The heart surgeon, nurse practitioner and case manager will continue to coordinate your child's care on 6 West. One adult at a time may stay overnight in the child's room. We encourage you to help with such activities as bathing and feeding. You are an essential member of your child's care team.
Planning for your child's discharge
You know your child best. Your participation in planning for his or her discharge is an important part of the recovery process. Your child's nurse will give you printed instructions for care at home after the surgery. Instructions will cover care of the incision, permitted activities, diet, medications, when to notify your doctors (surgeon, cardiologist or pediatrician), and follow-up appointments.
Follow-up with Childrens Hospital Los Angeles
Your child will return to our hospital for at least one check-up with the surgical team in the first one to two weeks after going home. We will check your child's incision and remove any remaining stitches. Please call the Heart Institute at 323-361-4148 at any time if your child has any of the following symptoms: fever, redness, swelling or drainage at the incision site.
Your Child's Cardiologist and Pediatrician
You will also need to schedule a follow-up appointment with your cardiologist and pediatrician in the first one to three weeks after going home. We will send a full medical summary of your child's surgery to your pediatrician and cardiologist, who will coordinate at-home care. If your child needs any medical equipment, your nurse and care coordinator will work with you, as well as arrange home nursing visits as needed.