Pediatric Urology
When your child needs urology care, you can trust the Division of Urology at Children's Hospital Los Angeles. Unlike many urology programs that treat mainly adults, our team only treats children.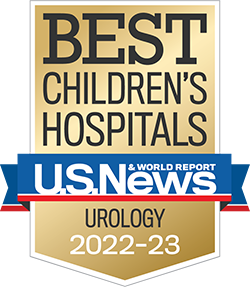 What Does a Pediatric Urologist do?
A pediatric urologist is a surgeon who specializes in children's bladder, kidney and genital conditions. Children's urology needs are different from those of adults, so it's important to choose a doctor who has pediatric training.

Urology: Why Choose Us
Our team specializes in diagnosing and treating all types of pediatric urology conditions. We provide both noninvasive and surgical therapies, depending on your child's needs. Your family benefits from:
Our focus on children: All Children's Hospital Los Angeles urology doctors have dedicated their careers to treating children. Our Board-certified pediatric urologists have completed additional fellowship training and qualifying examinations in pediatric urology. With this specialization, families can be confident that we understand their child's unique needs—physically and emotionally. Meet our pediatric urology team.
Comprehensive care: Our surgeons are highly specialized in specific areas of pediatric urology. Our doctors work closely together to share their expertise and provide the best outcome for each child. Our advanced practice providers also focus exclusively on pediatric urology. With our program, every member of your child's team is an expert in children's urology care.
Minimally invasive surgery options: If your child needs surgery, you can rest assured that we use the most advanced surgical techniques available. Our surgeons perform hundreds of minimally invasive surgeries each year, including laparoscopic and robotic surgeries. Learn more about minimally invasive and robotic pediatric urology surgery.
Family-centered care: We understand that urology conditions can be embarrassing for children and stressful for parents. That's why we offer counseling, education and family support. Because our doctors and nurses care for children every day, we know how to help them feel at ease.
Easier access to appointments: We know that families are busy, so we provide care that's closer to home. Our specialists have clinics at 14 locations across Southern California.
New therapies and innovation: As an academic hospital, we use the latest research to provide children with leading-edge care. Our strong research program offers eligible children the latest treatments that may not be available elsewhere. Learn more about our pediatric urology research and clinical trials.

Urology Programs and Services
Our clinics and programs cover all children's urology needs, from routine to complex. Our advanced urology subspecialties include:

Awards and Recognition
Our pediatric urology program ranks among the top programs in the nation, according to U.S. News & World Report. And Children's Hospital Los Angeles is rated one of the top children's hospitals in the country.
The Association for the Bladder Exstrophy Community (A-BE-C) has designated CHLA as a Center of Excellence for bladder exstrophy care. We are one of eight hospitals in the country with this recognition.

Collaboration With Other CHLA Specialists
Our pediatric urologists work closely with other CHLA departments to provide comprehensive care for complex conditions. Our teamwork ensures children receive complete care, no matter their medical needs.
Some of the specialties we partner with include: