Child Neurology Residency Training Program

About the Training Program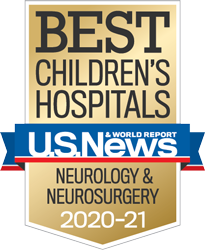 Launched in 1989, the Child Neurology Residency Training Program in the Division of Neurology provides a dynamic and energetic environment for training future pediatric neurologists. Over the past several decades, groundbreaking innovations have helped to achieve that goal. The program has 18 pediatric neurologists and includes collaboration with pediatric and adult psychiatry, pediatric radiology, the pediatric intensive care unit, the newborn infant critical care unit, pediatric neurosurgery, genetics, ophthalmology, oncology, adult neurology at the University of Southern California, and other services.
The Child Neurology Residency Training Program is the heart of the Division of Neurology's educational component. The size of our faculty and our residency program, as well as our relationships with other divisions, provide trainees with a rich community of colleagues to support and enrich the learning experience with various career models and perspectives. CHLA is proud to serve a broad and diverse patient population who come to us for solutions they cannot find elsewhere.
We choose our residents carefully—not only on the basis of their academic credentials, but also on their human qualities. We pride ourselves on training residents who are team players and who form lasting friendships with their colleagues in the residency program and beyond.

Why CHLA?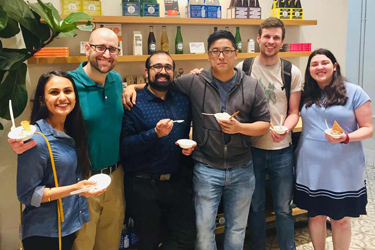 Children's Hospital Los Angeles is consistently ranked among the top 10 pediatric neurology and neurosurgery programs in the nation by U.S. News & World Report.
Children's Hospital Los Angeles is a busy urban teaching hospital with a diverse patient population. New hospital facilities opened in July 2011 with an increase to over 400 active beds. There is a very active outpatient neurology clinic with subspecialty programs in neuromuscular disorders (MDA), epilepsy (including epilepsy surgery, VNS and ketogenic diet), movement disorders (including deep brain stimulation and baclofen pump), neuro-intensive care, pediatric stroke, neurocutaneous disorders and demyelinating disorders.
Our faculty currently provide outpatient clinical services at CHLA and five satellite clinic locations within the greater Los Angeles area. The Division of Neurology has an ACGME-approved Child Neurology Residency Program which operates in collaboration with the Keck School of Medicine LAC + USC University Hospital. Our division accepts three child neurology residents per year who divide their time between the two sites. Furthermore, there is ongoing clinical research within our general child neurology and subspecialty programs.
The Division of Neurology is part of the Neurosciences service line (the Neurological Institute) at CHLA. The Division of Neurology is undergoing rapid expansion with the development of comprehensive clinical general and sub-specialty child neurology programs, as well as enhancement of its research portfolio. The goal of the Neurologic Institute is to offer comprehensive and integrated neurologic services in a patient-centered environment.
Learn More about the Training Program
Residents in the Child Neurology Residency Training Program spend time on both the pediatric and adult neurology outpatient and inpatient services over the course of the three-year training. Pediatric inpatient training occurs at CHLA. Adult neurology training is accomplished through rotations at LAC+USC Medical Center. Residents also spend time each year with CHLA epileptologists on an EEG rotation. Residents are provided four paid weeks off. Additional time is also provided to attend annual meetings such as the Child Neurology Society meeting throughout the three years of training.
Annual Block Schedule

View larger image
Selective opportunities are available within the Division of Neurology and with other subspecialties within CHLA including:
Developmental and behavioral pediatrics
Epilepsy program (Epilepsy monitoring unit, epilepsy surgery)
Inpatient rehabilitation
Neurocritical care
Neurogenetics
Neuro-immunology
Neuromuscular program
Neuro-ophthalmology
Neuropathology
Neuroradiology
Neurosurgery
Neuropsychology
Pain management
Palliative care
Psychiatry
Senior teaching elective
Sleep medicine
Electives at outside institutions are supported on a case-by-case basis
Residents are given the opportunity to teach and assume administrative responsibilities
Present lectures at the neuroscience conference
Teach third and fourth year USC medical students, general pediatric residents, and child psychiatry fellows
Administrative duties include preparation of the monthly on-call list by the senior child neurologist on service
Inpatient Service
Our inpatient team is composed of CHLA residents, child psychiatry fellows, adult neurology residents, medical students and nurse practitioners. The team is divided into a general neurology service and a neurocritical care service, each staffed by a separate attending physician. Residents spend time on each service during their inpatient blocks.
Outpatient Clinic
Residents rotate in the CHLA outpatient clinics to experience a variety of unique subspecialty clinic exposures, including epilepsy, movement disorders, neurocutaneous disorders and neuromuscular disorders. Residents also rotate through various multidisciplinary clinics including the brachial plexus clinic, epilepsy surgery clinic, ketogenic diet clinic, genetic epilepsy clinic and muscular dystrophy clinic. During elective blocks, residents can spend dedicated time in any of the subspecialty clinics.
Child neurology residents have their own continuity clinic one half day per week. Residents see hospital follow-up patients and new consults with a variety of general neurology concerns. They follow these patients longitudinally throughout the duration of their neurology training.
There are educational lectures scheduled throughout the week that cover various topics within child neurology. While rotating at LAC+USC Medical Center for adult neurology, residents attend didactic lectures offered through USC's Adult Neurology Residency Program.
Example Week at CHLA
Monday
Tuesday
Wednesday
Thursday
Friday
Fellow Core Lecture Series
12:00-1:00
Tumor Board
07:30-8:00

Neurology Grand Rounds
12:00-1:00

Brain Cutting
3:00-4:00

*Journal Club
6:00-07:30

Neurology Core Lecture Series
12:00-1:00
EEG Review
07:30-08:15

*Wellness
*Monthly Didactics
Lecture Descriptions
| | |
| --- | --- |
| Fellow Core Lecture Series (Weekly) | Lecture series with various topics in compliance with GME |
| Tumor Board (Weekly) | Multidisciplinary meeting between oncology, neurosurgery, pathology, radiology and neurology to discuss active brain tumor patients |
| Neurology Grand Rounds (Weekly) | Presentations provided by guest speakers, resident case reports and journal club presentations, and neuro-radiology conference |
| Brain Cutting (Weekly) | Review of gross brain specimens with pathology fellows and faculty |
| Neurology Core Lecture Series (Weekly) | Various neurology topics are presented by CHLA faculty throughout the academic year |
| EEG Review (Weekly) | Review of inpatient EEGs from the week with our epilepsy team |
| *Journal Club (Monthly) | Resident-lead journal club session moderated by an attending, reviewing current literature and research |
| *Wellness (Monthly) | Once a month session with our wellness coordinator |
| *Monthly Didactics (Monthly) | Resident-lead board review sessions |
Scholarly Project
Child neurology residents will complete a scholarly project during their training. The goal of the project is to foster critical learning in medicine and neurology. Projects can be accomplished in various domains such as research, quality improvement, education and/or patient advocacy. Child neurology residents will work with a faculty mentor throughout the duration of their project. Each project will be completed prior to graduation in the PGY5/6 year.
General Child Neurology
The members of the General Child Neurology team within the Neurological Institute at Children's Hospital Los Angeles are Board-certified in Neurology with Special Qualification in Child Neurology and actively participate in inpatient as well as outpatient duties. Our faculty are experienced in the diagnosis, care and treatment of variety of neurological disorders including epilepsy, headache, movement disorders, cerebral palsy, developmental delay, demyelinating disorders, neuro-immunology, neurocutaneous disorders, neuromuscular disorders, traumatic brain injury, stroke and neonatal neurology.
Neuromuscular
The Neuromuscular Disorders team cares for hundreds of children annually with genetic, autoimmune, and congenital conditions of the neuromuscular system. Conditions include Duchenne Muscular Dystrophy, Spinal Muscular Atrophy, Charcot Marie Tooth, CIDP, and Myasthenia Gravis. Neurology houses the multidisciplinary neuromuscular clinic. We also participate in multidisciplinary brachial plexus and peripheral nerve injury clinic. We are an MDA Center of Care, a California Children's Services Special Care Center, and a PPMD certified Duchenne Center. The program participates in multiple multi-center neuromuscular trials and multiple investigator initiated neuromuscular research projects. Over the years, numerous residents, fellows, and medical students have developed projects in our clinic. Our program also regularly performs pediatric EMGs from 6 days to 21 years of age. We perform among the highest number of pediatric EMGs in the nation.
Neurocutaneous
The Neurocutaneous Program evaluates and provides comprehensive care for children with complex genetic conditions, such as neurofibromatosis, Sturge-Weber syndrome and tuberous sclerosis complex. The NF Clinic is endorsed by the Children's Tumor Foundation and sees over 400 children and adolescents with neurofibromatosis type 1 (NF1) and neurofibromatosis type 2 (NF2) annually. CHLA is the only West Coast site for the U.S. Army Department of Defense NF consortium which coordinates multicenter clinical trials for patients with significant complications from NF1 and NF 2.
Neurocritical Care, Vascular Neurology, and Fetal-Neonatal Neurology
The Neurocritical Care Program provides multidisciplinary care to newborns, infants and children who have acute neurologic compromise in the Pediatric Intensive Care Unit (PICU), Cardiothoracic Intensive Care Unit (CTICU) and Neonatal and Infant Critical Care Unit (NICCU). Our faculty are fellowship trained in stroke and neurocritical care. We have an acute stroke program that delivers comprehensive care for emergent diagnosis of arterial stroke and treatment with thrombolysis. We have a fetal neurology program that provides consultation through the USC Fetal-Maternal Center for in utero diagnosis of cerebral malformations or injury. The program participates in multicenter trials for patients with hypoxic-ischemic encephalopathy and is a member of the Pediatric Neurocritical Care Research Group (PNCRG) and International Pediatric Stroke Study (IPSS).The Department of Anesthesia and Critical Care Medicine and Division of Neurology also support a non-ACGME accredited neurocritical care fellowship, training one fellow per year.
Movement Disorders
The Pediatric Movement Disorders Program provides care for children with neurological conditions that impact the motor system, such as gait, positioning, abnormal movements and tone. Our clinic manages patients from across the state of California, providing initial diagnosis and ongoing management of both acute and chronic movement disorders. We use a variety of treatment modalities such as intrathecal baclofen and botulinum toxin injections to manage patients with spasticity and dystonia. Our division offers access to some of the only neurologists in the nation who have specialized training and expertise in providing care for children with movement disorders. The Movement Disorders program also includes a clinic dedicated to the evaluation and management of children with tic disorders and Tourette syndrome.
Epilepsy
The Epilepsy team currently has four pediatric Board-certified epileptologists with a busy epilepsy surgery program offering ECoG-guided resections, phase II studies with implanted grids/strips and depths, stereo-EEG, EEG source localization and minimally invasive laser ablation. We have a large VNS program and are initiating pediatric RNS. We follow over 150 children on either ketogenic diet or modified Atkins diet with the help of two full time dietitians. We have a robust pediatric epilepsy anticonvulsant clinical trial program and currently participate in over 10 national clinical trial studies.
CHLA has an active outpatient EEG lab, a dedicated six-bed pediatric Epilepsy Monitoring Unit (EMU), wired video EEG playroom and neuro-critical care EEG monitoring service. The Comprehensive Epilepsy Program includes a spectrum of multi-disciplinary services including epilepsy surgery, ketogenic diet therapy, epilepsy genetics and new onset seizure clinics. Our epilepsy program is supported by one physician's assistant and three nurse practitioners. The CHLA Center for Personalized Medicine has a strong relationship with our epilepsy team and all testing for epilepsy genetic syndromes can be performed in-house with support from affiliated genetic counselors. In addition, the Division of Neurology has an ACGME-approved pediatric epilepsy fellowship program which accepts two fellows annually in addition to the ACGME-approved child neurology residency program which operates in collaboration with the KSOM LAC + USC/University Hospital.
Neuroimmunology
CHLA's Neuroimmunology and Demyelinating Disorders Program is one of the fastest growing comprehensive care clinics of its kind. Our program cares for children with disorders ranging from multiple sclerosis and neuromyelitis optica to autoimmune encephalitis and MOG spectrum disorders. We have a robust research program which is complimented by a variety of clinical trials, allowing us to provide top tier care to the children of Southern California.
Sleep Medicine
Our Division is supported by a neurologist with specialty training in pediatric sleep medicine. We partner with the Division of Pulmonology to provide a multi-disciplinary approach to pediatric sleep disorders including parasomnias, restless leg syndrome, obstructive sleep apnea and narcolepsy.
Upon completion of training, our past trainees have been accepted to prestigious fellowships and have also pursued careers in academic general neurology, academic neuroscience and private practice.
Recent graduates' fellowship placements include:
Neurophysiology Fellowship – University of Southern California Keck School of Medicine
Pediatric Epilepsy Fellowship – Children's Hospital of Los Angeles
Neuromuscular Medicine Fellowship – University of California Los Angeles
Clinical Neurophysiology Fellowship – Children's Hospital Orange County
Multiple Sclerosis / Neuroimmunology Clinician Scientist Fellowship – University of California San Francisco
Pediatric Epilepsy and Clinical Neurophysiology Fellowship – Miami Children's Hospital
Multiple Sclerosis / Neuroimmunology Fellowship – University of Southern California Keck School of Medicine
Movement Disorders Fellowship – Children's Hospital Los Angeles/University of Southern California Keck School of Medicine
ACGME Accredited: Yes
*NRMP code: 1031185C0
Fellows per year: 3
Duration: 3 years
Postgraduate training required: 2 years general pediatrics
U.S. Citizenship Required: no
Sample Contract: Click Here
Salary Minimums:
Post Graduate Year 3: $69,208
Post Graduate Year 4: $71,550
Post Graduate Year 5: $74,900
Post Graduate Year 6: $74,900
Benefits Include: Health and dental insurance, 4 paid weeks off, a generous educational/CME stipend, and monthly meal stipend.
* Applicants should apply to the Categorical Pediatric Neurology Program via ERAS for consideration of the five-year training program. Separate application to general pediatrics is NOT required. An interview with the CHLA general pediatrics program will be automatically granted to those selected for an interview with child neurology.

How to Apply
The match process for the CHLA Child Neurology Residency Training Program is done through the National Resident Matching Program (NRMP). Applications are accepted via the Electronic Residency Application Service (ERAS).
All applications must be submitted through ERAS and must contain the following:
Personal statement
Curriculum vitae
Minimum of two letters of recommendation
Dean's letter
A copy of your USMLE score(s)
Medical school transcripts
For International Medical graduates, we also require an Evaluation Status Letter from the Medical Board of California in Sacramento
We offer three positions each year for the child neurology residents and many of our residents also complete their two-year preliminary general pediatrics training at CHLA. Applicants should apply to the Categorical Pediatric Neurology Program via ERAS for consideration of the five-year training program. Separate application to general pediatrics is NOT required. An interview with the CHLA General Pediatrics Program will be automatically be granted to those selected for an interview with child neurology.
There is no cutoff for board scores. We review the application as a whole including medical school performance, letters of recommendation and extracurricular activities when selecting applicants for an interview. All documentation must be received before an applicant's file is reviewed. Applicant files are processed in the order in which they are received.
We are aware of the impact of the COVID-19 pandemic, including inability to complete some clinical rotations or inability to complete USMLE Step 2 examinations prior to the application cycle. These factors will not affect your consideration for the interview.
Positions Available in the 2021 Match
There are three PGY1 categorical positions offered with preliminary training in general pediatrics at CHLA starting in 07/2021 and CHLA child neurology training starting 07/2023
2020-2021 Application Timeline
| | |
| --- | --- |
| September 15, 2020 | ERAS applications accepted |
| October 21, 2020 | Applications are reviewed |
| After Receipt and Review of MSPE | Applicants are notified of interview offer |
| December 15, 2020 | Deadline for ERAS applications to be received |
| November 17, 2020 – January 29, 2021 | Virtual interviews |
| March 19, 2021 | Match day |
Virtual Interviews
In compliance with AAMC and AAN guidelines, interview days for the 2021 Match will be virtual. interviews will take place over Zoom between November 17th, 2020 and January 29th, 2021. More information regarding the interview process will be provided through email correspondence once an interview offer is made.