Encino Outpatient Center

Update on COVID-19 Testing at the Encino Outpatient Center
COVID-19 Testing will be conducted for pre-arranged cases only at the Encino Care Center located at 5363 Balboa Blvd #121, Encino, CA 91316. Upon arrival, please park in the reserved parking spots on the south side of the parking lot. Once parked, please proceed to the side entrance of the Encino Care Center and one of our staff will greet you and check you in for your test.
Please do not go to the main clinic entrance as we have created an expedited process for testing through this alternative entrance.
Why is it important to see pediatric specialists at the Encino Outpatient Center?
They are trained in treating childhood illnesses and injuries.
Their care is age-appropriate, helping children continue to achieve the important developmental milestones of childhood.
Their goal is family-centered care, treating parents as an integral part of the health care team.
They provide a care environment tailored to make children feel safe and protected.
Children's Hospital Los Angeles – Encino offers Board-certified and Board-eligible pediatric specialists from the following areas. More specialty areas being added soon.
Encino Location Map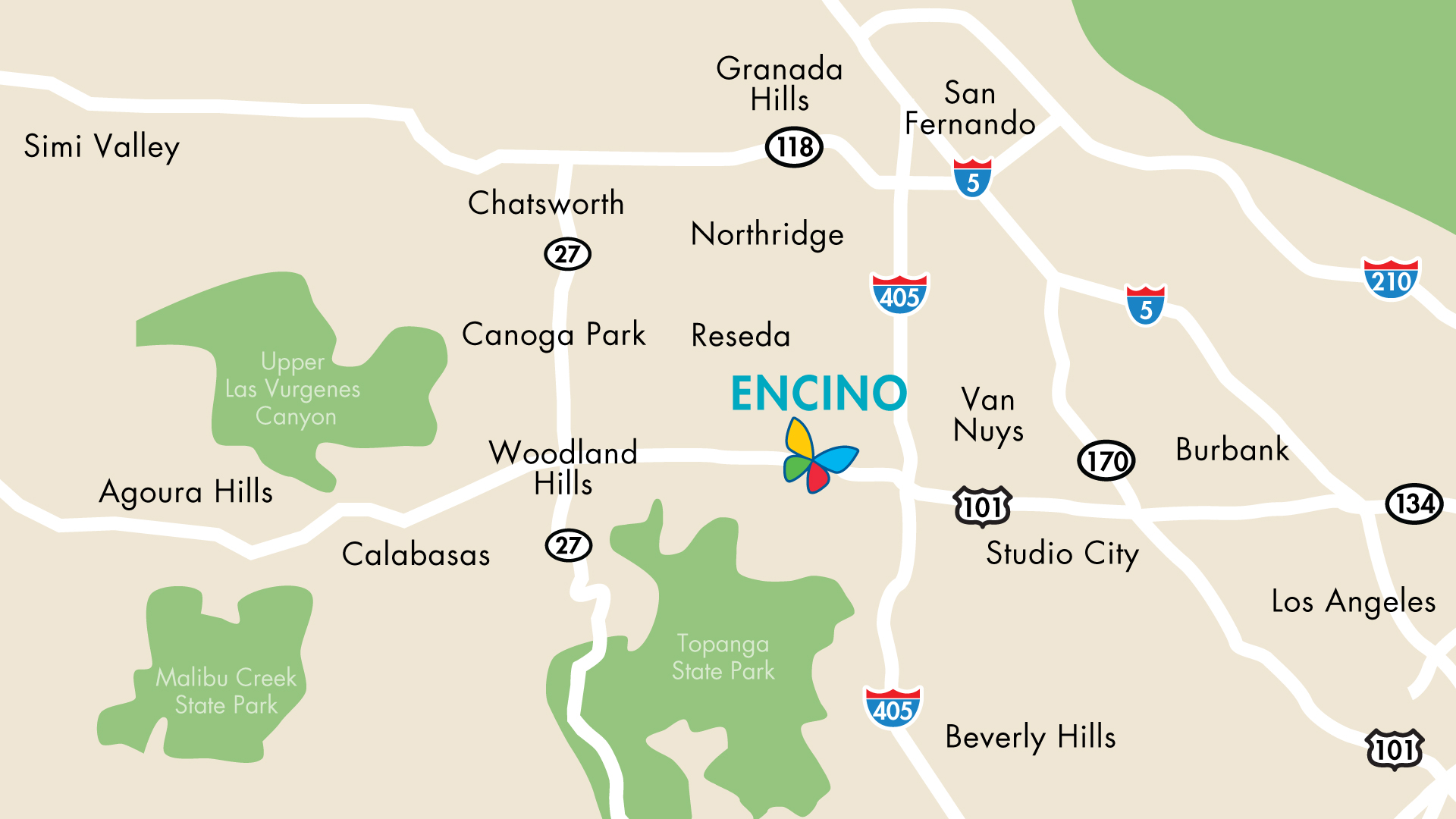 Dermatology
Endocrinology, Diabetes and Metabolism
Lily Chao, MD, MS
Roshanak Monzavi, MD
Gastroenterology , Hepatology and Nutrition
Hematology, Oncology and Blood and Marrow Transplantation
Laboratory Services
Nephrology
Neurology
Nancy Niparko, MD
Michele Van Hirtum-Das, MD
Orthopaedic Surgery
(Available in affiliation with Primary Care Sport Medicine.)
Oussama Abousamra, MD
Rachel Goldstein, MD
Kenneth D. Illingworth, MD
Erin Meisel, MD
Curtis VandenBerg, MD
Otolaryngology – Head and Neck Surgery
Pediatric Surgery
Lorraine Kelley-Quon, MD, MSHS
Juan Pelayo, MD
Kasper S. Wang, MD
Pulmonology
Urology
The Laboratory Services staff offer unparalleled expertise in pediatric phlebotomy and provide compassionate care while minimizing the sample size taken from pediatric patients. To ensure accurate and timely results, samples are transported several times a day to the main testing center at Children's Hospital Los Angeles. All ages are welcome and no appointment is necessary. Learn more.