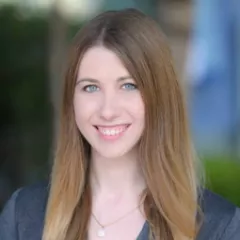 Madeline Kahan, MD
Attending Physician, Division of Neurology
Clinical Assistant Professor of Neurology, Keck School of Medicine of USC
Dr. Madeline Kahan joins the Division of Neurology at Children's Hospital Los Angeles as a specialist in the treatment of pediatric epilepsy and neurology.
Dr. Kahan received a B.S. in Neuroscience and a B.A. in World Arts and Cultures at UCLA, and earned her M.D. at UCSF. She completed her Pediatrics residency at UCSF Benioff Children's Hospital - Oakland and Child Neurology residency at UCSF, after which she completed her Pediatric Epilepsy fellowship at CHLA. Dr. Kahan is especially passionate about the transition from adolescence to adult care, and was the inaugural recipient of the Child Neurology Foundation Excellence in Transitions award. She is an active member of the Children and Youth With Epilepsy Advisory Committee through the American Academy of Pediatrics.
Dr. Kahan enjoys caring for neurology and epilepsy patients and their families from birth through adolescence. She accepts epilepsy patient referrals at the CHLA Sunset Campus, and both general child neurology and epilepsy patients at CHLA's Encino location.
Clinical Interests
Treatment of epilepsy (including medical and surgical treatments for intractable epilepsy), general child neurology, and transitions of care for adolescent and young adult patients
Education
Residency
UCSF Benioff Children's Hospital Oakland, Pediatrics
UCSF, Child Neurology
Fellowship
Children's Hospital Los Angeles, Pediatric Epilepsy
Accomplishments
Certification
Epilepsy, American Board of Psychiatry and Neurology
Neurology/Child Neurology, American Board of Psychiatry and Neurology
Memberships
American Epilepsy Society
Child Neurology Society
American Academy of Neurology
American Academy of Pediatrics
Publications
Publications
(Some under maiden name Madeline Schwarz)
Kahan MD, Breithaupt A, Nash K, Numis A. Seizure and interictal electroencephalographic (EEG) changes with cannabinoid concentrate use. Am J Case Rep, 2021 Apr 18;22:e93160.
Riegels NS, Asher E, Cartwright J, Chow J, Lee E, Nordstrom M, Schneider A, Schwarz MD, Zarin-Pass M, Mazotti L. Listening beyond auscultating: A quality initiative to improve communication scores in the Hospital Consumer Assessment of Health Care Practitioners and Systems survey. The Permanente Journal, 2018;22:16-187.
Hussain SA, Tsao J, Li M, Schwarz MD, Zhou R, Wu JY, Salamon N, Sankar R. Risk of vigabatrin-associated brain abnormalities on MRI in the treatment of infantile spasms is dose-dependent. Epilepsia. 2017 Apr;48(4):674-682.
Schwarz MD, Li M, Tsao J, Zhou R, Wu YW, Sankar R, Wu JY, Hussain SA. A lack of clinically apparent vision loss among patients treated with vigabatrin: The UCLA experience. Epilepsy and Behavior. 2016 Apr;57(Pt A):29-33.