Gene Therapy to Treat Congenital Blindness
The Vision Center at Children's Hospital Los Angeles has begun offering retinal gene therapy (Voretigene Neparvovec), a groundbreaking procedure to improve the vision of young patients with congenital blindness. This novel one-time treatment received approval from the U.S. Food and Drug Administration in December 2017, after clinical trials demonstrated that it was safe and effective in both children and adults.
Children's Hospital Los Angeles is one of only seven hospitals nationwide that has been approved to deliver this therapy to patients.
"Many hospitals were evaluated to deliver this therapy. Children's Hospital Los Angeles was chosen because we are a leading pediatric center for complex eye surgery." – Aaron Nagiel, MD, PhD
Children's Hospital Los Angeles is the only facility offering this therapy with two full-time pediatric retina specialists, Aaron Nagiel, MD, PhD, and Thomas C. Lee, MD, of The Vision Center. The two surgeons are experts at treating patients with hereditary retinal disease.
How does retinal gene therapy work?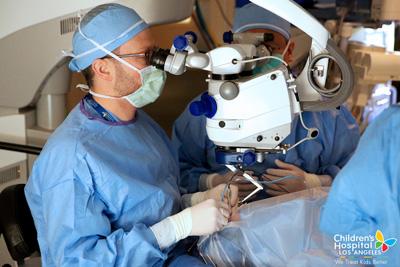 Some diseases result from changes to a single gene that is passed down through families. These are called hereditary diseases. For patients with hereditary blindness, changes to the gene—called mutations—are associated with deteriorating vision and eventual blindness.
This new treatment uses gene therapy to target a specific mutated gene, known as RPE65, located in the retina of the eye. Doctors at Children's Hospital Los Angeles insert a functioning gene into the eye with the goal of stabilizing or improving the patient's vision. 
How do I know if my family member is a candidate for retinal gene therapy?
To be considered for this treatment, the patient must get a genetic test to see whether he or she is eligible. CHLA is one of the few facilities nationwide that has the certification and capability to perform the necessary clinical testing on-site, at our Center for Personalized Medicine.
How long does the procedure take?
Patients receive gene therapy through a surgical procedure. On Day 1, the procedure is done to the first eye and the patient is discharged later that day with an eye patch to protect the treated eye. On Day 2, the patient is seen for a post-operative appointment. At this time the eye patch is removed. Approximately one week later, the patient returns to CHLA for treatment of the second eye.
How can I get more information about retinal gene therapy?
Luxturna (voretigene neparvovec) is an FDA-approved retinal gene therapy. Because of the expertise required, only seven hospitals in the U.S. are approved to deliver this treatment. CHLA is the only site located in California.
If you think a family member may be a candidate for gene therapy to treat hereditary blindness, please contact our team at 323-361-4510.