Children's Optical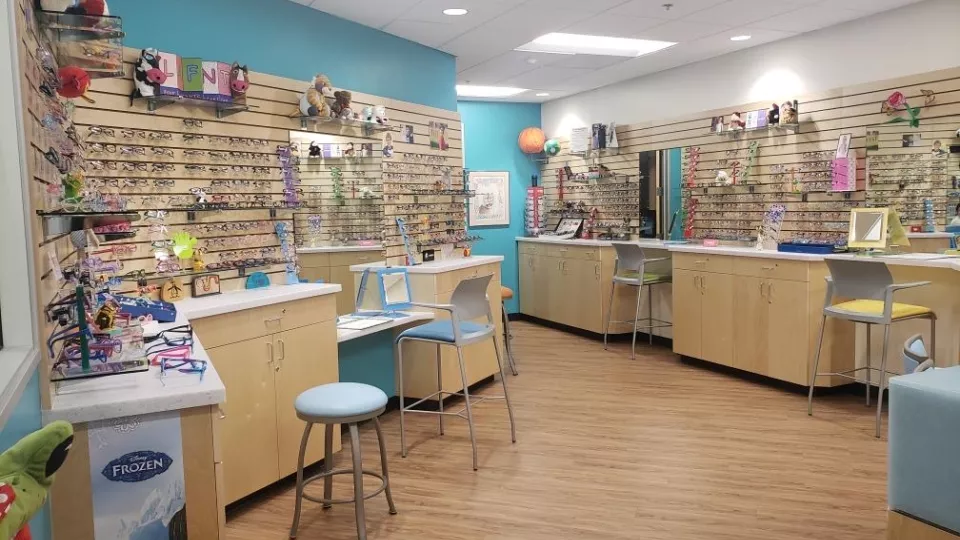 Children's Hospital Los Angeles Optical
Located on-site to the Children's Hospital Los Angeles Arcadia Outpatient Center, Children's Optical offers one-stop shopping for patients needing prescription eye glasses, contact lenses, frame repairs, accessories and protective eyewear.
Children's Optical provides customized lenses for children to ensure proper prescriptions and comfort. When very young children are prescribed glasses to correct a developmental condition, it is crucial that the lenses be properly aligned.
With a large selection of frames to choose from, Children's Optical offers child-friendly frames that can be properly fitted to facial characteristics, nose bridge and temple length to provide the best comfort.
Children have smaller noses, which can lead to the glasses slipping down if they aren't properly fitted.
Frames should be durable and be sized to fit the width of the face.
The temples (arms) of the frame should be the proper length and follow the contour of the ear. Frames can be fit with comfort cable tips to ensure a minimum of slipping or strap to secure the glasses.
Durable frames and polycarbonate lenses are recommended for protection against breakage and harmful UVA/UVB light rays from the sun.
Parking
Parking is available, free-of-charge, in designated spots adjacent to the building.
Care Services
Eye glasses
Contact lenses
Frame repairs
Accessories
Protective eyewear
Eye patching
Frames Carried
Converse, Lucky Brand, Ray Band, Ray Band Jr, OP, New Balance, Tony Hawk, Penguin, Lafont, TC Charton, Nano, Steve Madden, Chick, Miraflex, Tomato, Dilli dalli, Oakley, Hipsterkids, Vera Bradley, Life is Good, Hello Kitty, Lilly Pultzer, Kensie, Izod, TMX, Rec Specs and more.
Pediatric Optician
Carmen Medina, ABOC