Physician Services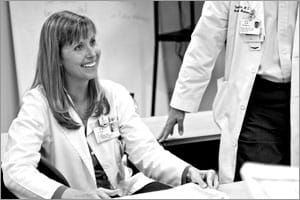 Through its physician services, the Division of Maternal-Fetal Medicine offers mother and fetus the most innovative, integrated diagnostic and treatment options in a single location to women with high-risk pregnancies and/or prenatally diagnosed fetal conditions. The range of pediatric and fetal subspecialties is represented in either core membership or affiliated partnerships.
Physician Services
Our experts have cared for more than 1,200 high-risk mothers and babies with a wide range of fetal diagnoses who relied on the services of many of our specialties below:
Cardiology
With recent advances in fetal diagnosis, heart defects can now be accurately diagnosed before birth by fetal echocardiography. In most cases, this leads to improved post-natal management. In a few cases, it may also allow fetal intervention to open up an obstructed valve and thus prevent abnormal development of the pumping chamber. Fetal heart disease can be congenital (structural defects) or there can be a problem with the fetal heart beat (arrhythmias) or a functional problem with the heart squeeze or filling.
The fetal cardiology team at our hospital provides comprehensive, state-of-the-art care for fetuses with heart disease and provides a seamless transition, when needed, to medical and/or surgical care of the newborn infant following delivery.
Using high-resolution fetal cardiac imaging, experienced fetal cardiologists diagnose and manage both simple and complex forms of fetal heart disease. When appropriate, additional treatments are offered for affected fetuses to optimize fetal well-being and neonatal outcome.
Following the diagnosis of fetal heart disease, a thorough explanation of the heart defect is made to the patient and family, along with a description of the anticipated neonatal course, possible surgical interventions, and long-term prognosis or outlook.
Some of the problems that our cardiology team commonly treats include:
Acardiac twins
Congenital cysti adenomatous malformation
Dysrhthmia or arrhythmia
Fetal anemia
Hypoplastic left heart syndrome
Sacrococcygeal teratomas
Twin-to-twin transfusion syndrome
For some of these conditions, there are ways to intervene before birth to improve the heart function and the baby's overall outlook. Fetal echocardiography can help to identify those babies in whom intervention should be provided before birth, determine the best timing for intervention, and assists in determining how effective the intervention has been.
Craniofacial
A craniofacial disorder refers to an abnormality of the face and/or the head, the most common of which is a cleft lip and/or palate (affecting one in every 700 births). Craniofacial differences can result from abnormal growth patterns of the face or skull, which involves soft tissue and bones. A craniofacial condition may include disfigurement brought about by birth defect, disease or trauma.
Craniofacial surgery focuses on the correction of deformities of the bones of the skull and face. Less than 30 years ago, medicine offered little hope to patients with severe craniofacial deformities. Today, highly experienced teams of craniofacial surgeons, including those at IMFH, have profoundly changed the outlook for these patients and their families.
Our craniofacial specialists treat:
Apert Syndrome
Carpenter Syndrome
Cleft Lip and/or Palate
Craniosynostosis
Crouzon Syndrome
Facial Cleft
Facial Palsy
Fibrous Dysplasia
Frontonasal Dysplasia
Hemangioma
Hemifacial Microsomia / Goldenhar Syndrome
Microtia/artresia
Miller Syndrome
Moebuis Syndrome
Nager Syndrome
Pfeiffer Syndrome
Pierre Robin Sequence
Saethre-Chotzen
Treacher Collins 
Genetic Consultative Services
A patient whose unborn baby has a known or suspected genetic or chromosome disorder, such as Down Syndrome, or who has certain abnormalities seen by ultrasound or MRI imaging, is referred to a clinical geneticist who specializes in prenatal and pediatric genetics. Other reasons for referral include a family history of inherited disorder or the patient herself or her partner has a genetic disorder that could affect management of the pregnancy and delivery.
In the consultation, the patient, with her partner if she wishes, learns about the possible significance, causes and, if known, recurrence risks of the findings. The geneticist works in conjunction with other specialists in IMFH to provide as much information to the prospective parents as possible, drawing on the results of imaging and medical records and adding a focused personal and family history obtained in a confidential, non-directive session. Often genetic and/or chromosome testing are recommended for the unborn baby or the parents.
Patients are offered an opportunity to see the geneticist for follow-up consultations after genetic testing results have been obtained. If the baby is born at Hollywood Presbyterian Medical Center, which is adjacent to Children's Hospital Los Angeles, genetics consultations are provided for the newborns as needed. The children can subsequently be followed in the Medical Genetics Clinic of Children's Hospital Los Angeles.
Common Diagnoses Requiring Consults by a Geneticist
Brain Abnormalities
This includes hydrocephalus, agenesis of the corpus callosum, enlarged ventricles and more.
Additional resources for parents:
Cleft Lip and Palate 
Additional resources for parents:
Chromosome Abnormalities
This includes trisomy 21 (Down syndrome), trisomy 18, trisomy 13, Turner syndrome, chromosome 22q11.2 microdeletion, deletions and duplications of other chromosomes.
Additional resources for parents:
Congenital Diaphragmatic Hernia
Additional resources for parents:
Heart Defects (with and without other medical issues)
Additional resources for parents:
Kidney Abnormalities
Including polycystic or multicystic kidneys, missing kidneys, obstruction of urethra or ureter, duplication of kidney or collecting system.
Additional resources for parents:
Limb, skeletal defects suggesting skeletal dysplasia/dwarfism
Additional resources for parents:
Multiple Abnormalities 
Additional resources:
Retinoblastoma
Additional resources for parents:
Genetics
The Division of Maternal-Fetal Health has a team of geneticists, perinatologists (maternal-fetal specialists), genetic counselors and nurses provides complete prenatal diagnostic evaluations and counseling for families at risk for genetic disorders and birth defects. This program offers some of the most sophisticated diagnostic studies available, including high-resolution fetal ultrasound, fetal echocardiography, fetal MRI and amniocentesis.
Mothers whose unborn babies are identified as being at increased risk through the State of California's Expanded Alpha Feto-Protein (XAFP) Screening Program are often referred to our genetics team, as are mothers/babies with a family history of a genetic disorder, abnormal ultrasound findings, advanced maternal age and prenatal exposure to drugs or medications.
Our genetics team offers babies identified with complex genetic diseases a spectrum of diagnosis, treatment and laboratory services based on the most recent scientific advances. The team educates family members about the condition and prognosis, available therapies, and the likelihood another pregnancy may produce a child with a similar condition.
There are a large number of inherited genetic diseases (like sickle cell anemia) that can now be accurately diagnosed early in fetal life by examining fetal DNA obtained by chorionic villus sampling or amniocentesis. In most cases, the testing is done because the disease has been identified to run in the family.
Some inherited genetic diseases are treatable with stem cells. These diseases fall into the categories of:
Hemoglobinopathies
Immunodeficiency diseases
Inborn errors of metabolism
Hematopoietic diseases 
Infectious Disease
We partner with our hospital's infectious disease team offers superior care and consultation services to meet the challenges posed by infectious diseases acquired by mother or fetus. This rapidly changing field requires specialized, innovative approaches to both common infections and more serious infectious diseases including:
AIDS
Hepatitis
HIV
Parvovirus
Toxoplasmosis 
Neurology
Many neurological problems in children are congenital—birth defects or conditions that emerge in the womb and are associated with the central nervous system and peripheral nervous systems. For newborns and infants, our specialized teams diagnose and treat rare and complex conditions and perform delicate operations of the brain, spine and other parts of the nervous system.
We have the most comprehensive pediatric neurological surgery program in Southern California. Our neurologists can treat the following and more:
Brain tumors
Cerebral palsy
Epilepsy of all types
Gait disorders, ataxias and opsoclonus-myclonus syndrome
Leukodystrophies and mitochondrial cytopathies
Mental retardation
Movement disorders and dystonia
Myasthenia gravis
Neurogenetic conditions including degenerative diseases
Neurological infections including encephalitis
Neuromuscular diseases including muscular dystrophy
Neuropathies 
Neurosurgery
IMFH's medical staff includes board-certified neurosurgeons, neurologists, neuroradiologists, neuropathologists, neuro-oncologists, neuro-ophthalmologists, radiation therapists, psychologists, rehabilitation therapists and clinical nurse specialists. Together, this team of specialists works to provide the best possible outcomes for babies who may require neurosurgery. IMFH's neurosurgical services include:
Arachnoid Cysts
Modern imaging techniques have revolutionized our ability to diagnose and treat central nervous system (CNS) problems. This includes arachnoid cysts, which can cause raised intracranial pressure or impairment of cerebral spinal fluid (CSF) pathways to produce hydrocephalus. Our neurosurgeons have extensive experience treating such cysts of the brain and spinal cord. When possible, we try to treat the cyst with fenestration before resorting to CSF diversion by shunting techniques.
Brain and Spinal Chord Tumors
Optimal treatment of brain tumors requires a sophisticated, coordinated multidisciplinary treatment approach. Armed with the latest technical equipment, IMFH's Neurosurgery team provides advanced surgical solutions, with outcome statistics that match or exceed any other program in the United States and beyond.
Vascular Malformations
Although uncommon, arteriovenous malformations (AVM) and aneurysms can cause life-threatening and/or devastating neurologic impairment following hemorrhage. Our ability to treat these lesions by direct surgical approach or endovascularly has been enhanced by the availability of magnetic resonance imaging (MRI) and magnetic resonance angiography. In addition, neuroradiologists and anesthesiologists can properly and safely sedate patients, contributing to patient comfort and superior imaging studies. We employ intraoperative angiography to assure that the AVM has been completely excised or that the aneurysm has been properly clipped.
Craniosynostosis and Craniofacial Reconstruction
Craniosynostosis can vary from involvement of a single suture, such as the sagittal, to multiple sutural involvement, such as Apert and Crouzon Syndromes. If only the calvarium (upper skull) is involved and surgery is required, the neurosurgical team will correct the problem. If the face is involved, then the full craniofacial team will participate.
Hydrocephalus
Hydrocephalus is one of the most common problems faced in pediatric neurosurgery and can impact pre-term infants who develop hydrocephalus associated with intraventricular hemorrhage. Patients are carefully evaluated for cerebral spinal fluid (CSF) diversion, which is undertaken only if absolutely necessary. We believe the best way to avoid shunt problems is to not insert a shunt. Our physicians insert or revise approximately 300 shunts a year.
Neural Tube Defects 
The most common form of neural tube defect  is open, specifically the myelomeningocele or spina bifida. In this lesion, the spinal cord is exposed and often cerebral spinal fluid  is leaking. Lesions are usually repaired shortly after birth, but can also be repaired in utero.
Nearly all patients require a cerebral spinal fluid-diverting shunt as well as access to a host of other specialists. A diverse group of pediatric specialists and ancillary providers devise a comprehensive, ongoing program to maximize the potential of children with varying degrees of neurologic deficit. Some infants are born with what is called a tethered spinal cord. Our goal is to decompress or untether th espinal cord to prevent neurological issues from developing. We treat these patients in conjunction with the orthopaedic surgeons and urologists, as needed. 
Ophthalmology
Our hospital's ophthalmologists treat and study a full spectrum of congenital diseases that result in anatomic abnormalities of the eye and optic nerve, including optic nerve hypoplasia, the leading cause of blindness in infants in the United States. IMFH's eye care specialists are experts at treating eye disorders, including strabismus and ocular genetics, congenital abnormalities and delayed visual maturation.
The Division of Maternal-Fetal Health is a leading specialist in the screening and treatment of retinoblastoma, a childhood cancer arising from immature retinal cells in one or both eyes. The cancer can strike from the time a child is in the womb up to five years of age. This cancer is curable if caught early enough. Among other conditions treated are:
Coloboma
Hydrocephalus
Hypopituitarism
Optic nerve hypoplasia
Retinopathy of prematurity
Retinoblastoma 
Orthopaedics
The word orthopaedic, commonly spelled orthopedic, refers to the correction or prevention of bone deformities.
Orthopaedic conditions may be present at birth, such as club foot, or may develop over time. We treat orthopaedic conditions that affect the spine, hip, legs, feet and hands, all of which can make a significant difference in a child's quality of life. Among the orthopaedic conditions we treat most often at our Division of Maternal-Fetal Health are:
Abnormal tissue growths
Birth defects (arms, hands, feet and legs)
Bone cysts (tumors)
Bone growths (osteochondromas)
Bone and joint infections
Growth problems (which result in uneven arms and legs)
Hip diseases (e.g. developmental hip dysplasia)
Marfan syndrome,
Neurofibromastosis
Orthopedic problems (from cerebral palsy, muscular dystrophy and spina bifida)
We treat complex problems in collaboration with specialists in anesthesiology, neurosurgery and rehabilitative medicine. Our Division of Maternal-Fetal Health also works closely with physical therapists, occupational therapists and other child development specialists.
Otolaryngology - Ear Nose and Throat
Otolaryngology is the branch of medicine that specializes in the diagnosis and treatment of ear, nose and throat, and head and neck disorders. Our hospital's board-certified specialists  who together are capable of treating virtually any otolaryngology problem that may arise, offer such broad-based subspecialties as bronchoesophagology, pediatric head and neck surgery, thyroid surgery, cleft lip and palate repair, pediatric otology and neuro-otology.
Our otolaryngologists provide expertise in the areas of:
Benign and malignant head and neck tumors
Bronchoesophagology and airway disorders
Cleft lip and palate
Congenital disorders of the ear
Craniofacial otolaryngology
Facial nerve disorders
Pediatric otolaryngology
Pediatric sinus disease
Skull base surgery 
Radiology
IMFH's team of radiologists specializes in obstetrical sonography and MRI. They will perform a complete ultrasonography and possibly an echocardiogram and MRI, which provides detailed information on the specific details of a baby's birth defect. The radiologist also provides ultrasound guidance during the actual surgery.
After fetal surgery, the radiologists will perform further ultrasound and echocardiography studies to monitor your baby's well-being. The team's goal is to provide high-quality imaging and interpretation in a timely and efficient manner, thus facilitating accurate and timely diagnosis and treatment for each fetus or newborn patient.
Diagnostic Radiology Services 
Angiography and Venography
These types of imaging studies are used to enable imaging and examination of the arteries and veins.
Computed Tomography (CT)
Computed tomography or CT images are produced by a X-ray beam that provides cross-section images of organs and other internal structures. These images provide additional details and information to the clinician above and beyond what a standard X-ray image could provide.
Magnetic Resonance Imaging (MRI)
Magnetic resonance imaging allows physicians to examine the size, shape and function of an organ or body part. Some patients, especially children, undergoing this procedure require sedation and are carefully monitored during the procedure.
Ultrasonography
Ultrasound utilizes sound waves to produce images. This procedure allows the visualization of blood flowing through the veins and arteries as well as a wide range of anatomic structures, including abdominal organs, the thyroid gland and the kidneys.
Nuclear medicine: Nuclear medicine enables special cameras to detect and display specific internal organs, demonstrating shape and function. Frequently, these procedures yield information that is not available by any other imaging method. 
Surgery
When facing a fetal health problem, it is easiest to think of fetal intervention in terms of invasiveness. Open surgery is the most invasive and Fetal Image-Guided Surgery for Intervention or Therapy (FIGS-IT) is the least invasive. Another type, Fetendo fetal surgery, falls in between. Following are basic details about the three types of fetal surgery:
Open Fetal Surgery: In open fetal surgery, the mother is anesthetized, an incision is made in the lower abdomen to expose the uterus, the uterus is opened, the surgical repair of the fetus is completed, the uterus followed by the maternal abdominal wall are closed, and the mother awakened. It is similar to a Cesarean section, except that at the end of the operation the mother is still pregnant. Once performed, it requires Cesarean delivery of this and future pregnancies and may cause preterm labor and preterm delivery.
Fetendo Fetal Surgery: This fetoscopic intervention that was developed in the 1990s to avoid making an incision in the uterus and, hopefully, to minimize preterm labor. The ability to see the fetus through very small endoscopes, which have been available for several decades, were refined to allow surgical manipulation of the fetus with very small instruments guided by direct fetoscopic view on a television monitor. Fetendo intervention can be done either through the mother's skin (percutaneous) or, in some circumstances, requires a small opening in the mother's abdomen (mini-laparotomy). Fetendo is particularly useful for treating problems with the placenta, like twin-twin transfusion syndrome, and for looking inside the fetus, for example, to place a balloon in the fetal trachea or deal with obstruction of the fetal bladder.
Fetal Image-Guided Surgery for Intervention or Therapy (FIGS-IT): FIGS-IT is a method of manipulating the fetus without either an incision in the uterus or an endoscopic view inside the uterus. The manipulation is done entirely under real-time, cross-sectional view provided by the sonogram. This is the same sonogram as is used for diagnostic purposes, but in this case, it is used to guide instruments. Like Fetendo, it can be done either through the mother's skin or, in some cases, with a small opening in the mother's abdomen. Image-guided intervention can be used for a variety of fetal manipulations including placement of catheter-shunts in the bladder, abdomen or chest, radiofrequency ablation to solve problems with anomalous twins, and even for some cardiac manipulation. It is generally not useful for serious structural problems that require surgery. 
Urology
IMFH's medical staff pulls from one of the largest groups of fellowship-trained pediatric urologists in the United States skilled in evaluating, diagnosing, treating and providing follow-up care for babies with congenital and acquired disorders of the genitourinary tract.
One of the most common fetal urinary problems, fetal urinary tract obstruction, is often caused by a narrowing at some point in the urinary tract. This narrowing can slow down or stop the flow of urine, and this in turn can interfere with the development of both the kidneys and the lungs. Fetuses who have an obstruction or abnormality in one kidney and have a normal kidney on the other side will do very well.
Severe obstructions to both kidneys prevents urine from getting out into the amniotic space around the fetus and the amniotic fluid goes away (oligohydramnios), causing the fetus's lungs to not develop. The small lungs may prevent survival after birth. Fetuses with obstruction to both kidneys must be closely followed for changes in amniotic fluid volume, further dilation of the urinary tract, and the sonographic appearance of the kidneys themselves.
At IMFH, our urology specialists provide the highest quality of specialized surgical services for all genitourinary conditions including:
Hypospadias
Hydroceles
Hernias
Undescended testicles (cryptorchidism)
Vesicoureteral reflux
Duplex kidneys
Ureteropelvic junction obstruction
Hydronephrosis
In addition we also provide care for more complex disorders requiring extensive surgical reconstruction including intersex, bladder exstrophy, genital reconstruction and complete urinary reconstruction.