Oncology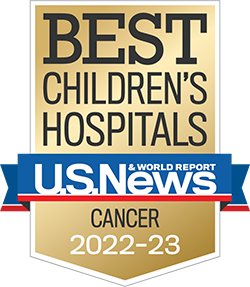 The Oncology Section at Children's Hospital Los Angeles is the largest pediatric oncology program of its kind in the western United States. It is the leading referral center in the region and an integral part of the USC Norris Comprehensive Cancer Center. With 25 attending physicians and 18 nurse practitioners, we are one of the most well-rounded cancer treatment programs for children, adolescents and young adults in the nation. Our section focuses on early diagnosis, leading edge multi-disciplinary treatment, quality of life and long-term follow-up. Our specialists use the latest technology for tumor surgery and reconstruction employing minimally invasive techniques whenever possible. We collaborate closely with our colleagues in Hematology and Transplantation and Cellular Therapy to comprehensively treat pediatric cancer.
Our Sarcoma and Solid Tumor Program and Neuro-oncology Program are the only programs in the nation with access to an inpatient pediatric rehabilitation unit on campus. Our Radiation Oncology Program is one of only three Children's Hospitals in the country with its own dedicated pediatric radiation oncology program onsite with state-of-the-art facilities and equipment. Our section is a model for expert multi-disciplinary care. We are joined by a team of oncology-trained nurses, social workers, adolescent and young adult support services, and child life specialists to ensure that children and their families receive the very best personalized care. We also offer a robust Survivorship and Supportive Care Program which provides services that help empower cancer survivors to embrace their future as healthy and fulfilled individuals.
Specialized Programs
Sarcoma and Solid Tumor Program
Training Programs
Children's Hospital Los Angeles is committed to training, mentoring, and educating the future physician-scientists of the hematology, oncology and blood and marrow transplantation field. We offer an unprecedented opportunity to pursue a career leading the field of pediatric hematology-oncology as a physician scientist or a clinical/translational researcher.
Advanced Fellowship Programs
Clinical Trials and Research
The Cancer and Blood Disease Institute at CHLA is home to more major, multicenter clinical trials and research consortia than any other pediatric cancer program in the country. We offer the largest portfolio of pediatric, adolescent, and young adult clinical trials in the western United States, including several cutting-edge Phase 1, Phase 2 and Phase 3 clinical trials.
Please click here to see our Clinical Trials.
Please click here to see a list of our early phase trials, which are open to enrollment.
Community Locations
Consortia
Center for International Blood and Marrow Transplantation Research (CIBMTR)
Childhood Cancer Survivor Study (CCSS)
Children's Oncology Group (COG)
Collaborative Ependymoma Research Network (CERN)
Head Start
Neurofibromatosis Consortium
North American Pediatric Aplastic Anemia Consortia
Pacific Pediatric Neuro-oncology Consortium PNOC
Primary Immune Deficiency Treatment Consortium
Sarcoma Alliance for Research Through Collaboration (SARC)
SunCoast Community Clinical Oncology Program
Sunshine Pediatric Cancer Foundation