Hematology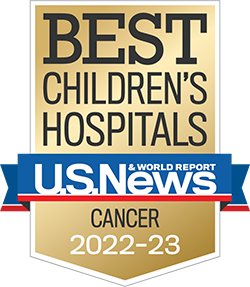 CHLA has an internationally renowned team of medical professionals who use an interdisciplinary approach to treat children with blood disorders and who work continually to make advances in treating blood diseases. Our team represents a section of the Cancer and Blood Disease Institute.
The focus of the hematology team is diagnosis, management and research for nonmalignant blood disorders. Physicians, nurse practitioners, clinical nurses, social workers and other caregivers offer our patients and their families special expertise, counseling and education in health maintenance, nutrition, and pain management. Annually, we treat 750 patients with a wide variety of blood disorders.
The hematology team providers are recognized for their range of clinical, teaching, research, and clinical trial achievements. We focus on genetic diseases that start at birth, some of which are quite rare. We partner with families to care for their children and work with adult providers to assure continued state of the art management and special expertise for patients of all ages with rare genetic blood diseases.
Specialized Programs
General Hematology
Red Blood Cell Disorders
Expertise
Bone marrow failure

acquired aplastic anemia
genetic aplastic anemia

Coagulation

hemophilia
Von Willebrand disease
rare bleeding disorders
thrombosis

Epidermolysis bullosa
Iron overload
Sickle cell disease, thalassemia and other red blood cell disorders
White blood cell disorders
Clinical Trials
The Cancer and Blood Disease Institute at CHLA is home to more major, multicenter clinical trials and research consortia than any other pediatric cancer program in the country. We offer the largest portfolio of pediatric, adolescent, and young adult clinical trials in the western United States, including several cutting-edge Phase 1, Phase 2 and Phase 3 clinical trials.

Please click here to see our Clinical Trials.
Please click here to see a list of our early phase trials, which are open to enrollment.
Community Resources
Newsletters
Sickle Cell News
Sickle Cell Newsletter - Spanish
Thalassemia Newsletter
Aplastic Anemia
Aplastic Anemia and MDS International Foundation 
Epidermolysis Bullosa
DEBRA – The Dystrophic Epidermolysis Bullosa Research Association of America 
Hemophilia
National Hemophilia Foundation
Sickle Cell
California Sickle Cell Resources
Cayenne Wellness Center
Axis Advocacy
The KIS Foundation – Raising Awareness of Sickle Cell Disease
Misty Melony Sickle Cell Disease Foundation 
Sickle Cell Disease Awareness
Sickle Cell Disease Foundation of California 
Thalassemia