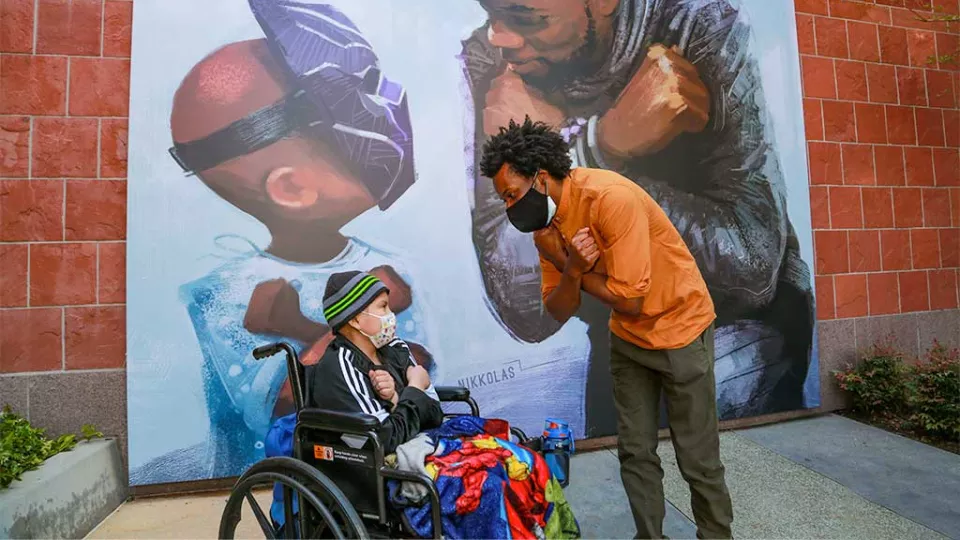 Our Patients
Daniel's Heroic Battle Against Medulloblastoma
Inspired by fictional and real-life heroes, the 11-year-old is bravely tackling medulloblastoma alongside a team of experts in the Cancer and Blood Disease Institute at Children's Hospital Los Angeles.
Rosalba remembers exactly when she started to worry about her son.
"It was in July of 2018," she recalls. "Daniel would suddenly say, 'Oh, I'm going to throw up!' and then he would throw up. At first it was just once in a while, like every few weeks, but his dad and I didn't know why, so we started taking him to the doctor."
At the first visit, and again when Daniel started vomiting once a week, their doctor told Rosalba it was "probably something with his stomach and he'd be fine." By late September, Daniel was throwing up every day, then two or three times a day. Eventually, he was referred to a gastroenterologist, but the first available appointment was months away.
Weeks passed without an answer to Daniel's mystery illness. Then one day in November, Rosalba noticed another concerning change in her son: "One of his eyes just went sideways, by itself. That's when we knew there was something wrong, more than just his stomach."
Daniel's parents rushed him to the local emergency room, and from there to a nearby pediatric facility, where he underwent an MRI. That's when they discovered what had been causing Daniel's symptoms—a large tumor on his brain. Doctors in Bakersfield, California, near the family's home emphatically recommended that Daniel get treatment at Children's Hospital Los Angeles, and within hours, he was flown by helicopter and admitted to the hospital's Pediatric Intensive Care Unit.
Exceptional care by an interdisciplinary team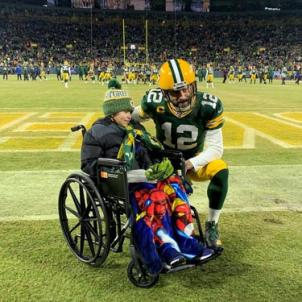 Daniel was diagnosed with medulloblastoma, a type of brain tumor that affects about 350 children in the U.S. each year. Medulloblastoma forms in the cerebellum, near the base of the skull, and can spread through the cerebrospinal fluid that surrounds the brain and spinal cord.
"Unfortunately when Daniel was diagnosed, he not only had a large tumor in his brain, but smaller lesions through his brain and spinal cord," says Ashley Margol, MD, MS, Director of the Neuro-Oncology Program and an Attending Physician in the Cancer and Blood Disease Institute (CBDI) at Children's Hospital Los Angeles. Dr. Margol has led Daniel's interdisciplinary care team from the beginning.
The Neuro-Oncology Program at CHLA is the largest such program in Southern California and home to 3 of the only 4 fellowship-trained pediatric neuro-oncologists in L.A. County. The shared expertise and collaboration between the Program and the Division of Neurosurgery is just one reason why the Cancer and Blood Disease Institute is ranked the top pediatric hematology-oncology program in the Pacific Region.
Peter Chiarelli, MD, Attending Physician in the Division of Neurosurgery, performed the first step in Daniel's treatment, which was to delicately remove the primary tumor from his brain. Then he underwent six weeks of radiation to his brain and spine, performed by radiation oncologist Kenneth Wong, MD, and eight months of intensive chemotherapy.
In September 2019, Daniel and his family celebrated the end of his cancer treatment. He spent another six weeks in the hospital's Margie and Robert E. Peterson Foundation Rehabilitation Center before finally returning home. Back in Bakersfield, for a while, life seemed normal again.
Grief, relapse and resilience
Daniel showed no signs of cancer for nearly 10 months, but the medulloblastoma recurred in July 2020. It was a heartbreaking development, especially because the family was grieving the sudden death of Daniel's dad in November 2019.
"Daniel is incredibly resilient," says Dr. Margol, "as is his mother. They drive hours, all the way from Bakersfield, to ensure that he receives the best treatment possible."
Since the relapse, Daniel has tried several different treatments, including chemotherapy through an Ommaya reservoir—an intraventricular catheter that allows medicine to be delivered directly into the fluid around the brain.
Although he tolerated the treatment well, his tumors weren't responding as everyone hoped.
"When something doesn't work, we move on to the next thing," Dr. Margol says. "It's been a lot for them, but Daniel and his mother are always determined and eager to explore new treatment options."
In May 2021, Daniel started traveling to CHLA every three weeks as part of a clinical trial through the Pediatric Brain Tumor Consortium. He receives an immunotherapy drug called pembrolizumab, which has kept his tumor stable.
"He had an MRI recently and the tumor isn't growing," explains Dr. Margol. "We were all very excited to see that his disease is stable. We are focused on making sure he has a really good quality of life and that he is able to continue doing all of the things he enjoys."
Today, Daniel is happy to be back at school with his friends. His main goal is to be able to walk and run so he can play soccer again.
Surrounded by heroes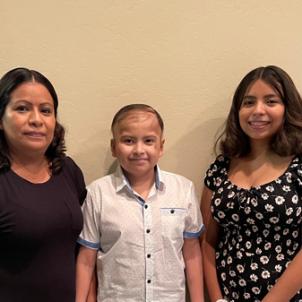 Although Daniel's ongoing battle has been difficult, Rosalba is grateful for the special moments they have shared along the way. In January 2020, she traveled with Daniel, his sister, Lily, and his cousin to Green Bay, Wisconsin to cheer on the Packers. They watched a game from the VIP section and got to meet star quarterback Aaron Rodgers, Daniel's favorite player.
"That was his 'Make-a-Wish,'" says his mom. "The Packers was his dad's team, so we all learned to love and cheer for the Packers."
It was a joyful and inspiring experience—just before COVID-19 closed everything down—and something they both needed in the midst of several difficult years.
At Children's Hospital Los Angeles, Daniel found a fellow football fan. "Kaaren [Waters, DNP], his Nurse Practitioner, is married to someone from Green Bay! So they have lots of fun conversations about the Packers. We just love everybody at CHLA."
In addition to the Packers, Daniel adores Marvel's Avenger movies, and earlier this year he participated in the unveiling of a mural inspired by "Black Panther"—a movie Daniel has seen many times.
Daniel joined CHLA's President and CEO Paul S. Viviano and artist Nikkolas Smith for a ceremony to celebrate the artwork that honors the late actor Chadwick Boseman, known for playing King T'Challa in "Black Panther." Boseman passed away from colon cancer in 2020. The inspiring mural titled "King Chad" was donated by Smith, a former Disney Imagineer, who created the piece to pay tribute to Boseman and his compassionate work with children fighting cancer.
"The Avengers are his favorite, so that was a really nice experience for him to see that," says Rosalba.
Daniel has heroes close to home, too: his sister Lily and, of course, his mom. But Rosalba wouldn't call herself heroic.
"Some people have asked me [how I get through it], and I really don't know," she says. "We couldn't have done it without the support of our family and friends, and all the support and love from the Oncology team and nurses at Children's Hospital. I know I have to be strong for him, encourage him, always cheer for him. I just have to be there for him and assure him that he is ok."