'King Chad' Mural Finds a Home at Children's Hospital Los Angeles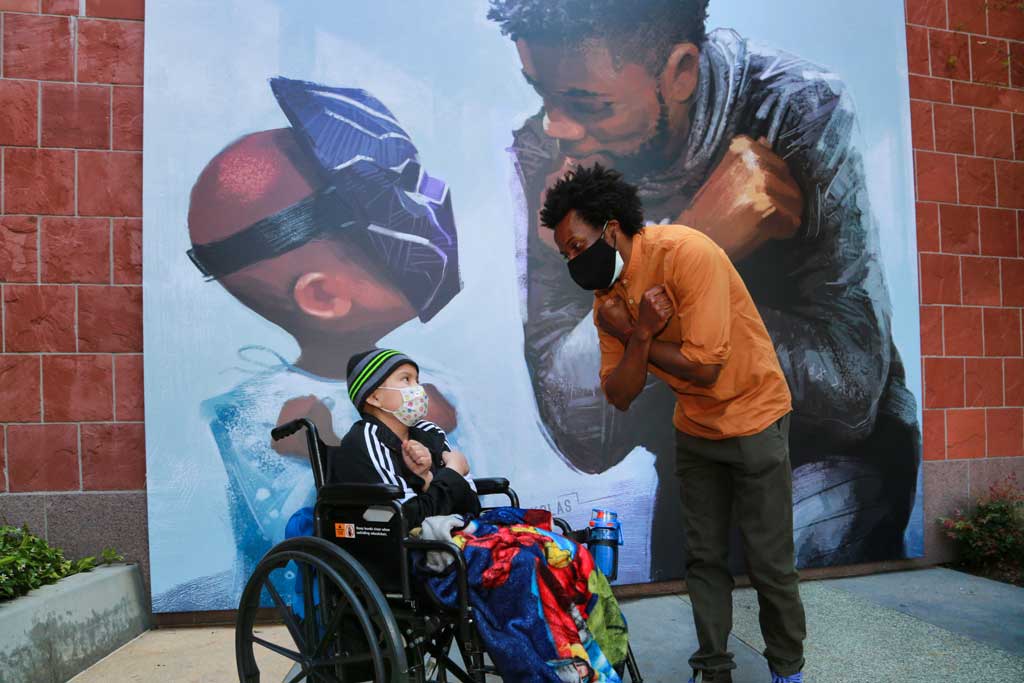 The artwork, featuring the late actor Chadwick Boseman and a young cancer patient doing the Black Panther salute, is meant to inspire and empower children battling illness.

By Jeff Weinstock
Through his work, artist Nikkolas Smith says he "tries to give a voice to those who don't have a voice anymore." In one of his most recent works, titled "King Chad," he extends that ambition to sick children, whose battles often take place in private.
On April 27, 2021, "King Chad" was unveiled at Children's Hospital Los Angeles. Smith painted the piece as a tribute to the late actor Chadwick Boseman, who starred in the film "Black Panther." With virtually no public knowledge of his medical condition, Boseman died last August of colon cancer.
"None of us really knew about the fight that Chadwick was going through," Smith says, "which is the same thing that a lot of these children are going through."
Created digitally, "King Chad" shows Boseman dressed in street clothes that resemble his "Black Panther" character King T'Challa, kneeling down to interact with a child. The child is bald and wears a hospital gown and ID bracelet, the face hidden behind a Black Panther mask. Boseman and the child are saluting each other with arms crossed over their chests, the now globally recognized "Wakanda Forever" pose.
After his death, photos emerged of Boseman visiting children's hospitals and speaking to the kids there. "Now we know they had a connection that we didn't realize," Smith says, noting that the work is an effort "to encapsulate that in one image."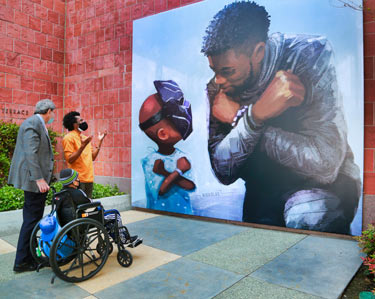 CHLA President and CEO Paul S. Viviano with artist Nikkolas Smith and patient Daniel at the ceremony to reveal the "King Chad" mural.
Since last September, the mural had occupied a wall at the Downtown Disney District at Disneyland Resort. As a former Imagineer for Walt Disney Imagineering, Smith helped to design some of the company's theme park attractions. To have Disney offer to display his work after he had left the company provided him with "a full-circle moment," he says.
The opportunity to have "King Chad" relocated to Children's Hospital Los Angeles offered a similar harmony. One of the Imagineering projects Smith contributed to before becoming a full-time artist was Disney's initiative to support children's hospitals, a $100 million commitment from Disney to reimagine the patient experience at pediatric hospitals around the world, adding the vibrant and comforting worlds of Disney to several parts of the hospital experience.
While working on the project, Smith received a tour of Children's Hospital Los Angeles, and it stayed with him when it was time to find a new home for "King Chad."
"To see how many young people are touched and to see what they go through every day," he says, "CHLA was No. 1 on my list."
Prints of "King Chad" can be purchased on Smith's website, with a part of the proceeds benefiting Children's Hospital Los Angeles.
"I'm always trying to put someone in somebody else's shoes, and to see their struggle and to try to create some form of empathy," Smith says of his artwork. "This was really in line with that, to see the struggles we didn't know about with Chadwick and so many children out there."
To find out more about Disney's program in support of children's hospitals, click here.
---
Related Content