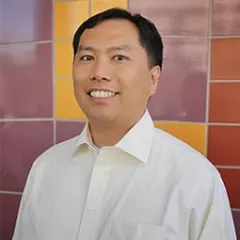 Kenneth Wong, MD
Attending Physician; Hematology, Oncology and Blood and Marrow Transplantation
Associate Professor of Clinical Pediatrics, Keck School of Medicine of the USC
Kenneth Wong is an Assistant Professor of Clinical Radiation Oncology at the Keck School of Medicine at the University of Southern California. A native of Los Angeles, he received his undergraduate degree at The Johns Hopkins University in Baltimore before returning to Southern California for medical school at University of California, Irvine.
Dr. Wong is the recipient of numerous awards including National Merit Finalist, Phi Beta Kappa Honor Society, Alpha Omega Alpha Honor Medical Society, and Best Doctors in America. Dr. Wong has served on committees for Children's Hospital Los Angeles, Keck School of Medicine, and national radiation oncology professional organizations including American Society of Radiation Oncology and Radiological Society of North America. He has been a radiation oncologist for over 10 years and has authored or co-authored 20 journal articles. He has a long interest in education and has mentored students and faculty from across the United States as well as Brazil, Italy, and Paraguay.
Education
Medical School
University of California Irvine School of Medicine
Internship
University of California Irvine Medical Center
Residency
University of California Irvine Medical Center
Accomplishments
Certification
Radiation Oncology: American Board of Radiology
Memberships
American Society for Radiation Oncology
Radiological Society of North America
Children's Oncology Group
Pediatric Brain Tumor Consortium
Publications
Publications
Antony R, Wong K, Patel M, Olch AJ, McComb G, Krieger M, Gilles F, Sposto R, Erdreich-Epstein A, Dhall G, Gardner S, Finlay JL. A retrospective analysis of recurrent intracranial ependymoma. Pediatr Blood Cancer. 2014;61:1195–1201. doi:10.1002/pbc.24996
Berry JL, Shih G, Moysidis SN, Jubran R, Wong K, Lee TC, Murphree AL, Kim JW. Patterns of subretinal fluid resolution in Group D eyes treated with chemoreduction: Experience from the Children's Hospital Los Angeles/University of Southern California. Ophthalmic Genetics, Accepted October 25, 2015, Published online March 2, 2016, DOI: 10.3109/13816810.2015.1115881
Chow EJ, Anderson L, Baker KS, Bhatia S, Guilcher GMT, Huang JT, Pelletier W, Perkins JL, Rivard LS, Schechter T, Shah AJ, Wilson KD, Wong K, Grewal S, Armenian S, Meacham LR, Mulrooney DA, Castellino SM. Late Effects Surveillance Recommendations among Survivors of Childhood Hematopoietic Cell Transplantation: A Children's Oncology Group Report. Biol. Blood Marrow Transplant. 2016. doi:10.1016/j.bbmt.2016.01.023
Hess CB, Thompson H, Benedict SH, Seibert JA, Wong K, Vaughan AT, Chen AM. Exposure Risks Among Children undergoing Radiation Therapy: Considerations in the Era of Image-Guided Radiotherapy. Int. J. Radiat. Oncol. Biol. Phys., Published Online: January 4, 2016, DOI: http://dx.doi.org/10.1016/j.ijrobp.2015.12.372
Wong K, Cheng J*, Bowlin K, Olch A. Adaptation of Vacuum-Assisted Mouthpiece Head Immobilization System for Precision Infant Brain Radiation Therapy. Pract Radiat Oncol., Accepted 2-26-2016. DOI: 10.1016/j.prro.2016.02.005
Research
Research Summary
Application of advanced technologies to mitigate late effects of radiation therapy in brain tumors, Wilms tumor, neuroblastoma, Ewing sarcoma, rhabdomyosarcoma, retinoblastoma, and Hodgkin lymphoma.