Kylie's Story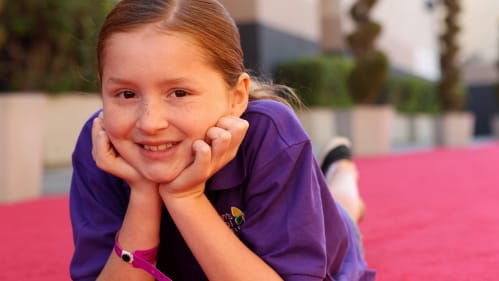 In hindsight, there were small signs that something was wrong with 5-year-old Kylie Wines; but nothing the average parent would consider out of the ordinary.
"We were trying to teach her how to ride a bike," says her mom, Tasha, and it was proving to be quite a challenge. "And we had enrolled her in soccer, but she didn't have the coordination to kick the ball."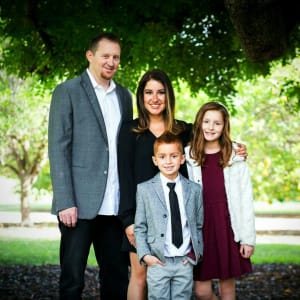 Her dad, Ryan, remembers her walking into walls and car doors. None of these things were very troubling, though; they simply chalked them up to Kylie being klutzy. Even minor headaches and dizzy spells didn't seem troubling, since they were very mild and occurred only sporadically.
That changed the night Kylie woke up nauseous, screaming and clutching the back of her head in pain. Her parents got her calmed down and she felt better 20 minutes later, but they decided a trip to the pediatrician was in order. Three days later, Kylie's doctor ordered a CT scan.
"I was still in denial that they were going to give us bad news," says Tasha, even when they asked her to come in to discuss the results of the scan in person the very next day. "I really thought they were going to say she had a massive sinus infection." The news was much worse though—Kylie had a brain tumor, and more tests were needed to find out how serious it was.
"When the doctor told us, I felt like they sucked all the oxygen out of the room. I didn't know what to do. It just overwhelmed me," says Tasha.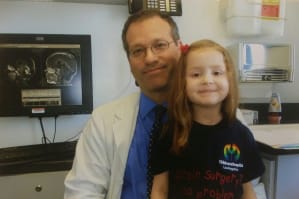 A four-hour MRI that Friday confirmed the suspicion that Kylie's tumor was a benign juvenile pilocytic astrocytoma, and that it could be removed surgically. That Monday, Mark Krieger, MD, chief of the Division of Neurosurgery at CHLA, performed the four-hour surgery to remove the golf ball-sized tumor from Kylie's cerebellum. Though it was a frightening time, Kylie remembers the little details that mean a lot to kids—including her cotton candy-flavored anesthesia mask.
The surgery was a success—so much so that Kylie, now an active 11-year-old, uses her improved coordination skills for volleyball, indoor rock climbing and theater. She's also joined the Junior Ambassadors, a group of community-minded kids who work to raise funds and awareness for the hospital. She's even gotten her 8-year-old brother, Cooper, to join in.
Kylie got involved because she loved sharing her story with others, and wanted to help the hospital by doing it. "They're an amazing group of kids," says Kylie. She's also one of the hospital's biggest fans. "I think CHLA is a great hospital because they treat kids way better than most adult hospitals."
Kylie comes back to the hospital every year for an MRI, and her family has nothing but good things to say about Krieger and the nurses, Radiology staff and Child Life specialists at CHLA.
"It was very comforting to know that so many people were committed to making her feel better," says Tasha.
How you can help
Help give local kids like Kylie a fighting chance. Give today at CHLA.org/GiveLA.