Junior Ambassadors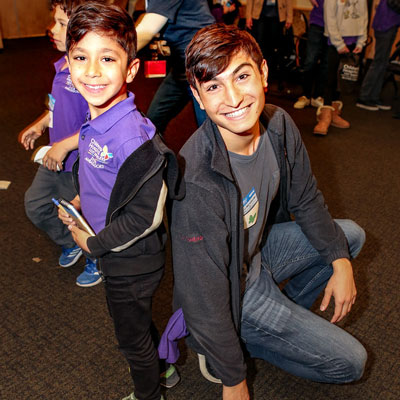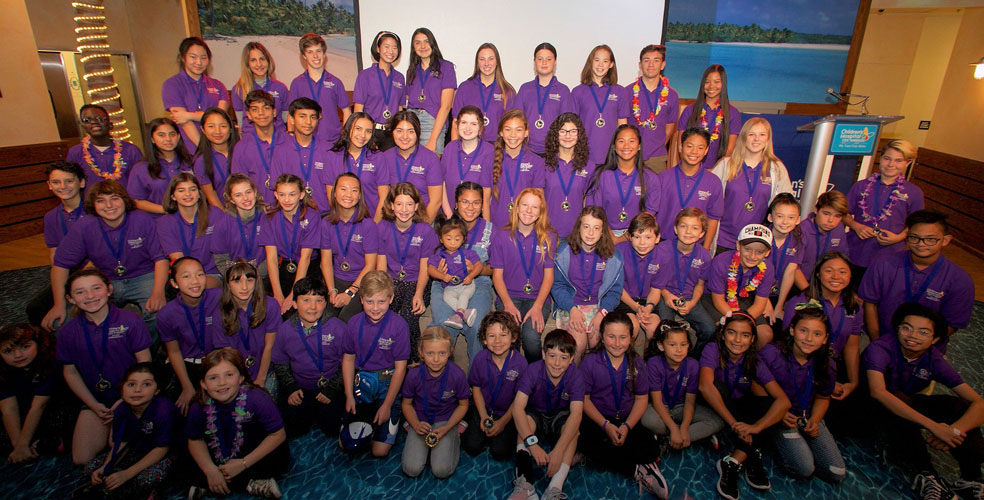 The Junior Ambassadors of Children's Hospital Los Angeles are kids and teens from the community who support the hospital's life saving work. The program offers kids the opportunity to work together and become incredible hospital representatives and fundraisers. It's a powerful and inspiring model of kids helping kids.
Since 2012, Junior Ambassadors have given hope to our community by speaking at various events, sharing their stories and inspiring more than $2 million in donations to support the hospital's patients and families.
How to Become a Junior Ambassador

Junior Ambassador's Annual Conference

Every member of the Junior Ambassadors Program is offered a special calendar of events and opportunities that allow kids to connect, learn and inspire each other.
Junior Ambassadors Conference
Connect and share with fellow Junior Ambassadors and learn more about the hospital.
Volunteer and Leadership Opportunities
Participate in a variety of activities that include speaking opportunities, community outreach and hands on volunteering. (Please note: contact with patients is not permitted.)
Speaker Training
Practice and refine your personal story of support for CHLA in small group settings. Plus, build confidence and develop the leadership skills needed when spreading the CHLA mission.
Tour Training
Receive training and guidance on how to lead a tour, and participate in one of our community tours or lead one for your own family and friends.
Junior Ambassadors Celebration
Celebrate the hard work and compassion of the Ambassadors family with a year-end party for all ages.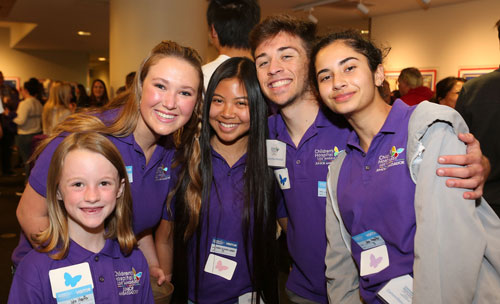 All kids and teens are invited to join us for our annual Junior Ambassadors Conference. Highlights include a full calendar overview of exciting events like Action Day, Make March Matter, Walk L.A. and more.
Guests will also have an opportunity to meet fellow Junior Ambassadors, work together, and learn more about giving back to CHLA. This is the kickoff to our year and an event not to be missed!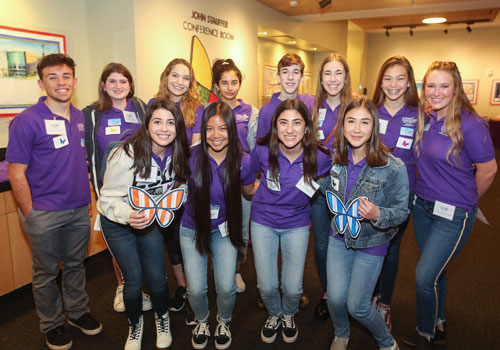 Junior Ambassadors Committee Members are dedicated young leaders of the Junior Ambassadors program who have made the commitment to support the mission of CHLA. Members provide support, guidance, and inspiration to each other and kids within their communities. They work together to raise awareness of the Junior Ambassador program and continue to find innovative ways to fundraise for the hospital.
Committee members have the opportunity to take on leadership roles as mentors and planning advisors. They work together on the development and execution of fundraising events while supporting each other's personal projects. Members are also invited to participate in all Junior Ambassadors social activities and volunteer opportunities.
Roles and Responsibilities
Must be enrolled in high school
Participate in quarterly Junior Ambassadors Committee meetings and join the committee e-mail list
Encourage and inspire others to their highest service
Become a community representative by bringing awareness to pediatric health issues
Introduce the Junior Ambassadors program to their schools and community groups
Promote Junior Ambassadors messaging via social media outlets
Opportunities
Participate in speaking engagements
Act as hospital tour guides
Volunteer within the hospital and throughout the community
Lead a support club at your school
Help develop the Junior Ambassadors program
Mentor incoming Junior Ambassadors

On Action Day!, Junior Ambassadors and families from the community are invited to act together to raise funds and spread awareness for CHLA in their neighborhoods and on social media.
Plan Your Action
Get creative when planning your Action Day! Check out our Resources for ideas on how to fundraise, worksheets to get you started as well as other resources to help you plan your event.
See What Some Junior Ambassadors Did Last Year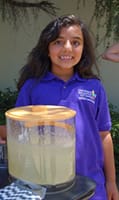 Revathi joined in on the Action Day fun all the way from Florida!
She started off her fundraising through lemonade stands and bake sales throughout the summer. She was determined to participate in Action Day and held a walk on the beach while on a family vacation in Florida. What a great way to share the CHLA mission across the country!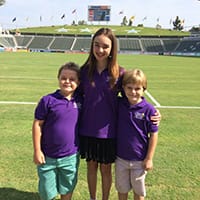 Eileen, Max, and Els joined the LA Galaxy to spread the CHLA mission for Action Day.
August 2nd was CHLA day at the LA Galaxy game at the Stub Hub Center in Carson, CA. Our Junior Ambassadors attended to game to represent the hospital and the program. They did a great job at raising awareness and got to enjoy a fun game!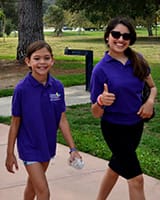 Tara and Valerie joined a group of other Junior Ambassadors bright and early for a walk in Griffith Park. The Junior Ambassadors Committee came together to plan an Action Day Walk for everyone who wanted to join. Participants even came in purple to support our amazing kids! It was truly a special morning for everyone involved.
Tools for You
Here are some tools to help you with your own personal Action Day:
Instead of collecting donations in person, you can collect them online with your own fundraising page.
We Can Help
We can help find others to partner with you or just help out the best we can! Contact us at ambassadors@chla.usc.edu.