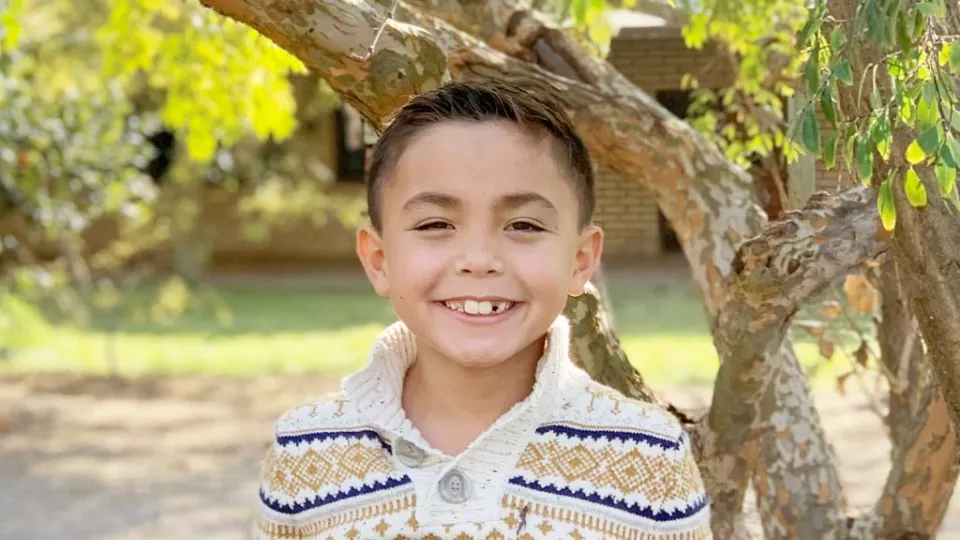 Our Patients
Owen Is Living Seizure-Free After Brain Surgery
Undetected for years, a tumor in the 8-year-old's brain was finally removed thanks to a team of specialists at Children's Hospital Los Angeles.
All it took was six words: "Can I have some Cup Noodles?"
And just like that, Diana knew her son was OK. Owen had just woken up from brain surgery and hearing him request his favorite food allowed her to breathe a sigh of relief.
Hours earlier, the 8-year-old had been wheeled into the operating room where a team of experts attempted to eradicate the seizures that had begun suddenly three months earlier. Each incident was alarming. Sometimes Owen's neck would twitch and freeze, other times his eyes would roll back. Unable to talk or control his movements, he once had an episode while riding his bike and crashed.
"We were frightened," Diana says about she and her husband, Erik. "We started watching him like a hawk. We noticed the seizures would get longer and longer, and last a good minute or two."
The seizures were being trigged by something Owen's parents never expected. An MRI scan revealed a brain tumor the size of an egg that possibly had been growing since birth, his doctor believed. Diana and Erik immediately began researching the best pediatric neurosurgeons in the country.
An extra touch of care
When it comes to a brain tumor, labeling it as "benign" or "non-benign" isn't so clear-cut, says Mark D. Krieger, MD, Senior Vice President and Surgeon-in-Chief of Children's Hospital Los Angeles and a Board-certified pediatric neurosurgeon. There are high-grade tumors and low-grade tumors; lethality depends on how fast they grow and how quickly they can be treated.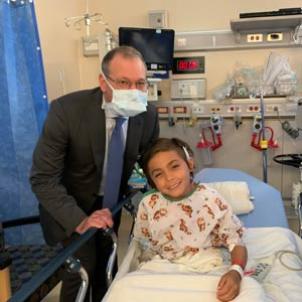 "The interesting thing about Owen's case was that this was a slower-growing tumor that had been there for a while, yet he was still an incredibly high-functioning kid," says Dr. Krieger, who also holds the Billy and Audrey L. Wilder Chair in Neurosurgery. "Like any tumor, if it continued to grow, it could have become fatal."
Owen had a glioneuronal tumor, an extremely rare condition that can cause pressure on the brain, block the flow of cerebrospinal fluid and trigger seizures. It was near the parietal and occipital lobes of the brain, an area that affects movement, vision and perception, which explained the frequent eye spasms Owen had also been experiencing.
"Initially we thought it was too much Zoom time or being on the computer too much because this all started at the beginning of the pandemic, when school was held online," says Diana. "We had no idea it was something this serious."
The diagnosis prompted Diana and Erik to have Owen's twin, Daniel, also undergo an MRI. "They're identical so that got us thinking we should probably double check. Luckily, though, he was fine," she says.
The family's search for a surgeon led them to the Neurological Institute at Children's Hospital Los Angeles, which houses one of the country's largest pediatric brain and spinal cord tumor programs. Among the more than 750 surgeries performed at the Institute every year, 100 are specifically for brain tumors, and care is coordinated with multiple specialists, including oncologists, radiologists and pathologists. 
"We knew right away that Dr. Krieger was our guy," recalls Diana. "There was something different about him. He called us even before we met him for our first appointment and reassured us that there were options, and that everything would be OK. As a nervous parent, that extra touch of care was so comforting."
A targeted approach
Owen needed surgery, but the tumor was in the back of his brain, not on the surface, making it challenging to remove without additional imaging and planning. Dr. Krieger used the STEALTH System, which took an MRI of the brain, digitized it and placed it into a 3D space to generate a clear picture of the brain's anatomy. As he awaited surgery, Owen was connected to pediatric epilepsy expert Latanya Agurs, MD, who placed him on medication to halt his seizures.
In the operating room, ultrasound was used to see through Owen's brain to pinpoint the tumor's location and the most direct path to it. Andrew Kim, MD, Medical Director of the EEG Lab, partnered with Dr. Krieger to perform an intraoperative electrocorticogram, which involves placing electrodes directly onto the brain to determine where seizures originate. Initially, Drs. Kim and Krieger saw epileptic activity all around the brain; after removing the tumor, nothing was detected.
"That was a good sign we had taken out the whole tumor," says Dr. Krieger, "and likely also cured his seizures."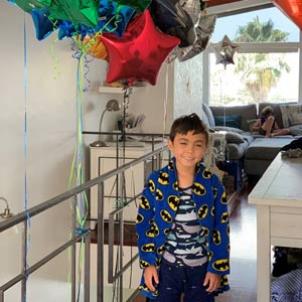 After spending four days in the hospital, Owen was discharged, and his speedy recovery at home shocked his parents. "It wasn't even two weeks when he asked us if he could ride his bike again," Diana says, laughing. "We told him, 'No, no, no. Not until Dr. Krieger says you can.'" Owen got the greenlight a few weeks later.
"Although this type of surgery sounds like a big procedure, we're not cutting through muscle or pain-sensitive structures so children typically mobilize after a short period of time," explains Dr. Krieger. "You'd be surprised how resilient kids are and how quickly they can rebound."
Fortunate and grateful
The one-year anniversary of Owen's surgery is coming up, and so far all his follow-up MRI scans have come back clean. Dr. Agurs has been able to take him completely off his seizure medication, and he'll continue to be monitored over the next 10 years to make sure the tumor and seizures don't return. "But we have every expectation that won't happen," says Dr. Krieger.
Diana and Erik are just as hopeful. "We feel so fortunate because we know the hospital treats so many kids and we were one of the lucky ones. Owen's issue was addressed and we don't have any ongoing issues. We know that's not always the case," says Diana.
"To know that there is a place like Children's Hospital," she adds, "with all the resources and the most amazing doctors, nurses and staff who really care about the kids, it makes you really grateful."
Click here to help Children's Hospital Los Angeles care for more kids like Owen.