Diabetes Program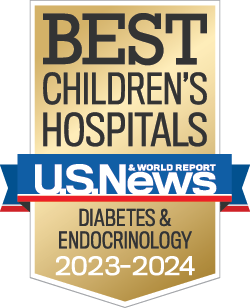 Diabetes is a chronic (long-lasting) condition in which blood glucose (sugar) levels are too high. Having a child diagnosed with diabetes can affect your whole family. At Children's Hospital Los Angeles, our goal is to make your child's treatment journey as smooth as possible.
Our specialists treat more than 2,000 children with diabetes each year, making us the highest-volume childhood diabetes program in the Western United States. We provide extensive education, support and resources to help your whole family learn to manage diabetes.
Childhood Diabetes Program: Why Choose Us
U.S. News & World Report ranks us as one of the leading pediatric endocrinology programs in the country.The same report lists CHLA among the top 10 children's hospitals in the nation and No. 1 in California.
Additional highlights of the Diabetes Program include:
Robust education: Our certified diabetes educators provide extensive education to help you care for your child with diabetes. We review what the diagnosis means, how to manage it and what to do when you spot signs of a medical emergency.
24/7 access to experts: Immediately after a diagnosis, families call a daily hotline to check in with our diabetes specialists. After hours, you can speak with diabetes educators, specially-trained nurses or doctors for urgent questions. Very few pediatric diabetes programs offer constant access to these highly trained experts.
Personalized attention: In the first two weeks after your child's receives a diabetes diagnosis, you'll speak with a diabetes nurse care manager daily. Nurse care managers are expert resources who explain treatments, answer questions and provide support throughout the entire treatment journey.
Exceptional support services: We offer multiple resources to ensure you and your child get the emotional and social support you need. Our specialists lead support groups and caregiver mentorship programs where you can connect with others who are going through similar experiences.
Collaboration with national organizations: We partner with the American Diabetes Association to lead back-to-school night for teenagers with diabetes and their caregivers. At these events, teens can connect with doctors and learn more about advocating for themselves when they are away from home.
What Is Diabetes in Children?
Diabetes is a broad term for conditions in which blood sugar levels are high. The most common type of diabetes in children is Type 1 diabetes. Type 1 diabetes is when your child's pancreas stops producing insulin (hormone that regulates blood sugar).
Without insulin, the body cannot use sugar from food as energy for the muscle and other organs. Sugar then builds up in the blood. Without treatment, Type 1 diabetes can lead to severe complications, including death.
In Type 2 diabetes, your child's body doesn't use insulin efficiently. As a result, sugar builds up in your child's bloodstream instead of being converted into energy for the muscles and other organs. At Children's Hospital Los Angeles, we have a specialized Type 2 Diabetes Clinic where we treat children with Type 2 diabetes.
Secondary and atypical diabetes
Type 1 and Type 2 diabetes are the most common types of diabetes. But there are other types of diabetes that affect can children.
Some children might have diabetes because of an underlying disorder such as cystic fibrosis. Others develop diabetes as a result of long-term steroid medication use. Children may also have monogenic diabetes, which occurs because of a mutation (change) in a specific gene.
Conditions We Treat
Our specialists diagnose and treat all types of childhood diabetes, including rare and atypical types. Conditions we treat include:
Type 1 diabetes
Type 2 diabetes
Cystic fibrosis-related diabetes
Monogenic diabetes
Other atypical diabetes conditions
Expert Pediatric Diabetes Treatment
Often, children who have diabetes need to take insulin. They may take insulin as an injection. Or they may use advanced technology such as a closed-loop system that measures blood sugar levels and gives your child insulin automatically.
Our specialists also can prescribe Type 2 diabetes medications, if needed. Our comprehensive team includes dietitians who help your child understand how diet affects blood sugar levels. Find out more about pediatric diabetes treatment.
Children's Hospital experts lead and participate in numerous diabetes research studies and clinical trials. Your child's doctor will discuss whether your child qualifies for a clinical trial. Learn more about endocrinology research.