Lede media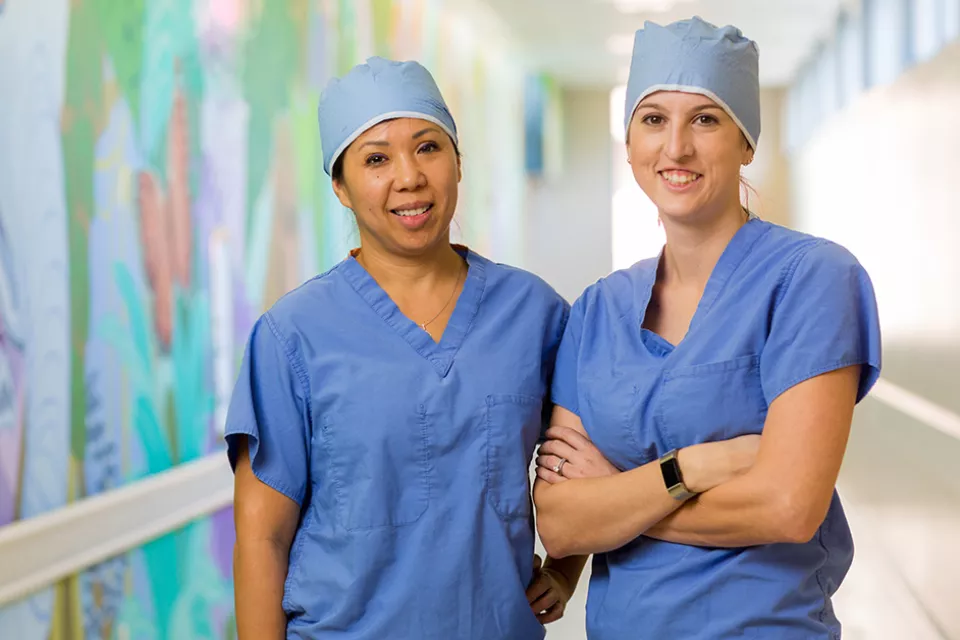 General Pediatric Surgery
The Division of General Pediatric Surgery provides outstanding surgical services for children who come to our hospital, as well as for children who come to any of our several satellite surgical offices that serve a broad geographic territory from the San Fernando Valley to the San Gabriel Valley and beyond.
Expertise
With a commitment to innovation, the Division of General Pediatric Surgery emphasizes the use of minimally-invasive thoracoscopic and laparoscopic techniques whenever possible, which can reduce discomfort and speed recovery times in young patients. We care for all general pediatric surgical conditions such as inguinal hernias, hydroceles, appendicitis, pyloric stenosis and neck masses. We also perform neonatal surgery. The division has emerged as a leader in such areas as colorectal diseases, vascular anomalies, congenital thoracic lesions, chest wall deformities, hepatobiliary pathology, short bowel syndrome, pediatric trauma, surgical oncology including neuroblastoma, Wilm's tumor, hepatoblastoma, and Extra Corporeal Membrane Oxygenation (ECMO).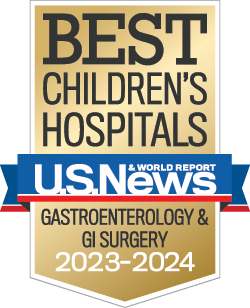 Gastrointestinal Surgery
Children's Hospital Los Angeles is ranked among the top hospitals in the nation for gastroenterology and GI care on the U.S. News & World Report Best Children's Hospitals List. Our physicians use the latest diagnostic techniques and technology to provide care for thousands of children each year taking a comprehensive approach to caring for patients with gastrointestinal, liver and nutritional disorders.
State-of-the-Art Care
We offer treatment modalities for endoscopic, thoracoscopic and laparoscopic surgery as part of our Minimally Invasive Surgery program. We provide state-of-the-art care through our multidisciplinary Cancer and Blood Disease Institute, Fetal-Maternal Center, Colorectal Center and Vascular Anomalies Center. Our surgeons participate in national research groups such as the Children's Oncology Group, Childhood Liver Disease Research Network, and the Pediatric Colorectal and Pelvic Learning Consortium.
Surgery Programs
ECMO and Fetal Intervention
General Surgery
Gynecology
Intestinal Rehabilitation
Minimally Invasive Surgery
Pediatric trauma
Surgical Oncology
Thoracic Surgery
Community Locations
Main Office
Children's Hospital Los Angeles 
4650 Sunset Blvd; Mailstop 100 
Los Angeles, CA 90027 
Office: 323-361-2322 
Fax: 323-361-4775 (clinic) 
Fax: 323-361-3534 (administrative office)
Satellite offices
468 E. Santa Clara St. 
Arcadia, CA 91006 
Phone: 626-795-7177​
5363 Balboa Blvd., Suite 121 
Encino, CA 91316 
Phone: 818-788-3061
2801 Atlantic Avenue 
Long Beach, CA 90806 
Phone: 562-933-8518
Professional Societies
Our surgeons regularly volunteer their expertise to national organizations that improve surgical care for children, including:
American Academy of Pediatrics
American Association for the Surgery of Trauma
American College of Surgeons
American College of Surgeons National Surgical Quality Improvement Program
American Pediatric Surgical Association
American Surgical Association
Association of Academic Surgeons
California State Trauma System
Children's Oncology Group
International Pediatric EndoSurgery Group
International Society of Vascular Anomalies
Pacific Coast Surgical Association
Pacific Association of Pediatric Surgeons
Pediatric Trauma Society
Society of American Gastrointestinal Endoscopic Surgeons
Society of University Surgeons
Surgical Infection Society
Western Pediatric Surgical Research Consortium
Research Efforts
Central to the Division's focused research is the Developmental Biology Program, housed in The Saban Research Institute at Children's Hospital Los Angeles. Dr. Wang is funded through the National Institutes of Health. In addition, our Division leads research efforts designed to improve surgical techniques for children.
Fellowship Training