Pain Medicine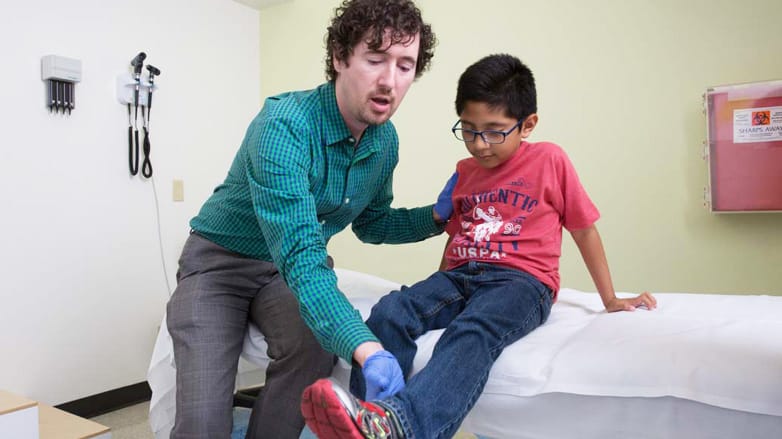 The Division of Pain Medicine provides care for children with acute pain and chronic pain. Pain is a complex and unique experience that affects all areas of a child or adolescent's life. Whether the pain is caused by a chronic illness or has an unknown cause, it can impact relationships, school, mood, sleep, family life and everyday responsibilities.
Our Division brings together a multispecialty team of doctors, anesthesiologists, nurse practitioners, psychologists and social workers to meet the special needs of each child facing pain issues or a chronic illness.
Programs and Services
Education
Our Division provides extensive educational and administrative assistance to the hospital. We are actively involved in the education of residents, fellows, nurses, psychologists, social workers and spiritual care providers.
We also provide input or oversight on the development, implementation and ongoing assessment of all pain educational programs at the hospital, in order to minimize any discomfort and distress patients and families may experience.
Research
Research and quality improvement are critical components of the Division of Pain Medicine's treatments. Throughout the year, the Division conducts multiple research studies focusing on the effectiveness of treatments and procedures—studies that often lead to changes that improve short- and long-term outcomes.
Current research interests include:
Pediatric Chronic and Acute Pain Management
Pediatric Regional Anesthesia, including Neuraxial & Peripheral Nerve Blocks
Pediatric Anesthesiology and Neuroanesthesia
Complex Regional Pain Syndrome and Other Causes of Neuropathic Pain
Back, Extremity, Joint, and Abdominal Pain
Chronic Migraines and Headaches
Perioperative and Postoperative Pain
Difficult Airway Management
Solid Organ Transplant Surgery
Fetal Surgery
Blood Transfusions
Virtual Reality for Pediatric Pain Distraction