Pain Medicine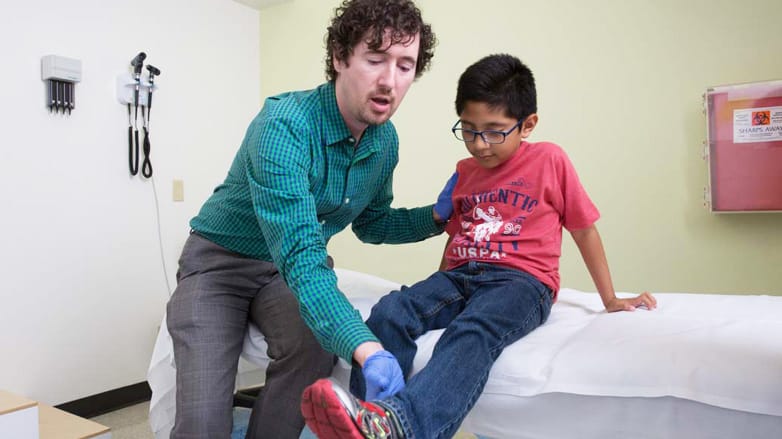 The Division of Pain Medicine provides care for children with acute pain and chronic pain. Pain is a complex and unique experience that affects all areas of a child or adolescent's life. Whether the pain is caused by a chronic illness or has an unknown cause, it can impact relationships, school, mood, sleep, family life and everyday responsibilities.
Our Division brings together a multispecialty team of doctors, anesthesiologists, nurse practitioners, psychologists and social workers to meet the special needs of each child facing pain issues or a chronic illness.
MAGIK Inpatient Acute Pain Service
Conditions, Treatments and Services

Psychological and Psychiatric Support
The MAGIK (Making Aches Go Away In Kids) acute pain service cares for hospitalized children with pain associated with:
Surgery
Trauma or injury
Acute exacerbation of chronic pain
Specific illness or disease
Headaches
Acute abdominal pain
Limited mobility
Complications of treatments
We can provide pain control using a variety of techniques, which include:
Intravenous opioids using Patient Controlled Analgesia (PCA) pumps
Regional Therapies

Epidurals
Spinals
Peripheral Nerve Blocks

Animal Assisted Therapy
Massage
Topical therapies to minimize pain with needle sticks
The Acute Pain Service team includes:
Physicians
Intensivists
Nurse Practitioners
Social Worker
Psychologists
Anesthesiologists
We offer psychological and psychiatric support for children and their families to help cope with the stressors of living with acute pain and guide them with techniques to help improve daily functioning.
Pain Management Clinic - Outpatient Chronic Pain Care
Conditions, Treatments and Services
Commonly treated conditions:
Abdominal pain
Complex regional pain syndrome (formally known as reflex sympathetic dystrophy syndrome)
Fibromyalgia
Headaches
Migraines
Musculoskeletal pain
Neuropathic pain
Services Provided
Each patient will be seen by a doctor and a counselor for full evaluation. Then, an individualized treatment plan is made for the patient and parents. This plan may include referrals to other subspecialists when appropriate.
The treatment plan will address:
Pain signs and symptoms
Emotional and social aspects of pain
Daily life (sleep, school, peers, family and more)
The first evaluation is 60 to 90 minutes.
Follow-up evaluations are 20 to 30 minutes.
Recommended treatments could include:
Biofeedback therapy
Meditation and breathing exercises
Stress management
Cognitive behavioral interventions
Psychiatry
Psychotherapy
Massage therapy
Medication management
Epidural steroid injections, peripheral nerve blocks, trigger point injections
Botox treatment
Implantable drug pumps and neurostimulators
Referrals for certain treatments and ongoing therapy might be provided to resources in your community.
Pain issues are best treated by a multidisciplinary care team that is made up of different experts who are trained to evaluate and treat pain. The Pediatric Pain Management Team helps patients with pain by creating a personalized treatment plan. This plan may include medications, procedures, rehabilitative and complementary medicine practices, such as acupuncture, meditation, and massage.
The Pediatric Pain Management Team at Children's Hospital Los Angeles provides care for infants, children, adolescents and young adults (up to 21 years of age) who have acute or chronic pain. In a clinic setting, the team uses a thorough evaluation to develop and individualized approach to treat our patients, including managing the physical, social and emotional aspects of pain.
The team also treats patients after surgical procedures or with other medical conditions, such as cancer, rheumatologic disease, sickle cell disease, and intractable headaches.
Our team includes:
Doctors who specialize in Pain (Anesthesiologists, Psychiatrists, Pediatricians)
Nurse Practitioners
Counselors (Psychologists, Psychotherapists)
Acupuncturists
Massage therapists
Nutritionists
The following physicians are available for outpatient services:
Pain is complex. It is an individual experience that touches all areas of a child's life, including their families. When pain lasts a long time—weeks, months or even years—it can have an impact on relationships, school, mood, sleep, family life and daily functioning. For these reasons, it is important to address pain as early as possible.
Education
Our Division provides extensive educational and administrative assistance to the hospital. We are actively involved in the education of residents, fellows, nurses, psychologists, social workers and spiritual care providers.
We also provide input or oversight on the development, implementation and ongoing assessment of all pain educational programs at the hospital, in order to minimize any discomfort and distress patients and families may experience.
Research
Research and quality improvement are critical components of the Division of Pain Medicine's treatments. Throughout the year, the Division conducts multiple research studies focusing on the effectiveness of treatments and procedures—studies that often lead to changes that improve short- and long-term outcomes.
Current research interests include:
Pediatric Chronic and Acute Pain Management
Pediatric Regional Anesthesia, including Neuraxial & Peripheral Nerve Blocks
Pediatric Anesthesiology and Neuroanesthesia
Complex Regional Pain Syndrome and Other Causes of Neuropathic Pain
Back, Extremity, Joint, and Abdominal Pain
Chronic Migraines and Headaches
Perioperative and Postoperative Pain
Difficult Airway Management
Solid Organ Transplant Surgery
Fetal Surgery
Blood Transfusions
Virtual Reality for Pediatric Pain Distraction