The Importance of Family-Centered Care

As an advanced practice pediatric nurse, I am constantly learning about cutting edge approaches to care. For one of my courses recently, I researched and wrote a paper on Family-Centered Care (FCC) in the pediatric hospital setting and it struck such an emotional chord that it made me want to share the meaning of family-centered care, how it is accomplished, and what parents should expect and advocate for in order to receive great family-centered care.
A Simple Definition of Family-Centered Care
Scott Ferguson, Administrator of Family-Centered Care Support Services at Children's Hospital Los Angeles defines Family-Centered Care as:
"F.C.C. is a partnership between families and clinicians. It's a collaborative relationship. It helps families set the goals for their child's treatment and recovery."
There are four principles from the Institute for Patient- and Family-Centered Care which Children's Hospital Los Angeles values. We accomplish this with minor modifications for a pediatric care environment such as ours. The principles are:
Principle 1. Respect and Dignity
People are treated with respect and dignity. The expertise, preferences, and culture of each individual and family are valued.
Principle 2. Communication
Health care providers communicate and share complete and unbiased information with patients and families in ways that are useful and supportive.  
Principle 3. Strength-Building
Individuals and families build on their strengths by participating in experiences that enhance control and independence.
Principle 4. Collaboration across all Providers
Collaboration among patients, their families, other community caregivers and health care providers occurs in policy and program development and professional education, as well as in the delivery of care.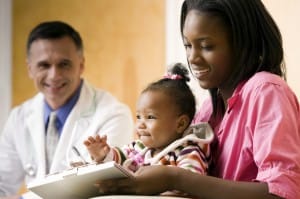 Some Ways We Accomplish Family-Centered Care
Along with the high level of care that Children's Hospital Los Angeles provides for patients and families, there are a variety of family resources that we support in our approach to family-centered care. Some of these resources are:
I am also pleased to share that our hospital is making a concerted effort to recruit a multicultural Family Advisory Council to broaden the action that we already bring to our Family-Centered Care. This is a perfect reflection of how hospitals are partnering with families from all cultures to encourage active participation and feedback on issues relating to hospital policy, patient care and more. Through this special group, "family members receive a different perspective from us and we listen to their perspective," shares Scott Ferguson.
I included two quotes from current Family Advisory Council Members at the end. I find them really inspiring!
Although most hospitals strive to provide family-centered care, where parents are listened to and integrated into the care process, we still hear from parents who feel so lucky to come to our hospital where we value family-centered care. I hope you find the time to read the story of Eva Bermejo. Eva's mom told me her story one day on our unit and I was so riveted and touched by her search for answers that were finally found at our hospital with the help of one of our own nurses, that I asked her to share it on our hospital's blog.
An Example of What Is Not Considered Family-Centered Care
As usual, I have a story of my daughter and what family-centered care is not! At age 12, my daughter had four impacted wisdom teeth removed. Before the surgery, they started an IV and took her to the procedure room. It is quite common for children (and even adults) to emerge very disoriented and emotional from anesthesia. When the surgery was over, they came to get me. I found my daughter sitting up in a chair sobbing.
I immediately put my arms around my daughter and comforted her. The surgeon came by and put his hands on his hips and chastised me, saying "mom you are babying her."
Although I ignored him at the time, I was dismayed later at his lack of compassion and his criticism of my interaction with my child. There were at least three of the four family-centered care principles broken and it deeply affected me as a parent.
What You Can Do If You're Not Receiving Family-Centered Care
It's unfortunate that not all medical facilities practice family-centered care. "It's crucial that family members address issues early on so the partnership between them and the medical teams can be productive and focused on meeting the patient's goals," shares Ferguson. If you find yourself in a position where you aren't receiving the family-centered care you deserve, I recommend these avenues to take based on whichever you are most comfortable with:
If you are at a hospital, ask to speak with the Charge Nurse in the department.
Ask to speak with one of the hospital's social workers.
Contact the hospital's Patient Relations or Patient Advocacy department.
Complete a survey if one is offered. We offer a survey on our internal GetWellNetwork, which is available to patients and families.
Help Hospitals Get it Right
Being a member of the Family Advisory Council at Children's Hospital Los Angeles is a great opportunity to help shape hospital policy, share experience and give feedback. As spoken from two of our members,
It is well worth the opportunity to work side-by-side with a phenomenal and diverse group of parents, medical staff and professionals! Today, the Family Advisory Council continues to apply compassion, dignity, and respect to the topics brought to our attention, and I express my sincere gratitude for the opportunity that I've been given as I serve with my Family Advisory Council members. - Member, Family Advisory Council
As a member of the Family Advisory Council I have had the privilege to draw upon my personal experiences to help Children's Hospital Los Angeles continue to develop family-centered policies and programs. It has also been encouraging to convey my unique hospital experiences and share my son's 'story of life' with other families, as well as provide support to them by listening to and empathizing with their experiences and child's unique stories. It is an honor to be able to give something back to the hospital that was so instrumental in saving my sons life.
– Member, Family Advisory Council