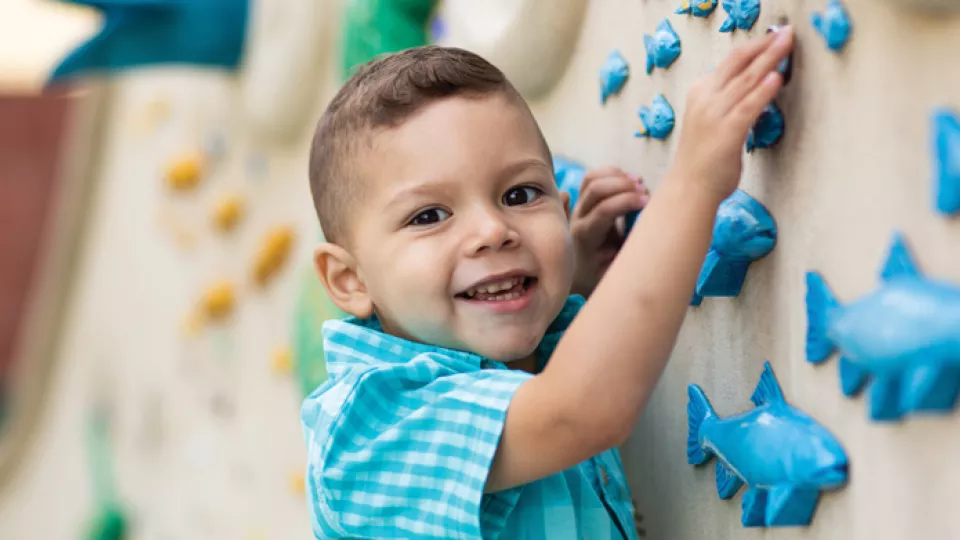 Philanthropy Benefits All CHLA Patients
Every patient who visits Children's Hospital Los Angeles benefits from generous philanthropists like the Anderson Stewart Family Foundation. Their contributions support the hospital's leading-edge care. Learn more about five incredible patients and their experiences at CHLA.
LEX
Philanthropy supports organ transplants for kids like Lex, who at 6 weeks old was found to have biliary atresia. Blocked ducts were preventing the outflow of bile to his small intestine, compromising his liver. He underwent the Kasai procedure, where surgeons remove the bile ducts and connect the small intestine directly to the liver. Afterward, however, Lex's liver still wasn't functioning, and doctors determined he needed a liver transplant. He was admitted to CHLA's Liver Transplant Program, which has performed more than 370 liver transplants in children. On July 25, 2017, after celebrating his first birthday in the hospital, Lex received his new liver. The transplant was a success, and today Lex is back home, a happy and healthy boy.
---
JIA
Philanthropy supports life-changing care for patients like Jia, who came to CHLA as a toddler for a cleft lip and palate repair. Now Jia, 12, meets annually with specialists in reconstructive surgery, pediatrics, speech and hearing, dentistry and orthodontics, otolaryngology and psychology. Her mother, Kathy, who brought Jia home from China at 17 months old, is a prolific hospital supporter. She is a founding member of the CHLA fundraising team called the Ambassadors, and a founding co-chair of the Care Ambassadors, a group that supports the Institute for Nursing and Interprofessional Research. Kathy has helped raise more than $1 million for the Institute.
---
Several CHLA physicians collaborated on the treatment of Jordan's multiple health issues.
JORDAN
Philanthropy supports complex cases like Jordan, who was born with several serious conditions, including Rubinstein-Taybi syndrome, a genetic disorder characterized by crooked thumbs; nearsightedness so extreme he was designated legally blind; and severe breathing and feeding difficulties. The combined efforts of doctors in CHLA's Jackie and Gene Autry Orthopedic Center, Division of Medical Genetics, The Vision Center, Aerodigestive Program and more addressed Jordan's medical issues. Surgery corrected the shape of his thumbs, eyeglasses helped his vision, and removing the enlarged tonsils and adenoids that were obstructing his airway helped his breathing—which improved his eating, sleep and performance in school.
---
MAX
Philanthropy supports children with congenital heart disease like Max, who was born with a cardiac defect called tetralogy of Fallot, which required replacing his pulmonary valve and implanting a pacemaker. He has undergone more than a dozen procedures, but throughout he's been a resolute advocate for CHLA, raising funds for the hospital while serving as a Junior Ambassador. A child actor who had a longtime role on "The Young and the Restless" and starred as a mini Darth Vader in the 2011 Volkswagen Super Bowl ad, Max travels annually with his family to Washington, D.C., to participate in Family Advocacy Day, urging lawmakers to pursue policies that benefit children's health. In 2019, the Children's Hospital Association honored his family with the Mighty Advocate Award.
---
MICHELLE
Philanthropy supports clinical trials for kids like Michelle, who at age 2 was found to have a cancerous tumor blocking her airway and endangering her life. The results of a genetic test called OncoKids®, developed by the hospital's Center for Personalized Medicine, showed that Michelle might benefit from treatment with larotrectinib, an oral cancer drug under evaluation in a CHLA clinical trial. Within 24 hours of being enrolled in the trial, Michelle, who was in critical condition on a Saturday, responded to the medication; she returned home the following Tuesday. Her tumor has since shrunk to the point where it wasn't detected on her last three MRIs.
How you can help
To help kids like Lex, Jia, Jordan, Max and Michelle, please consider making a gift to Children's Hospital Los Angeles.
Visit CHLA.org/Donate.